What to expect: Illinois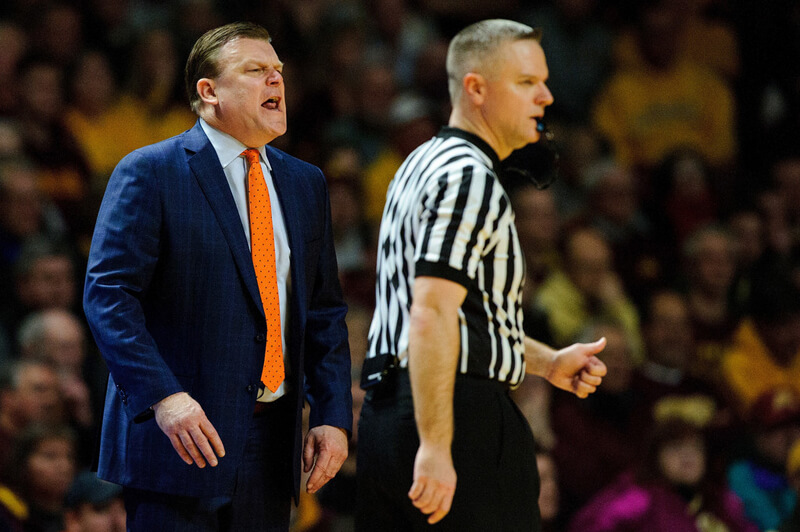 Indiana's first of three one-day turnarounds on the road in the next two weeks will tip tonight at the State Farm Center in Champaign. Following Monday's hard fought 71-68 win over Maryland, the Hoosiers will take on Illinois in primetime. The Fighting Illini are 10-11 overall and 0-8 in the Big Ten.
The game will be broadcast on BTN at 9 p.m. ET with Kevin Kugler and Shon Morris on the call:
The biggest downfall with this season's Big Ten schedule is the ridiculous number of one-day turnarounds. Each team played on a one-day turnaround in early December – which was more than enough – but we're now to the point of the season where IU's schedule gets downright silly.
As Dylan Burkhardt pointed out yesterday in his weekly power rankings over at The Athletic ($), Indiana is one of four (!) Big Ten teams that will play four (!) league games on a one-day turnaround. (For those scoring at home, Purdue and Wisconsin are playing just once on a one-day turnaround and that was the early December game.)
This, of course, was done to accommodate the new television schedule that has the conference playing games every day of the week. And it's probably not going to change in the future as the league expands to 20 games next season.
MEET THE ILLINI
Brad Underwood left Oklahoma State after one season last spring to come to Champaign, one of three offseason coaching changes in the Big Ten.
It's been a rough start for Underwood in the Big Ten as the Illini are the only program without a league win despite being close in several recent games. Illinois is 0-3 at home in conference play with a pair of overtime losses (Maryland and Iowa) and a 13-point loss to Michigan State.
The Illini are playing a ten-man rotation and are led by redshirt junior Leron Black, who is averaging a team-high 14.4 points per game. The 6-foot-7 Black is an efficient finisher (78.4 percent at the rim) and is also shooting 51 percent on 2-point jumpers. According to Synergy Sports, Black has scored 86 points on 84 post-up possessions.
Junior Michael Finke starts up front with Black and the 6-foot-10 forward is third on the team in scoring at 10.2 points per game. Finke is shooting just 13.6 percent on 3s in Big Ten play, but is 14th in the conference in offensive rebounding percentage.
Kipper Nichols, a 6-foot-6 sophomore, comes off the bench and has the 10th highest usage rate in the league. Nichols has been a very good rebounder in conference play – he's tenth in offensive rebounding percentage and 11th in defensive rebounding percentage – and is shooting 46.5 percent on 2s and 34.8 percent on 3s.
Freshman big Greg Eboigbodin has seen his role grow since the start of conference play and he's shooting an efficient 79.2 percent on 2s against Big Ten opponents.
The Illinois backcourt and wing positions are essentially by committee in terms of how minutes are distributed. Freshman Trent Frazier is the only guard averaging in double figures at 11.1 points per game. Frazier is shooting 55.1 percent on 2s in Big Ten games and is 11th in steal percentage.
He's joined in the lineup by freshman Mark Smith and junior Aaron Jordan. Smith, a consensus top 100 recruit, has struggled from the perimeter (24.1 percent). Jordan is a solid athlete and the team's best 3-point shooter (48.5 percent).
Grad transfer Mark Alstork, freshman Da'Monte Williams and sophomore TeJon Lucas all come off the bench. Alstork averaged 19 points per game last season at Wright State, but as is the case with many grad transfers who try to move up, has had to accept a lesser role. Alstork is averaging just 6.1 points per game, which is seventh on the team.
TEMPO-FREE PREVIEW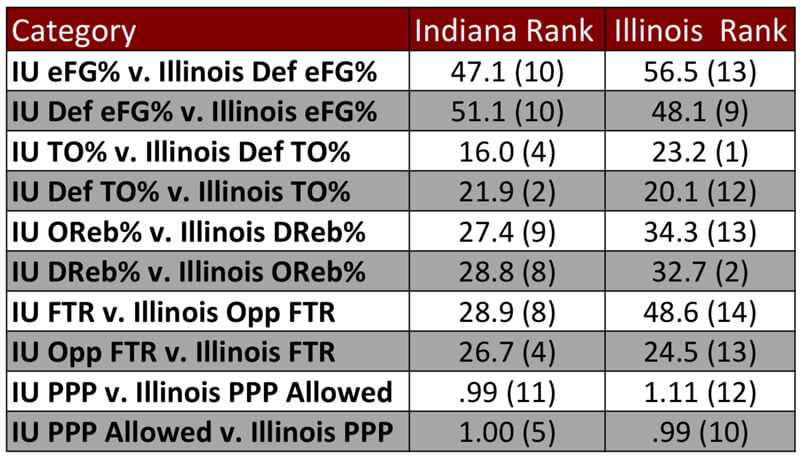 The Illini rank in the top half of the league in just a few notable categories: opponent turnover percentage (first), steal percentage (second) and offensive rebounding percentage (second). Underwood continues to stick with relentless defensive pressure despite the 0-8 league record. Last season at Oklahoma State, he adjusted his defense midseason and the Cowboys went on a run and reached the NCAA tournament.
The Hoosiers are the Big Ten leader in steal percentage and are right behind Illinois in defensive turnover percentage. The difference is Indiana is much better in taking care of the ball, which is going to be important tonight.
Free throws are also going to be pivotal as Illinois is the most foul prone team in the league with an opponent free throw rate (FTA/FGA) of 48.6 percent. Indiana is last in the conference in free throw percentage at 67.6 in conference games.
WHAT IT COMES DOWN TO
Ken Pomeroy projects a 3-point Illinois win (41 percent chance of an IU win) and the Sagarin ratings like Illinois by just over a point. Vegas likes Illinois by two.
This is one of three swing road games that will go a long way in determining where the Hoosiers end up in the league standings. The other two games on that list are at Rutgers on Feb. 5 (43 percent chance of an IU win) and at Iowa on Feb. 17 (37 percent chance of an IU win).
Indiana has played well in Champaign in recent seasons with wins in 2015 and 2016, but this Hoosier team is just 1-5 in true road games. Ultimately, this contest will likely come down to how well Indiana can take care of the ball against the Illini pressure and make free throws in what should be a somewhat hostile environment.
(Photo credit: Hannah Foslien/Getty Images North America)
Filed to: Illinois Fighting Illini