Five takeaways from Indiana's win over Maryland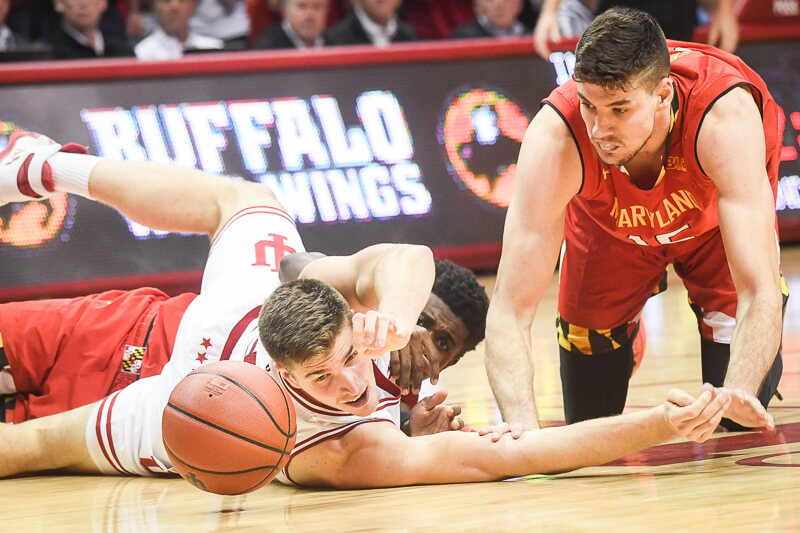 Indiana improved to 5-3 in Big Ten play with a 71-68 win over Maryland on Monday night at Simon Skjodt Assembly Hall. The victory moved the Hoosiers to 4-0 in league play at home.
Here's a look at five takeaways from the win over the Terrapins:
· Indiana's second half defense won the game: Indiana led 42-39 at halftime because of an efficient first half performance in which it scored 1.21 points per possession. That type of production isn't sustainable for this team over 40 minutes, especially when giving up 1.13 points per trip defensively.
The second half, however, was a different story.
Indiana did a much better job on Maryland point guard Anthony Cowan in the second half. Cowan was 2-of-12 from the field after intermission with six turnovers. And by stopping Maryland's best player, Indiana limited the Terps to just .78 points per possession in the second half.
"They shot 31 percent in the second half," Archie Miller said. "I thought our activity level with eight blocks and 10 steals kind of shows you how active we were."
Even after Friday's 28-point loss at Michigan State, Indiana still has the Big Ten's fifth best defense in conference play after last night's win.
· What ankle problem? Juwan Morgan left the Breslin Center on crutches on Friday, which cast serious doubt on his availability going into Monday's game.
But Morgan emerged from the locker room about 70 minutes before tip, warmed up, was in the starting lineup and delivered a magnificent performance.
The junior forward played 36 minutes and finished with a game-high 25 points on 10-of-18 shooting from the field and a 5-of-7 performance from the line. Despite having a distinct size advantage in the frontcourt, Maryland had no answer for Morgan as he dominated Michal Cekovsky and Bruno Fernando.
Morgan said his ankle was 100 percent by tip time.
"It was just the least I could do for my team," he said. "The way they were going at it in practice and just really giving it their all, it was the least I could do for them tonight. And I just went out there and showed what I could do."
· Johnson's steady play continues … on both ends: As important as Indiana's defense on Anthony Cowan was in the second half, the job Robert Johnson did on Kevin Huerter was just as crucial.
Huerter was an efficient 6-of-9 from the field for the game and finished with 16 points and 11 rebounds, but was blanketed by Johnson in the second half. He didn't get a shot off in the game's final 9:51 and was visibly frustrated at times.
"He's really taken it to another level in terms of what we're asking him to do," Miller said. "And I think his play speaks volumes."
Offensively, Johnson finished with 12 points in 35 minutes and committed just one turnover. He also had a team-high eight rebounds.
· Indiana continues to force turnovers: The Hoosiers are still very much a work in progress defensively, but the overall improvement is apparent.
In Monday's win, Indiana forced 18 turnovers and had 10 steals. Through eight league games, the Hoosiers are second in the league in opponent turnover percentage and first in steal percentage. And Indiana's opponent free throw rate, which was a ridiculous 45.6 percent in league play last year, is just 26.7 percent.
The growth defensively is a major reason why Indiana is winning close games in Simon Skjodt Assembly Hall.
"Winning close games is about getting stops," Miller said. "If you can get stops and you can find a way to hang in tough games and get stops and your team is believing that you can win a game without scoring points, that's step one."
· McRoberts, Smith give Hoosiers an offensive boost: Indiana's bench didn't provide much scoring – just 10 points – but the Hoosiers got significant offensive contributions from a pair of starters.
Justin Smith, who has been starting since the injury to De'Ron Davis, scored 12 points on 6-of-8 shooting and didn't commit a turnover in 21 minutes.
And Zach McRoberts, who had scored just two points over the last five games, had seven points, three assists and was also turnover free in 31 minutes.
Filed to: Maryland Terrapins