What to expect: Maryland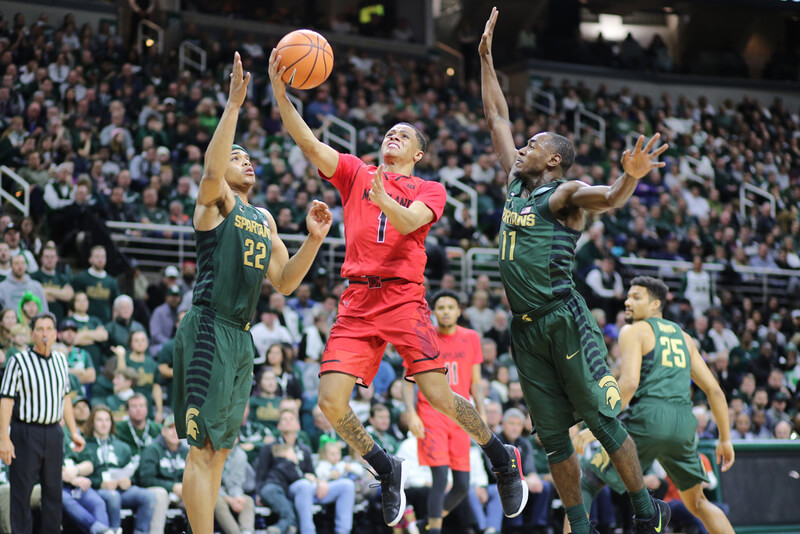 After an 85-57 beatdown in East Lansing, Indiana returns home tonight to face Maryland. The Terrapins are 15-6 overall and 4-4 in the Big Ten.
The game will be broadcast by FS1 at 7 p.m. ET with Joe Davis and Jim Jackson on the call:
It wasn't surprising that Indiana lost on Friday night to Michigan State, but the fact that the Hoosiers never seriously challenged the Spartans in the game's final 35 minutes was a step backward.
Fortunately for Indiana, a quick turnaround provides a chance to put the loss in the rearview as Maryland comes to Bloomington for the first time since March of 2016. The Terps, who are without Justin Jackson for the rest of the season, have lost their last three road games.
Indiana's chances, however, could be largely dependent on the status of Juwan Morgan, who injured his left foot in Friday's loss at Michigan State.
Morgan did not return after leaving the game late in the first half and left the Breslin Center on crutches. Indiana has not given any update on his status for tonight's game. Without Morgan, Indiana's already depleted frontcourt will be in for an uphill battle against a Maryland frontline featuring two regulars who are 6-foot-10 and 7-foot-1.
MEET THE TERRAPINS
Like Indiana, Maryland has a depleted rotation because of injuries. Jackson, the team's most talented player, is out for the season with a torn labrum. Another rotation player, junior Ivan Bender, is also out for the season with a torn meniscus in his right knee.
Despite those setbacks, the Terps have the talent to rally and contend for an NCAA tournament berth. Maryland's backcourt is one of the league's best with sophomores Anthony Cowan and Kevin Huerter.
Cowan is arguably the Big Ten's best point guard and is averaging a team-best 16.3 points per game. Cowan is a deadly threat as the ball handler in pick and roll situations, according to Synergy Sports. In 85 pick and roll possessions, Cowan has scored 91 points, which ranks in the 93rd percentile nationally. Cowan's overall field goal percentage isn't great (41.3), but he's a good 3-point shooter (41.1 percent). He's also terrific at drawing fouls and getting to the line. Cowan's free throw rate (FTA/FGA) is 66.2 percent and he's shooting 85.2 percent from the stripe.
Huerter is one of the Big Ten's best shooters and the team's second leading scorer at 14.1 points per game. Huerter ranks in the 94th percentile nationally in spot-up situations, according to Synergy and he's shooting 46.8 percent on 3s. Given Indiana's history of giving up clean perimeter looks this season, Huerter is a critical matchup.
Freshman Darryl Morsell starts in the backcourt and is a solid defender who can get to the rim. The 6-foot-4 guard isn't a perimeter shooter (3-of-18 on 3s), but has a free throw rate over 50 and is knocking down 72.6 percent of his attempts from the line.
Junior Dion Wiley, who has battled injuries throughout his career, comes off the bench and is another 3-point threat for the Terps. Wiley is shooting a solid 38.3 percent on 3s and averages 5.4 points in 19.8 minutes per game. Senior Jared Nickens, a 6-foot-7 wing, also comes off the bench and is a capable threat from distance (39 percent).
The Terps frontcourt consists of 7-foot-1 senior Michal Cekovsky, 6-foot-10 freshman Bruno Fernando and 6-foot-9 redshirt freshman Joshua Tomaic.
Fernando ranks in the top 10 in league play in both offensive and defensive rebounding and is making 54.7 percent of his 2s against Big Ten opponents. Cekovsky is shooting 69.3 percent from the field and is in the top ten in Big Ten play in block percentage.
Tomaic has been playing more recently with Bender and Jackson out and has given Turgeon some solid backup minutes at the four. He's averaging 3.5 points and 2.5 rebounds in 10.5 minutes off the bench.
TEMPO-FREE PREVIEW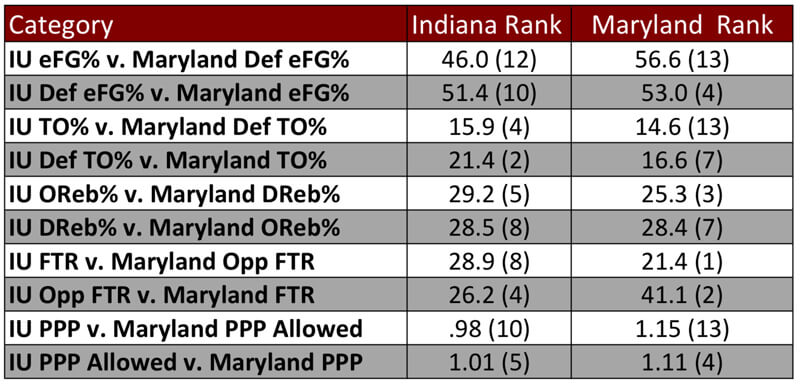 As bad as Maryland looks on paper defensively, the numbers are a bit skewed as four of their eight Big Ten games have come against Purdue, Michigan State, Ohio State and Michigan. Maryland is improving defensively and nearly pulled off a win last Monday against Michigan at the Crisler Center.
The Terps are excellent on the defensive glass, which could be a problem for Indiana. When the Hoosiers are playing well offensively, second chance points are typically a part of the equation. Maryland is currently allowing Big Ten teams to shoot 45.3 percent on 3s, but can Indiana make its open looks from the perimeter?
The free throw situation also looms large as Maryland is the Big Ten's second best team in terms of getting to the line and the best at keeping its opponents off the line. Given Indiana's limited depth up front, the Hoosiers simply can't afford foul trouble and expect to win.
WHAT IT COMES DOWN TO
Ken Pomeroy's ratings like Maryland by three with just a 40 percent chance of Indiana pulling off the upset. Sagarin's ratings like the Terps by just 2. The Vegas line, which opened with Maryland as a two-point favorite, has shifted several times as of this morning.
Beyond the uncertainty of Morgan, this game is probably going to come down to how well Indiana can contain Cowan and Huerter. Maryland is capable of getting hot from the perimeter and Indiana has at times been unable to stop teams when they get rolling from distance.
Indiana has been good at home in league play so far (3-0), but the level of competition ramps up tonight on Branch McCracken Court. Will the Hoosiers be able to continue holding serve at home?
(Photo credit: Rey Del Rio/Getty Images North America)
Filed to: Maryland Terrapins