Phinisee continues dominant senior season in 3-0 week for McCutcheon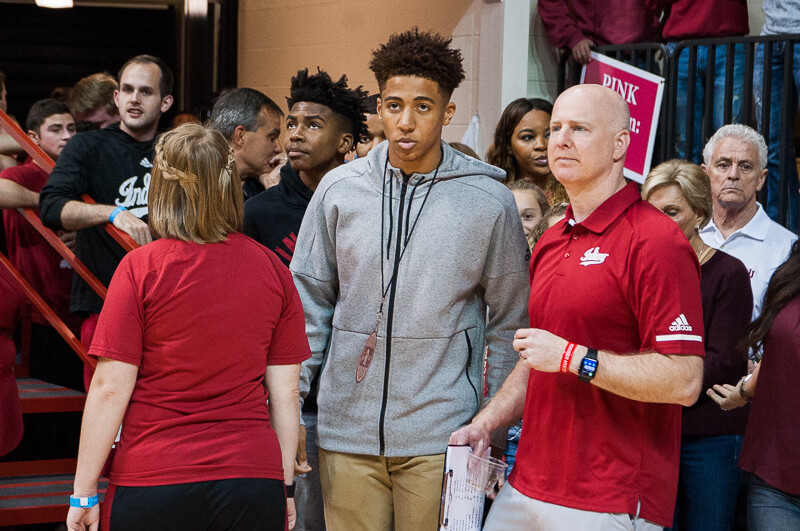 Throughout the season, we'll be keeping track of how Indiana's four class of 2018 signees fare throughout their final high school campaigns. In addition, we'll also be keeping tabs on several key recruiting targets in the class of 2018 and 2019.
Here's our latest update, covering games played the week of January 15-21:
Class of 2018
Robert Phinisee, McCutcheon: Phinisee played just three quarters and finished with 36 points, nine rebounds and nine assists in a 98-40 win at Crawfordsville on Jan. 16. On Jan. 19, Phinisee had 35 points in an 89-65 win at Logansport. Phinisee scored 21 points in a 70-30 win over Western on Jan. 20.
Damezi Anderson, South Bend Riley: Anderson had 21 points as Riley won at Elkhart Memorial, 80-55, on Jan. 16. Riley remained unbeaten with a 66-36 win over Jimtown on Jan. 19.
Jerome Hunter, Pickerington North (Ohio): Hunter finished with 16 points in a 45-40 win over Pickerington Central on Jan. 19.
Jake Forrester, Westtown School (Pa.): In a nationally televised game in the Spalding Hoop Hall Classic on Jan. 15, Forrester finished with 14 points, eight rebounds and three steals in a 77-71 loss to IMG Academy. In a 74-71 overtime loss to the Camden School on Jan. 19, Forrester finished with 10 points, six rebounds and three blocks. In Westtown's 92-67 win over the Shipley School on Jan. 20, Forrester had 12 points, seven rebounds, three steals and two blocks. In Westtown's third game in three days, they fell 58-51 to the Ranney School on Jan. 21. Forrester finished with 13 points, 10 rebounds, a steal and a block.
? Indiana Commit Jake Forrester (@begreatjake) highlights for @WTbbasketball at #EmpireInvite pic.twitter.com/9UnbmA9W5m

— Empire Invitational (@EmpireInvite) January 21, 2018
Romeo Langford, New Albany: In a nationally televised game on Jan. 19, Langford scored 36 points as New Albany beat Princeton (Ohio), 65-64 in overtime. The Mr. Basketball favorite followed that up with 35 points and 16 rebounds in a 75-50 win over Evansville Reitz on Jan. 20. Langford is now seventh on the state's all-time scoring list.
Class of 2019
Trayce Jackson-Davis, Center Grove: The rising forward finished with 14 points and 10 rebounds in a 56-53 overtime loss to Ben Davis on Jan. 19. In a 55-49 loss at Roncalli on Jan. 20, Jackson-Davis finished with 13 points, but was just 4-of-11 from the free throw line.
Keion Brooks Jr., Fort Wayne North Side: Brooks scored 21 points in North Side's 71-62 loss to Homestead on Jan. 19. He did not play in Saturday's 71-57 win for North Side at Elkhart Central and is reportedly considering a transfer to a prep school.
Filed to: Damezi Anderson, Jake Forrester, Jerome, Keion Brooks Jr., Robert Phinisee, Romeo Langford, Trayce Jackson-Davis