Notebook: Morgan, Hoosiers grind out signature win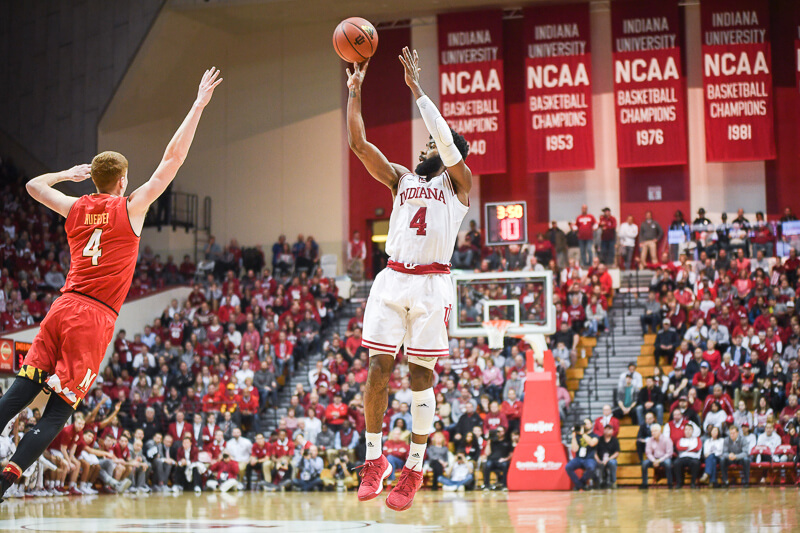 Led by a bruised Juwan Morgan, Indiana (12-8, 5-3 Big Ten) gutted out a win on Monday night at Assembly Hall, prevailing over the Maryland Terrapins (15-7, 4-5), 71-68.
Morgan missed the final 22 minutes of the loss at Michigan State on Friday after rolling his left ankle. He left the arena on crutches and didn't practice at all over the weekend.
"The first day I was in a lot of pain," Morgan said after scoring 25 points in 36 minutes. "I didn't think I was going to be able to play. But just continuous treatment and being here with the training staff and getting all the things I needed to get done. It started to feel good and it hurt not being in practice because the guys were going hard in practice, so it was the least I could do going out tonight and giving it my all."
Seventy-two hours after rolling his ankle, Morgan was back playing at the All-Conference level fans have become accustomed to over the last several months. Morgan's insane stat line of 25 points, five rebounds, four assists, two blocks and two steals doesn't quite do justice to his heroics.
Much like during the win over Notre Dame in Indianapolis, Morgan put the team on his back in the closing stretch, recording 12 of Indiana's final 16 points. The defining moment of the game came with 38 seconds remaining and Indiana up just one. That's when Morgan grabbed a crucial offensive rebound off a missed Josh Newkirk free throw and laid it in, giving the Hoosiers a three-point cushion.
"I thought it was about to roll in and I jumped before it came out," Morgan said of the key rebound and score. "And then by the time I came back down it was coming off. I knew I had enough time to get it off the ground…It was (Maryland's Darryl Morsell) who was blocking me out, and I just reached over him and got it and it was wide open."
Justin Smith steps up
Since De'Ron Davis was ruled out for the season with a torn Achilles, freshman Justin Smith has been forced to take on a bigger role. Smith started his fifth consecutive game on Monday, and was the most efficient he's been all season.
Smith showcased a series of nifty post moves, had one acrobatic dunk and played within the offense. He scored 12 points and made 6-of-8 shots he attempted and managed to block a shot. But most importantly, Smith didn't turn the ball over for the first time since Jan. 2 at Wisconsin.
"(Smith's) getting more comfortable. He's getting more confident around the basket," Archie Miller said. "I thought you saw that in the first half. He had a jumper, had a nice countermove, where he was able to score with his left hand. Second half, made a couple off back screen, got a nice layup. But he's doing a nice job."
Winning close
Monday marked the fourth contest of the season where the final margin was five points or less. Indiana is now 4-0 in those games, with three of those victories coming in the Big Ten. Miller credits the Hoosiers defense for helping them pull out close wins.
"Winning close games is about getting stops," Miller said. "If you can get stops and you can find a way to hang in tough games and get stops and your team is believing that you can win a game without scoring points, that's step one."
Of course, it also doesn't hurt that Miller has the blossoming Morgan to count on late to come up clutch on offense.
"We have a really good player in Juwan Morgan that you can go to in the last four minutes of the game and he can get some things done for you, which was the case tonight," Miller said.
Filed to: Juwan Morgan, Maryland Terrapins