Big Ten Power Rankings: January 22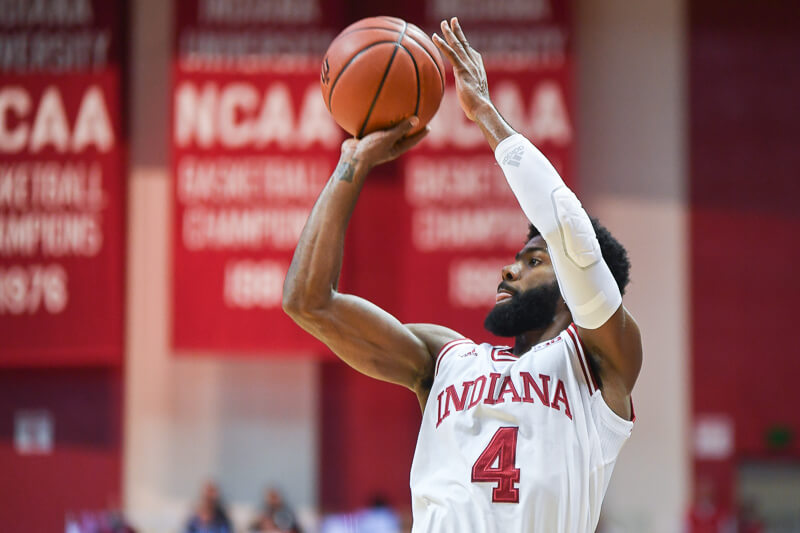 A Big Ten full of parity has begun to stabilize somewhat as we near the unofficial halfway point of the conference season. The next week will feature a series of matchups that could once again shake up the league.
14. Illinois (10-10, 0-7; 0.98 Points Per Possession in conference play, 1.10 PPP allowed; KenPom – 105, Sagarin – 91, RPI – 169) (Last week: 14)
Seven games through Big Ten play, Brad Underwood has yet to earn his first conference win at the helm of the Illini. On Monday, Illinois was just one stop away from a road win in Lincoln, but a last-second contested three from Nebraska's James Palmer dashed their hopes in excruciating fashion.
13. Iowa (10-11, 1-7; 1.04 PPP, 1.19 PPP allowed; KenPom – 100, Sagarin – 81, RPI – 149) (Last week: 13)
Iowa has now lost five of its last six games, with the only win over that stretch coming over lowly Illinois in overtime. As the coach of the only team in the Big Ten with an overall record under .500, Fran McCaffery might be on the hot seat. The contract for the long-time Hawkeyes' coach expires in 2020, and there will be no shortage of coaches looking for jobs this offseason.
12. Rutgers (12-9, 2-6; 0.88 PPP, 1.03 PPP allowed; KenPom – 119, Sagarin – 110, RPI – 179) (Last week: 12)
The Scarlet Knights are just one win shy of tying their program record for Big Ten wins since joining the league prior to the 2014-15 season. With games against Nebraska and at Penn State over the next week, Rutgers has a chance to boost their conference standing.
11. Penn State (13-8, 3-5; 1.04 PPP, 1.06 PPP allowed; KenPom – 63, Sagarin – 61, RPI – 134) (Last week: 7)
Josh Reaves remains suspended because of academic issues, and the Nittany Lions continue to tumble down the Big Ten ladder. Penn State has now lost three of four as a season that began with tournament aspirations has quickly crumbled into chaos.
10. Minnesota (14-8, 3-5; 0.96 PPP, 1.05 PPP allowed; KenPom – 80, Sagarin – 54, RPI – 75) (Last week: 11)
Amir Coffey returned from a shoulder injury for the Gophers' contest with Ohio State, but it wasn't enough to lift his team to a win over Ohio State at Madison Square Garden.* With Coffey back, Minnesota now has a puncher's chance at reclaiming the tournament bid they've lost, but they have a massive hole to dig out of.
*The game against Ohio State was part of the Big Ten's "College Hoops and Hockey" day. The Gophers lost a home game, and as a result, were crushed by OSU in front of a measly crowd of 4,176.
9. Northwestern (12-9, 3-5; 0.98 PPP, 1.03 PPP allowed) (KenPom – 90, Sagarin – 56, RPI – 123) (Last week: 10)
In the Big Ten, all you need to do to move out of the bottom five of the power rankings is to not embarrass yourself. By only losing to Ohio State by six and defeating Penn State at home, the Wildcats did just that. With a three-game road trip (Minnesota, Michigan, Wisconsin) looming, the slight boost in the power rankings may be short-lived.
8. Wisconsin (10-10, 3-4; 0.99 PPP, 1.05 PPP allowed) (KenPom – 79, Sagarin – 59, RPI – 131) (Last week: 9)
The Badgers were on the opposite ends of a pair of blowouts over the last week. First, Wisconsin was walloped by 28-points on Tuesday in Mackey Arena, but followed that up with a 25-point win over Illinois. Junior Ethan Happ was once again the star, posting a line of 16 points, 10 rebounds, five assists, one block and one steal.
7. Indiana (11-8, 4-3; 0.98 PPP, 1.01 PPP allowed; KenPom – 97, Sagarin – 70, RPI – 113) (Last week: 6)
Not only did the Hoosiers get thumped by 28-points in East Lansing, but they lost junior Juwan Morgan in the first half to a left ankle injury. Morgan's status is uncertain as Indiana heads into a three-game week, which includes tough home contests with Maryland and Purdue. If Morgan remains sidelined, the season could get ugly in a hurry.
6. Nebraska (14-7, 5-3; 0.99 PPP, 0.98 PPP allowed; KenPom – 67, Sagarin – 69, RPI – 65) (Last week: 8)
The Cornhuskers remain perfect in conference play at home, as they recorded a pair of wins over Illinois and Michigan. Nebraska's victory over Michigan was in large part due to their stellar inside shooting – 58 percent (21-of-36) from inside the three-point line. So are the Huskers for real? A trio of matchups over the next seven days (at Ohio State, at Rutgers, vs. Iowa) will give us a better indication.
5. Maryland (15-6, 4-4; 1.11 PPP, 1.15 PPP allowed; KenPom – 36, Sagarin – 31, RPI – 48) (Last week: 5)
Maryland nearly pulled off a road win in Ann Arbor, but a foul in the final second prevented the Terrapins from grabbing a signature win. In Justin Jackson's absence, sophomore Kevin Huerter has picked up much of the scoring slack, nailing 15 triples over the last five games.
4. Michigan (17-5, 6-3; 1.06 PPP, 1.01 PPP allowed; KenPom – 27, Sagarin – 26, RPI – 38) (Last week: 3)
After suffering a shellacking in Lincoln, the Wolverines bounced back with a comfortable win over Rutgers. Duncan Robinson has proved to be a veteran leader for Beilein's squad, and Sunday the veteran senior recorded 12 points on four made triples in the winning effort.
3. Michigan State (17-3, 5-2; 1.13 PPP, 0.97 PPP allowed; KenPom – 4, Sagarin – 5, RPI – 26) (Last week: 4)
A brief losing skid came to a screeching halt on Friday, when the Spartans poured it on the Hoosiers at the Breslin Center. Sophomore Miles Bridges was sensational, finishing with 22 points and throwing down two electrifying slams.
2. Ohio State (17-4, 8-0; 1.18 PPP, 0.94 PPP allowed; KenPom – 11, Sagarin – 15, RPI – 14) (Last week: 2)
Expecting the Buckeyes to fade back into mediocrity? Think again. Chris Holtmann has his team rolling, with the latest two wins coming on the road* over Northwestern and Minnesota. Junior Keita Bates-Diop continues to make a case for Big Ten Player of the Year, as he's now average an astounding 56 percent shooting from two and 40 percent from three in conference play.
*The Minnesota game was only technically a road win. Again, why was that game played at MSG?
1. Purdue (19-2, 8-0; 1.19 PPP, 0.93 PPP allowed; KenPom – 2, Sagarin – 1, RPI – 9) (Last week: 1)
The Boilermakers hold onto their spot at the top of the power rankings. This week, Purdue won their matchups against Wisconsin and Iowa by a combined 51 points. Freshman 7-footer Matt Haarms, who has a fascinating backstory, swatted a total of seven shots in the triumphs.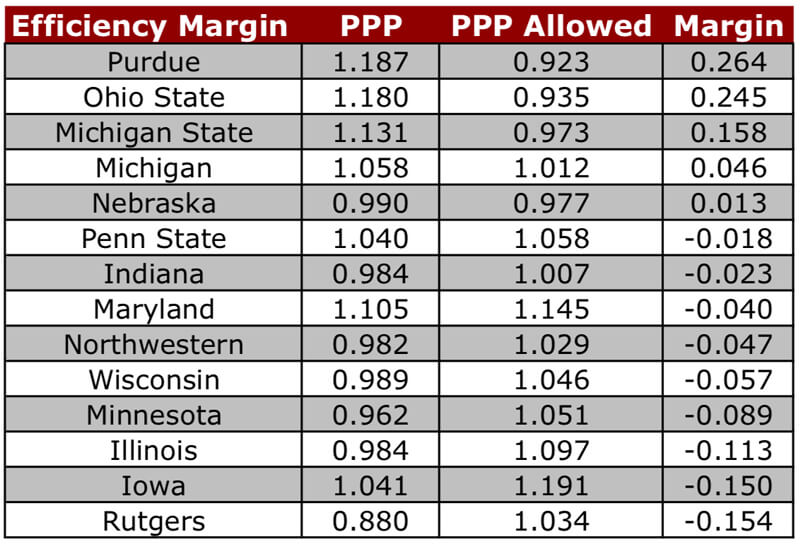 Filed to: Big Ten Power Rankings