Notebook: Hoosiers walloped by Spartans, Morgan injured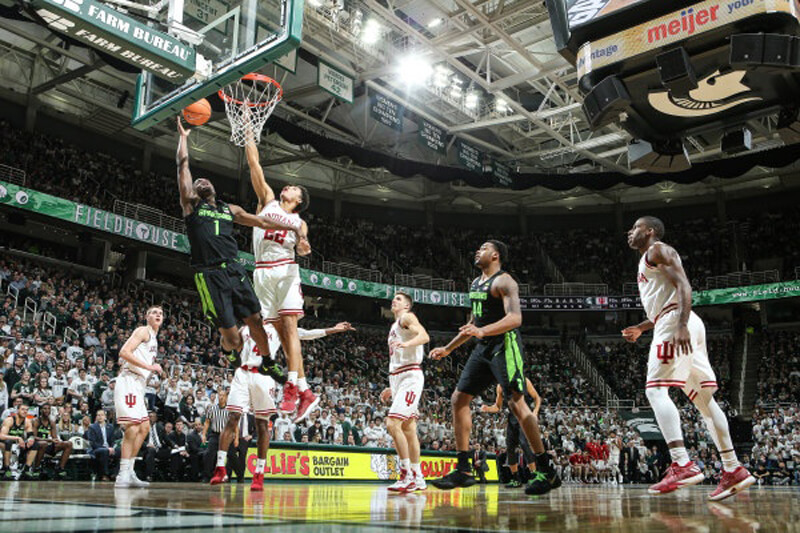 EAST LANSING, Mich. – Riding a three-game winning streak heading into a Friday night battle with No. 9 Michigan State in East Lansing, Indiana never stood a chance, falling behind by double-digits early in the opening half on its way to an 85-57 loss.
"We came out flat," said freshman Justin Smith. "Maybe we got a little complacent, I don't know."
The Spartans (17-3, 5-2 Big Ten) led by as many as 32, and never trailed throughout the final 37:28. Not only did they prove to be the more talented and skilled squad, but they outhustled the Hoosiers (11-8, 4-3) throughout. Michigan State grabbed 12 offensive rebounds that led to 17 second-chance points.
"A lot of 50-50 plays, a lot of hustle rebounds, a lot of physical things that (Michigan State) came up with really resulted in just a lot of second just points," Archie Miller said.
Indiana only coughed up the ball nine times, but the Spartans turned those miscues into 14 points.
"When you make a mistake and you don't run hard, that one mistake against these guys, you get killed," Miller said. "There are multiple examples in this game of a missed shot (leading) to a basket or a 3-point play just because of their constant pressure in their transition."
Michigan State was led by sophomore sensation Miles Bridges. The potential NBA lottery pick scored 22 points on 9-of-13 shooting, including a pair of ridiculous slams.
The Hoosiers will have to put this loss in the rearview mirror quickly, as a brutal stretch of seven-games-in 18 days continues on Monday with a date against Maryland at Simon Skjodt Assembly Hall.
Morgan goes down with injury
Already down 23 points with under three minutes remaining in the first half, the Hoosiers night went from bad to worse, as junior Juwan Morgan appeared to step on his own foot.
Morgan stayed on the floor for more than a minute, holding his lower left ankle and foot, before limping to the locker room. After the game, he left the locker room on crutches.
Morgan will be evaluated in Bloomington and an update will be provided in the coming days. If Morgan misses time, the Hoosiers will have to face life without their two best frontcourt players.
"Guys have to come together and realize that we have to step it up that much more," senior Robert Johnson said.
Johnson carries offensive load
Guard Robert Johnson had been mired in a shooting funk for most of the season. However, the four-year guard has found his offensive rhythm.
Over the last two games, Johnson has shot 53 percent from deep (9-of-17), including a 4-of-6 performance at Breslin Center.
"He's just being very aggressive. I think he knew he was going to have to step up and make some plays for us, and he did that," Miller said. "There's not much more you can ask of Rob. He's doing a really good job leadership-wise, and I'm happy for him that he's able to play right now at the level he is."
Johnson ended the night with 21 points, bringing his career total to 1,244. That puts him 32nd in program history, between twins Dick (1,240) and Tom (1,252) Van Arsdale.
(Photo credit: Michigan State Athletics)
Filed to: Michigan State Spartans