What to expect: Michigan State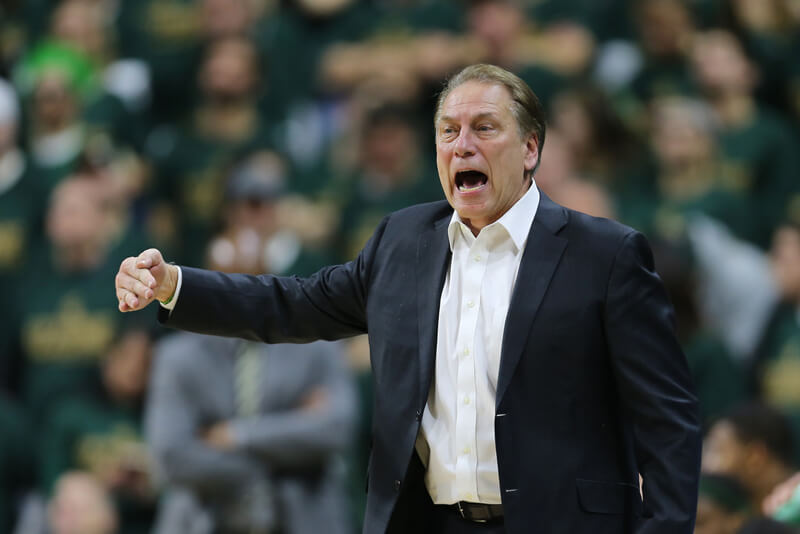 Indiana will put its three-game winning streak on the line on Friday night as the Hoosiers travel to East Lansing to take on No. 9 Michigan State at the Breslin Center. The Spartans are 16-3 overall, but have lost two of their last three games.
The game will be broadcast at 7 p.m. ET on FS1 with Gus Johnson and Jimmy Jackson on the call:
Indiana's 4-2 start in Big Ten play has been impressive, but things are about to get much more difficult for the Hoosiers. Friday marks the beginning of a stretch of seven games in 17 days that includes two games against Michigan State, Purdue at home and a trip to Ohio State.
Up first is a trip to Michigan State, the preseason Big Ten favorite. The Spartans, however, have stumbled of late with recent losses at Ohio State and to Michigan at home. Those setbacks have allowed Purdue and Ohio State to take a two-game lead in the loss column over the Spartans. At this point, it would be surprising if someone other than the Boilermakers win the league as Purdue plays Ohio State just once and it's in West Lafayette.
Still, Michigan State is the league's most talented team and probably the best chance for the Big Ten to end its national championship drought.
MEET THE SPARTANS
Michigan State boasts the league's most talented frontcourt with two players currently projected to go in the top nine of next June's NBA draft, according to ESPN.
Sophomore Miles Bridges, the Big Ten's preseason player of the year, is averaging a team-high 16.7 points per game, but is shooting just 45.9 percent from the field. The Flint native is second on the Spartans in rebounding at 7.4 per game, but his defensive rebounding percentage is down significantly from last season. His 3-point shooting percentage is also down by five from his freshman campaign.
Joining Bridges in the starting lineup are McDonald's All-American Jaren Jackson and sophomore Nick Ward. Jackson, who is regarded the best NBA prospect on the team, played at Park Tudor in Indianapolis before transferring to La Lumiere for his final prep season. He's the son of former Georgetown standout Jaren Jackson Sr., who also played in the NBA.
The 6-foot-10 Jackson is unique because of his ability to stretch the floor (43.4 percent on 3s) and also block shots (14.4 block percentage). He's only playing 23 minutes per game, but averages 11.5 points and 6.2 rebounds per game. Indiana is going to have to find a way to spread the floor and get Jackson away from the basket if it hopes to generate any easy looks at the rim.
The 6-foot-8 Ward is a monster on the offensive glass (18.2 OR%) and does a great job of drawing fouls and finishing 2s. Ward's free throw rate (FTA/FGA) is a ridiculous 75.9 percent, but he's only converting at a 61.8 percent clip from the line. He's shooting 69.4 percent on 2s.
The backups to know up front are junior Kenny Goins, freshman Xavier Tillman and redshirt senior Gavin Schilling. Michigan State's depth up front gives them a distinct advantage over Indiana, which isn't playing anyone taller than 6-foot-7 besides Clifton Moore.
Michigan State's starting backcourt is sophomore Cassius Winston and sophomore Josh Langford. Winston's assist rate of 42 percent in league games is the best in the Big Ten. He can also hit the occasional 3-pointer as he's 10-of-24 from deep in conference play. His defense still holds him back at times, which is why senior Lourawls "Tum Tum" Nairn still plays 20 minutes per game as a backup.
Langford, a McDonald's All-American, runs the floor hard and can be dangerous because of his ability to find openings and knock down 3s in transition. In the halfcourt, he cuts hard and Michigan State runs him off of a lot of screens. He's shooting 46.2 percent on 3s. Langford isn't much of a driver or a slasher.
The other primary backup name to know in the backcourt is junior Matt McQuaid, a solid defender and shooter. McQuaid has struggled from behind the arc in league play (22 percent), but is shooting 36.7 percent for the season.
TEMPO-FREE PREVIEW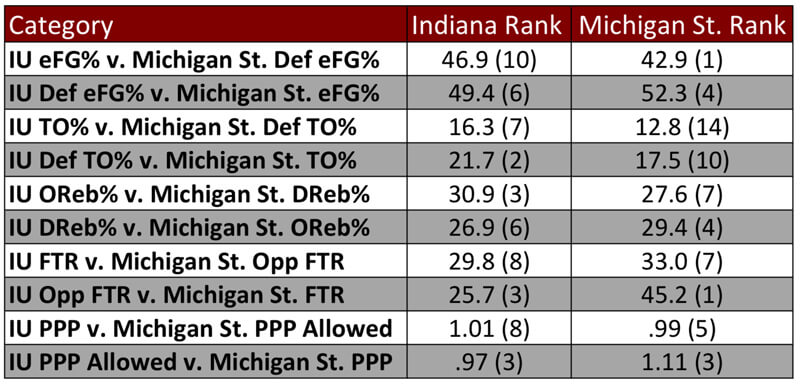 Michigan State has given up over a point per possession just three times this season and each time, the Spartans lost.
Tom Izzo's team is built on the strength of its elite defense and its ability to crash the offensive glass. The Spartans don't force turnovers, but they don't have to because of their elite shot blocking ability. Michigan State's block percentage is 19.1 in league play and Big Ten opponents are shooting just 37.1 percent on 2s.
If Indiana is going to find success offensively, it has to effectively spread the floor and generate some clean looks at the rim as a result of sharp cutting and passing. Michigan State hasn't been great on the offensive glass in league play, but with five days to prepare, you can be sure Izzo will have his team refocused in that facet. Limiting the Spartans to one shot per possession will go a long way in determining Indiana's chances to pull off the upset.
WHAT IT COMES DOWN TO
Michigan State is a 16-point favorite and has a 92 percent chance of winning, according to Ken Pomeroy. The Sagarin ratings like Michigan State by 13.5.
Indiana won just once at Michigan State in the Tom Crean era and the Breslin Center is one of the league's toughest venues for road teams. Throw in the fact that Michigan State is coming off a home loss to its primary rival and has had five days off between games and the Hoosiers could be walking into a hornet's nest.
The Hoosiers haven't been good in true road games this season (1-4) and this is arguably the toughest test left on the schedule. Can Indiana take advantage of a Michigan State team that has been shaky in recent weeks? Or are the Spartans, a legitimate national championship contender, ready to right the ship?
(Photo credit: Getty Images North America)
Filed to: Michigan State Spartans