Five takeaways from Indiana's win over Northwestern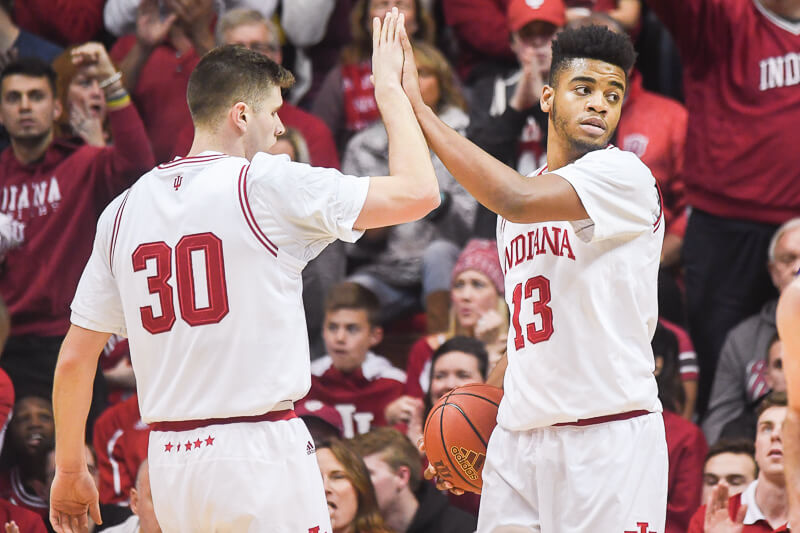 Indiana won its third straight game on Sunday afternoon as the Hoosiers crushed Northwestern, 66-46, at Simon Skjodt Assembly Hall. The victory moved Indiana into a three-way tie for third place in the Big Ten.
Here's a look at five takeaways from the win over the Wildcats:
· Defense carries the load: It's been a while since Indiana basketball has been able to cite defense as its reason for winning games, but that's exactly how the Hoosiers are earning Big Ten victories this season.
With Juwan Morgan on the bench with two fouls for most of the first half, Indiana was offensively challenged. But the Hoosiers played strong defensively as Northwestern managed just 19 first half points and scored just .57 points per possession.
Through six Big Ten games, Indiana is allowing just .97 points per possession, which is the third best mark in the league behind Purdue and Ohio State. For the game, Indiana limited Northwestern to just .71 points per possession, its worst output of the season.
"We were stagnant against the zone and not having Juwan for a good part of that first half obviously impacted our offense not being able to play through him a little bit," Archie Miller said postgame. "But the defensive intensity in the first half was excellent."
· Johnson, Newkirk get hot from perimeter: Indiana still hasn't had a lights out shooting performance from the perimeter – and it may not happen – but the Hoosiers got strong performances from Robert Johnson and Josh Newkirk on Sunday.
Miller has been looking for more consistency from his senior guards and on Sunday they both delivered.
Johnson scored a team-high 17 points and was 5-of-11 from distance while Newkirk was 2-of-3 from deep and finished with 12 points.
"The better and more consistent we are with our guards — high assists, low turnovers and shooting percentages, especially from behind the line — if we can get those guys to be a little bit more consistent our team is going to be better," Miller explained. "And I think in this game in particular when your guards were able to make the plays that they made tonight you have an easier time."
· Turnovers continue to trend downward: Six games into league play, it's fair to say Indiana has made progress in taking care of the ball.
The Hoosiers had just 11 turnovers on Sunday for a final turnover percentage of 16.9. It was the third straight game Indiana had a turnover percentage below 18 and the fifth time that has happened in league play.
Indiana is currently sixth in the Big Ten in turnover percentage in conference games at 16.9 percent. Last season, Indiana was last in the conference in turnover percentage at 21.3.
· A big recruiting afternoon in Bloomington: A weekend afternoon home game is an excellent time to get visitors on campus to experience a gameday atmosphere at Simon Skjodt Assembly Hall. And on Sunday, the IU coaching staff assembled a strong list of prospects to watch the Hoosiers crush Northwestern.
The headliner was five-star New Albany guard Romeo Langford, who made his first in-season campus trip to Bloomington. Langford is down to a final three of Indiana, Kansas and Vanderbilt. Class of 2018 point guard signee Robert Phinisee was also in attendance.
Others spotted in attendance include Valparaiso guard Brandon Newman (2019), Cathedral guard Armaan Franklin (2019), New Castle forward Mason Gillis (2019) and Bloomington South guard Anthony Leal (2020).
· Northwestern is the Big Ten's biggest disappointment: After starting the season in the Associated Press top 25, Northwestern is now 11-8 and 2-4 in the league.
The Wildcats have little chance of returning to the NCAA tournament and may be in jeopardy of missing the postseason altogether if a turnaround doesn't happen soon.
So what's happened in Evanston?
Despite returning much of the same cast from last season, Northwestern has regressed defensively. The Wildcats were 32nd last season in Ken Pomeroy's adjusted defensive efficiency, but are just 86th this season.
Filed to: Northwestern Wildcats