Big Ten Power Rankings: January 15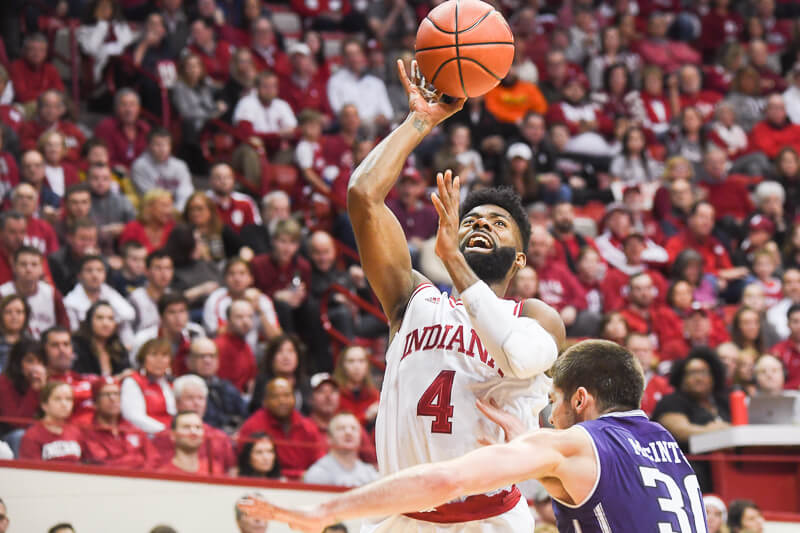 We're one-third through the Big Ten regular season, and the results have been anything but expected. Two undefeated teams still remain, while only Illinois remains winless.
14. Illinois (10-8, 0-5; 1.01 Points Per Possession in conference play, 1.09 PPP allowed; KenPom – 95, Sagarin – 74, RPI – 149) (Last week: 13)
For the third time in five Big Ten defeats, the Illini fell in overtime. This time the opponent was lowly Iowa, as Illinois blew a 13-point halftime lead to remain winless in conference play. Brad Underwood's club will have two shots at a victory this week, but both games will be on the road – at Nebraska (Monday) and at Wisconsin (Friday).
13. Iowa (10-9, 1-5; 1.06 PPP, 1.16 PPP allowed; KenPom – 85, Sagarin – 69, RPI – 136) (Last week: 14)
The Hawkeyes picked up their first conference win, dispatching the Illini in overtime. Sharpshooter Jordan Bohannon poured in 29 points, nailing five triples and sinking all 10 of his free throw attempts.
12. Rutgers (11-8, 1-5; 0.85 PPP, 1.05 PPP allowed; KenPom – 133, Sagarin – 118, RPI – 200) (Last week: 12)
Steve Pikiell's squad has the lowest offensive PPP in the Big Ten, yet nearly knocked off Michigan State in East Lansing, falling in overtime. The Scarlet Knights followed up that effort with a 22-point blowout loss at home to Ohio State. Rutgers will have to traverse the conference schedule without senior captain Mike Williams, who is out indefinitely after suffering an ankle injury over the weekend.
11. Minnesota (13-6, 2-4; 0.95 PPP, 1.04 PPP allowed; KenPom – 68, Sagarin – 58, RPI – 84) (Last week: 7)
The Gophers have yet to reach rock bottom, but they're getting awfully close. Without starters Reggie Lynch and Amir Coffey, Minnesota dropped games at Northwestern and to Purdue by a combined 57 points. Head coach Richard Pitino suggested his team could use a break, but there is no relief on the horizon as they prepare for a week-long road trip to Penn State (Monday) and Maryland (Thursday).
10. Northwestern (11-8, 2-4; 0.96 PPP, 1.02 PPP allowed) (KenPom – 76, Sagarin – 57, RPI – 108) (Last week: 11)
After dominating Minnesota on Wednesday, the Wildcats regressed back to what they've been throughout the season, leading to a shellacking at the hands of Indiana. The Wildcats managed to score just 46 points against Indiana on 26 percent shooting, with not a single player reaching double-figures. Now two games under .500 in the conference, Northwestern is running out of time to regroup in time to make a postseason run.
9. Wisconsin (9-9, 2-3; 0.99 PPP, 1.05 PPP allowed) (KenPom – 78, Sagarin – 66, RPI – 140) (Last week: 8)
Wisconsin failed to secure a much-needed road victory in Lincoln, and as a result, the Badgers postseason prospects continue to fade. With five games remaining against Michigan State, Purdue and Michigan, this could shape up to be Wisconsin's worst campaign since 1998 – the last time they failed to make the NCAA Tournament.
8. Nebraska (12-7, 3-3; 0.96 PPP, 1.00 PPP allowed; KenPom – 81, Sagarin – 79, RPI – 72) (Last week: 10)
The Cornhuskers nearly swept their two-game slate last week but came up two points short in overtime at Penn State on Saturday. A favorable schedule looms for Nebraska, with no games versus Michigan State or Purdue, and just one each against Michigan and Ohio State. Even with the soft schedule, Nebraska will have to clean up their work on the offensive end – they're currently ranked dead last in conference play in both offensive rebounding percentage (24.5) and percentage of shots blocked (15.7).
7. Penn State (13-6, 3-3; 1.04 PPP, 1.01 PPP allowed; KenPom – 47, Sagarin – 51, RPI – 117) (Last week: 6)
Without junior guard Josh Reaves in action in either of Penn State's past two games (academic issues), the Nittany Lions were able to survive the week with a 1-1 record. In Reaves' absence, sophomores Mike Watkins and Lamar Stevens picked up the slack in a win over Nebraska, combining to score 46 points on 17-of-26 from the field (65 percent).
6. Indiana (11-7, 4-2; 1.01 PPP, 0.97 PPP allowed; KenPom – 88, Sagarin – 65, RPI – 105) (Last week: 9)

Archie Miller's club has used a soft spot in the schedule to build up momentum as Big Ten play nears the halfway point. The Hoosiers concluded a two-game homestand with a 20-point beatdown of Northwestern. Indiana is now in for a grueling few weeks, with four of the next seven on the road, including matchups in East Lansing and Columbus.
5. Maryland (14-5 3-3; 1.11 PPP, 1.19 PPP allowed; KenPom – 41, Sagarin – 34, RPI – 47) (Last week: 5)
Through six Big Ten games, the Terrapins defense is far and away the worst in the league, allowing 1.19 points per possession. The Buckeyes torched Maryland on Thursday, posting 91 points at a rate of 1.38 PPP. With season-ending injuries to forwards Justin Jackson and Ivan Bender, Maryland has been forced to rely on sophomore Joshua Tomaic, who scored 11 points in the loss.
4. Michigan State (16-3, 4-2; 1.11 PPP, 0.99 PPP allowed; KenPom – 6, Sagarin – 6, RPI – 30) (Last week: 2)
The Spartans are in a January freefall, losing two of their past three, with the lone win coming in overtime to Rutgers. Michigan State will have to stop the bleeding fast if they want to remain in the hunt for the conference crown. Luckily for Tom Izzo, his team will be the overwhelming favorite in their next three games – vs. Indiana, at Illinois, vs. Wisconsin – allowing the Spartans to regain their rhythm before the schedule picks back up.
3. Michigan (15-4, 4-2; 1.10 PPP, 1.03 PPP allowed; KenPom – 17, Sagarin – 15, RPI – 32) (Last week: 4)
The Wolverines outscored the Spartans by 11 in the second half to push past their in-state foes in their only meeting of the regular season. Star junior Moritz Wagner recorded a career-high 27 points, connecting on three triples while also blocking a pair of shots. With three quality wins on the resume (vs. UCLA, at Texas, at Michigan State), Michigan now find themselves firmly in the NCAA tournament field with plenty of opportunities to boost their status.
2. Ohio State (15-4, 6-0; 1.23 PPP, 0.96 PPP allowed; KenPom – 16, Sagarin – 24, RPI – 22) (Last week: 3)
In his first year in Columbus, Chris Holtmann has his team rolling with conference play well underway. The Buckeyes boast the Big Ten's best offense and have won every Big Ten game by at least nine points. This week, Ohio State earned a pair of 22-point triumphs on the back of consecutive 20-point outbursts from junior Keita Bates-Diop.
1. Purdue (17-2, 6-0; 1.16 PPP, 0.96 PPP allowed; KenPom – 2, Sagarin – 1, RPI – 9) (Last week: 1)
Winners of 13 straight, Purdue keeps on humming along. The Boilermakers were tested in Ann Arbor on Tuesday but came out on top after an Isaac Haas free throw in the final seconds. Favored by KenPom in all but one of their 12 remaining regular season matchups, the Boilers are poised for another conference title.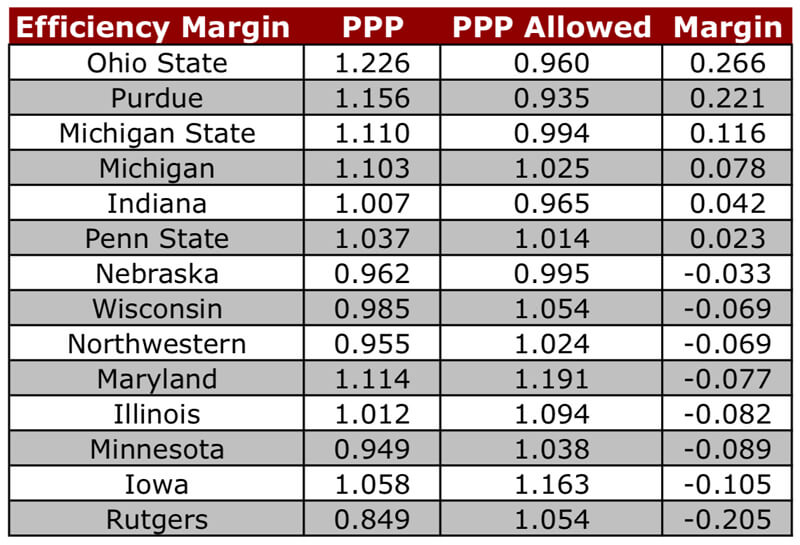 Filed to: Big Ten Power Rankings