Notebook: Hoosiers put it all together in rout of Northwestern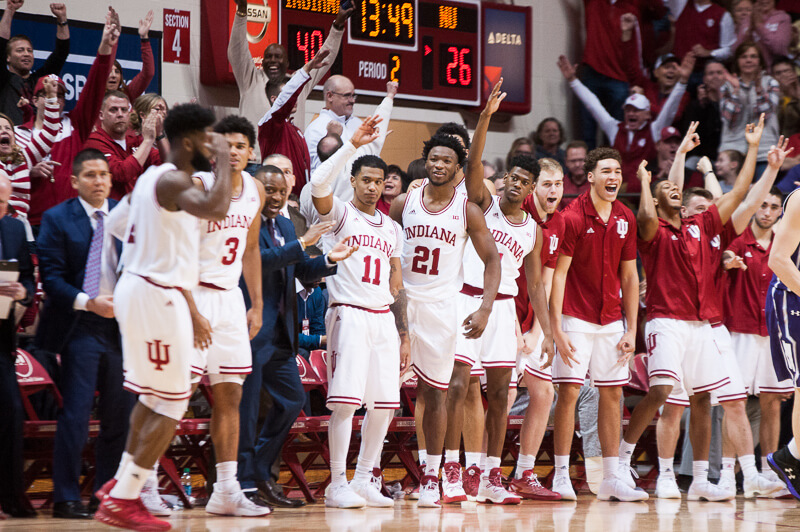 Indiana finished off its two-game homestand with one of its best performances of the season as the Hoosiers hammered Northwestern, 66-46, at Simon Skjodt Assembly Hall.
It was a slow start on both sides, as neither team scored in the opening 3:30. Northwestern's Aaron Falzon nailed a triple to open the scoring, but Josh Newkirk answered 20 seconds later. From there, Indiana was tied or leading for the remainder of the contest.
The Hoosiers (11-7, 4-2 Big Ten) stifled Northwestern's defense all game long, holding the Wildcats (11-8, 2-4) to 46 points on 27 percent shooting. The Wildcats had prolonged offensive droughts throughout the game, including a 5:07 span in the second half where Indiana scored 18 consecutive points, putting the game out of reach.
"(We're) being more connected," senior Robert Johnson said of the defensive performance. "When we're out there, I can feel guys talking more, putting forth a better effort, trying to not let the man to their right or to their left down. So I think we're more connected and there's better communication."
Northwestern looked nothing like last year's edition, which won a school-record 24 games and advanced to the second round of the NCAA tournament. The Wildcats missed countless shots, turned the ball over 17 times and only forced their way to the foul line nine times.
"Our defense could only hold on for so long," Northwestern coach Chris Collins said. "After a certain point when you're that inept offensively and you can't score, it just grinds out the other facets of your game. I thought that's what would happen. We start to wear down and we could never get any kind of momentum to make a push on these guys."
Freshman contributions
All three of Indiana's non-redshirt freshmen played a part in the lopsided victory.
Al Durham, who has carved out a role into the guard rotation, scored five points, grabbed three rebounds and added an assist in 14 minutes. Justin Smith, starting for the third consecutive contest, put up eight points, five rebounds and a block in 17 minutes.
Meanwhile, Clifton Moore, who had not appeared in the previous three games and had logged just 23 minutes all season, was called on to make in impact in the frontcourt. In seven minutes of action, Moore didn't score a point but blocked two shots and recorded a steal.
"I felt that I was ready because we work hard in practice," Moore said. "So throughout the season just learning the concepts, learning how coach wants me to play, I felt comfortable out there."
Guard rebounding continues
With De'Ron Davis out for the remainder of the season, the rest of the team has been asked to step up in his absence.
One area where the guards have been asked to contribute has been rebounding. Miller said postgame that he has set a goal for the guards (plus Zach McRoberts) to grab a minimum of 12 defensive rebounds per game.
"We're constantly hunting, trying to get at least 12 defensive rebounds per game from our backcourt," Archie Miller said. "It's a big number to focus those guys in on, (with) Juwan and Justin and Freddie being asked to do a lot. Sometimes they're going to be on the wrong side of guys, sometimes they're going to be undersized. But if our guards mix it up, they get in there and they clean up the long ones, they don't leak-out…it really helps"
The Indiana frontcourt easily surpassed Miller's goal in Sunday's win, securing 19 defensive boards, including six from Robert Johnson.
Filed to: Northwestern Wildcats