What to expect: Northwestern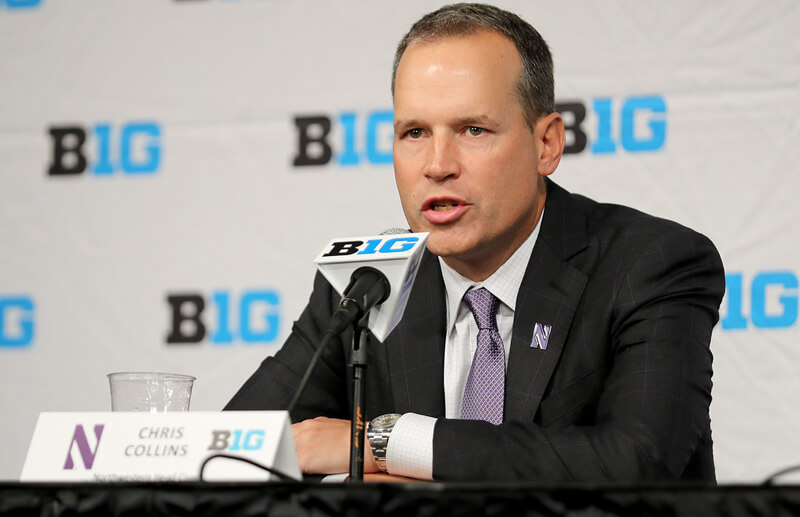 Indiana will look for its fourth league win on Sunday afternoon as the Hoosiers host Northwestern. The Wildcats are 11-7 overall and 2-3 in the Big Ten league.
The game will be broadcast on CBS at 4:30 p.m. ET with Spero Dedes and Clark Kellogg on the call:
A preseason top 25 team, the 2017-18 season has been a struggle so far for Northwestern. The Wildcats, who made the NCAA tournament last season for the first time in program history, have lost seven games by an average of 14.6 points. That's slightly worse than Indiana's average margin in losses, which is 14.2 points.
The Wildcats begin a three-game stretch on Sunday that could ultimately determine the direction of their season. After traveling to Bloomington, Northwestern will host Ohio State and Penn State next week at All State Arena. In terms of quality of opponent, Northwestern doesn't have any "bad" losses besides a one-point loss at Georgia Tech. But its resume is lacking in wins that will impress the selection committee. If it wants to get back into the postseason conversation, the time to make a move is now.
Indiana, meanwhile, is playing arguably its best basketball of the season despite losing De'Ron Davis recently to injury. The Hoosiers are in the top half of the league in defense and have rebounded the ball very well in their last two wins. In a Big Ten that is wide open after clear separation at the top, Indiana can put itself in position for a top half finish in the league by continuing to win at home.
MEET THE WILDCATS
Northwestern's cast is full of experience as the Wildcats start two seniors, two juniors and a redshirt sophomore. Seniors Scottie Lindsey and Bryant McIntosh start in the backcourt and are the team's two leading scorers.
Lindsey's 14.7 points per game lead the Wildcats and he's an excellent spot-up shooter, according to Synergy Sports. In 81 spot-up possessions this season, Lindsey has 94 points. That ranks in the 83rd percentile nationally. He's shooting 34.4 percent on 3s this season.
McIntosh is one of the Big Ten's best playmakers as his 13.4 points per game are second on the team and his six assists per game are tops on the roster. McIntosh, an Indiana native, has an assist rate of 43.9 percent in four conference games and is coming off of a 16-assist, zero turnover performance in a win over Minnesota on Wednesday. However, he's shooting just 33.3 percent on 2s in conference games and just 32.8 percent on 3s for the season.
Junior Jordan Ash, sophomore Isiah Brown and freshman Anthony Gaines are the backups in the backcourt. The 6-foot-4 Gaines is the most productive of the trio as he averages 3.7 points and 2.7 rebounds in 15.4 minutes per game.
Redshirt junior Vic Law starts on the wing and has shown improvement after a disappointing sophomore campaign. The 6-foot-7 Law is third on the team in scoring at 12.4 points per game and second in rebounding at 5.4 per game. Like Lindsey, Law has been effective in spot-up situations as he's got 68 points in 60 spot-up possessions, per Synergy. He's shooting a team-best 42.5 percent on 3s.
Redshirt sophomore Aaron Falzon and senior Gavin Skelly split the minutes at the four and both can stretch the floor. Falzon is shooting 40.4 percent on 3s and Skelly is shooting 50 percent (15-of-30). Falzon is scoring 1.42 points per possession on spot-ups and Skelly is at 1.22 points per possession, so Indiana must find a way to make both put the ball on the floor.
Junior Dererk Pardon is undersized at the five, but plays much bigger than his 6-foot-8 frame. Pardon is the seventh best offensive rebounder in the Big Ten (12.2 OR%) and is fourth in block percentage (9.8). Pardon's free throw rate (FTA/FGA) of 57.1 is the best on the team and he's knocking down 61.8 percent of his attempts on the season.
TEMPO-FREE PREVIEW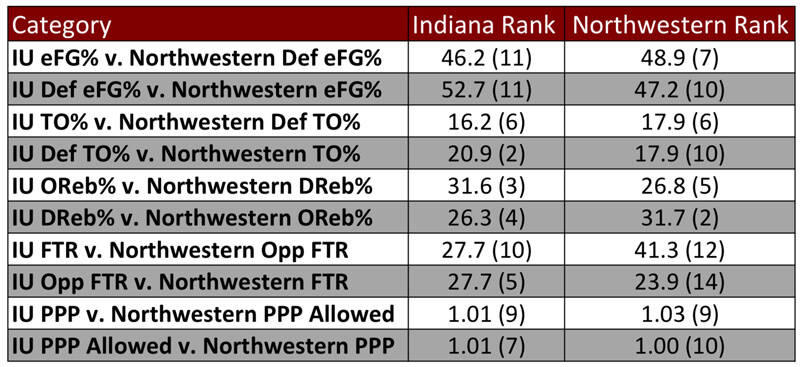 Neither team looks to get out and run regularly as Indiana's adjusted tempo, according to Ken Pomeroy, is 255th nationally and Northwestern is 308th.
The two key areas are rebounding and free throws and the Hoosiers are going to need a solid performance in both to prevail. The Hoosiers are currently the Big Ten's third best offensive rebounding team and Northwestern is second. Both teams are also in the top five in defensive rebounding percentage, so second chance points are certainly worth monitoring.
Northwestern has really struggled to keep Big Ten opponents off the free throw line. The Wildcats are 12th in the league in opponent free throw rate at 41.3 percent while Indiana is fifth at 27.7 percent.
While IU's turnaround on turnovers has been heavily cited, its improved ability to defend without fouling is equally important. Indiana finished last in the league last season in opponent free throw rate (45.6 percent).
WHAT IT COMES DOWN TO
The KenPom line is Indiana by one with a 53 percent chance for a Hoosier victory while Sagarin's ratings like IU by half of a point once adjusted for home court. The Vegas line should be out later on Saturday.
Northwestern has struggled on the road this season. The Wildcats are 1-4 in true road games and the lone win was by two over DePaul at Wintrust Arena in mid-December. Still, Indiana already has three home losses this season, each of which has come by 10 or more points.
If Indiana is going to pull out its third straight win, slowing down McIntosh while winning the rebounding and free throw battles are the clear keys.
(Photo credit: Abbie Parr/Getty Images North America)
Filed to: Northwestern Wildcats