News and notes from Archie Miller's radio show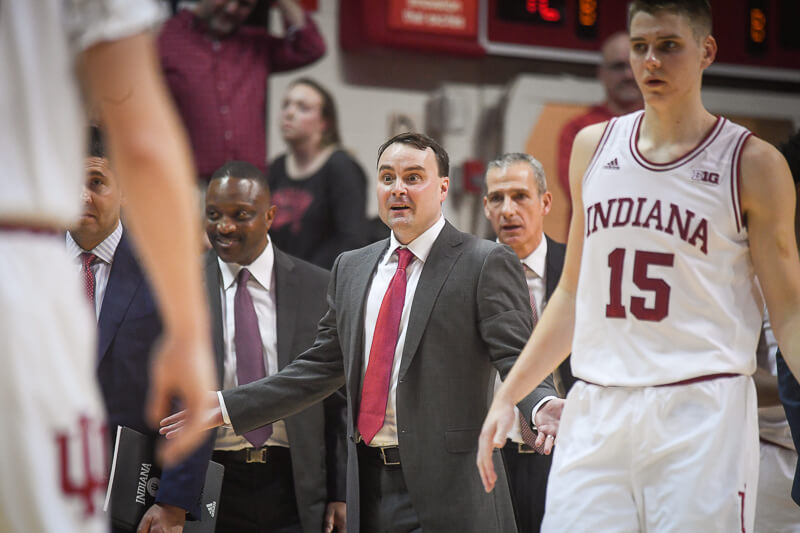 Inside IU basketball with Archie Miller was live on Thursday evening at the Holiday Inn in Bloomington. Senior guard Josh Newkirk was the guest in the show's final segment.
Below are news and notes from Miller:
· On back-to-back Big Ten wins: "I thought we played decent at Wisconsin for a good stretch, we just weren't tough enough in the second half, doing the little things you need to do to win January conference games, whether you're home or on the road. I thought we had a much better approach at Minnesota. A very tough-minded group that hung in there with a couple guys down. Really rebounded the ball well. Rob (Johnson) had a career-day, but I think Juwan (Morgan) and Justin (Smith) also had fantastic games. Penn State was really a team, collected group effort. There were a lot of hustle plays that went into winning that game, some offensive rebounding was a big deal, limited our turnovers and I think we got some timely baskets in the second half to keep the distance a couple possessions at a time where we were able to hold off a pretty talented Penn State team."
· On 'winning plays': "These last couple games, some of the winning plays don't go in the stat sheet. Whether it's loose balls, deflected balls, a rebound here or there. Some timely effort-related things that go into winning this type of game. When you get into conference, everybody has seen you on film, you may play a team twice in (two weeks). They know you. Our group is learning how to play (without) De'Ron (Davis) and playing through Juwan a little bit. Justin is getting in there, Collin (Hartman) being able to play in the Penn State game, he gave us 27 really good minutes. We're still developing, finding ways where we can get better, but I think the big thing is that consistent toughness and energy level that you need."
· On improved defensive rebounding: "It starts with Juwan taking a lot of pride in understanding how important that's going to be for him and his role throughout the course of the season. He's gotta be a double-figure rebound guy. We talked about that at length following the Wisconsin game. He's gotta be a big game rebound type of guy. So it starts with him and we've really just been preaching to our guards. The best teams have guards that defensive rebound. Rob, if I'm not mistaken, has 12 defensive rebounds in the last two games. That's a big, big stat for us. We're not the biggest group right now, we've gotta rebound collectively."
· On winning ugly: "Finding ways to win games when you're not playing at your best is sometimes the most fun. It wasn't pretty, but at the end of the day, they feel the same."
· On the Big Ten: "It's going to sort itself out here as we start to get through the middle and end of January, there will be some separation. Some teams are going to go on the road and get a couple, and teams that hold serve at home are going to find a way to creep up. We're right on the cusp of what we're getting ready to see. Clearly, Purdue and Michigan State are Final Four caliber teams. They've played that type of competition and have shown throughout the course of (the season) that they're two of the premier programs, and it's great to have (them) in our league to be able to go up against, because you have an opportunity to play again them, and if you beat them, it looks great on your resume. It starts to go down from there with the Michigans, the Marylands and Ohio State in particular right now have sort of got themselves in a situation where if they take care of business, they're postseason teams. Under those teams, there's another group, which we're a part of right now, has an opportunity to take a step up. If you win your home games, you keep finding ways to steal a couple on the road, you have an opportunity to creep up…It's a wide open five-through-14. Rutgers had Michigan State last night, they could have come away with a big win. So 14 up through about 5, anybody can beat anybody on any given night. Once you get up into that other tier, it will be interesting to see if those teams can continue to hang in there with Michigan State and Purdue, who clearly have established themselves as a 1-2 punch."
· On De'Ron Davis: "It was really just unfortunate, bad luck where he ruptured his Achilles on a turn where you hit the baseline and run the other way. Just one of those things where there's no pain or anything, it just kind of went. So it's disappointing for De'Ron that he's not able to continue to evolve in his sophomore year. He had successful surgery yesterday and I think the prognosis is for a full recovery where this summer he'll be back on his feet moving in that direction. He's got a chance to take another offseason to really train and reshape his body, and hopefully, for next season, he'll be starting off with a healthy bill of health."
· On Clifton Moore: "He's right there. He hasn't had a chance yet, but I think it's inevitable that Clifton's going to get in Big Ten games as we move forward. He's gotta stay ready. He works extremely hard in practice and is getting better. He'll be ready when his number is called just because of how much he cares and what a good teammate he's been. Right now, we haven't had to go that direction. We're probably playing Juwan a little too much, probably need to look at a couple windows where we can get Clifton in, so that when he does have that opportunity where he has to play extended minutes, that he's prepared for it."
· On Northwestern: "They can really execute. They've got a great player in Bryant McIntosh, everything goes around him. Last night (against Minnesota) he had 16 assists and zero turnovers, so he's obviously a really big quarterback for them. He makes the plays. They're also very skilled and big at the two and the three. Vic Law and Scottie Lindsey are two of the premier shooters for their size. They run them a lot off screens and they do a great job using Dererk Pardon down low … To not allow them to execute isn't easy, but we're going to have to find a way to disrupt them a little bit."
· As a true sophomore at North Carolina State, Miller says he had back surgery: "It ended up being a little more serious than I anticipated. I had two herniated disks and a narrowing of my spinal column, which was really causing me problems in November of my sophomore year and required season-ending surgery. That derailed me."
· Miller didn't rule out going on a foreign trip in a future summer, but said they're perceived impact now maybe overstated because of the time teams already get together during the summer.
· Miller said the team divides the game into 10 4-minute segments and looks at how they did in each.
· Newkirk, on helping mentor the freshmen: "They always are questions, trying to learn. It makes my job easier."
· Newkirk said he hosted Freddie McSwain when he came on his recruiting visit, "Ever since then, we kind of clicked."
· Newkirk said the funniest player on the team is Johnny Jager: "Just being a clown in the locker room, being a clown before the games. Just getting us hype, all those types of things."
· Newkirk is majoring in liberal studies and hasn't planned on what he's going to do with the degree. He hopes to play basketball professionally first.
Filed to: