Five takeaways from Indiana's win over Penn State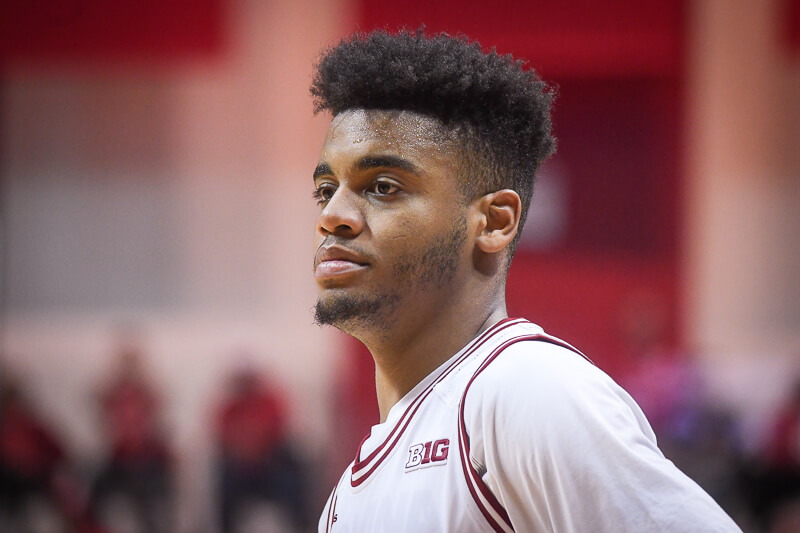 Indiana put together a solid 40-minute performance on Tuesday night as the Hoosiers beat Penn State 74-70 for their third Big Ten win. The victory improved Indiana to 10-7 this season.
Here's a look at five takeaways from the win over the Nittany Lions:
· Indiana finds a way despite a poor shooting performance: For the second straight game, Indiana didn't play great offensively. And for the second straight game, the Hoosiers won with defense.
Indiana shot just 40.3 percent from the field and still led for the final 25+ minutes in Tuesday's win. How?
The Hoosiers held Penn State to just 1.01 points per possession. In all three of IU's Big Ten wins this season, their opponent has scored 1.01 points per trip or fewer. Through five league games, Indiana has the Big Ten's sixth best defense.
"I thought we really grinded one out here today when we didn't shoot the ball particularly well," Archie Miller said postgame. "Found other ways to make the plays that we needed to make to win."
· Juwan Morgan continues to play at an All-Big Ten level: With De'Ron Davis sidelined indefinitely, Indiana is relying heavily on Juwan Morgan to carry the load in the frontcourt. And Morgan continues to deliver in a major way.
After logging 38 minutes in Saturday's win at Minnesota, Morgan was on the floor for 39 minutes in Tuesday's win over Penn State.
Morgan played the entire second half and finished with 21 points, 11 rebounds, two assists, a steal and a turnover. He also didn't commit a foul and splashed in a pair of 3-pointers.
Through five conference games, Morgan is averaging 19.4 points and nine rebounds in 32 minutes per game.
"The one guy who is consistent has been Juwan," Miller said. "I think he's been that way from the beginning. He's playing at an all-conference level right now."
· Newkirk and Green bounce back from poor performances: Indiana's win at Minnesota was the result, in large part, of strong performances by Morgan, Robert Johnson and Justin Smith.
On Tuesday, Indiana was more well rounded offensively with five players finishing in double figures. Josh Newkirk and Devonte Green were both crucial in the win.
Newkirk scored 16 points, including a 7-of-8 performance from the free throw line, and also added four assists in 30 minutes. Green came off the bench and scored 13 points in 21 minutes.
Most importantly, the duo didn't commit a turnover.
"I think Devonte and Josh both got that message coming out of Minnesota," Miller explained. "If you turn the ball over, you can't play. Thankfully Al (Durham) saved us in the Minnesota game. And then tonight both those guys emerged."
· Indiana's defensive rebounding again shows improvement: In the aftermath of IU's loss at Wisconsin on Jan. 2, Miller expressed disappointment in his team's defensive rebounding.
Indiana allowed the Badgers to grab 46.4 percent of their missed shots for 15 second chance points.
The Hoosiers, however, have buckled down on the defensive glass their past two games. After allowing Minnesota to grab just 22.2 percent of its misses on Saturday, Indiana was even better against Penn State. The Nittany Lions rebounded just 17.2 percent of their misses for just four second chance points.
Through five league games, Indiana's rebounding numbers are strong on both ends. The Hoosiers are currently, from a percentage standpoint, the league's fourth best offensive rebounding team and the league's third best defensive rebounding team.
· McRoberts doesn't score … and still has a major impact: Zach McRoberts hasn't scored for three straight games, but he's still important for Indiana to have on the floor as much as possible.
In Tuesday's win, Miller moved McRoberts around on several guys, including Tony Carr, and he was disruptive.
The redshirt junior from Carmel had three steals, six rebounds and three assists before fouling out in 26 minutes. McRoberts is currently second in the Big Ten in steal percentage at 4.8.
"He's been huge for us, especially since he's been starting," Robert Johnson said. "He just plays within himself and gives everything that he has. And I think if we can all recognize what we need to give for the betterment of the team, I think we'll all be better."
Filed to: Devonte Green, Josh Newkirk, Juwan Morgan, Penn State Nittany Lions