Big Ten Power Rankings: January 8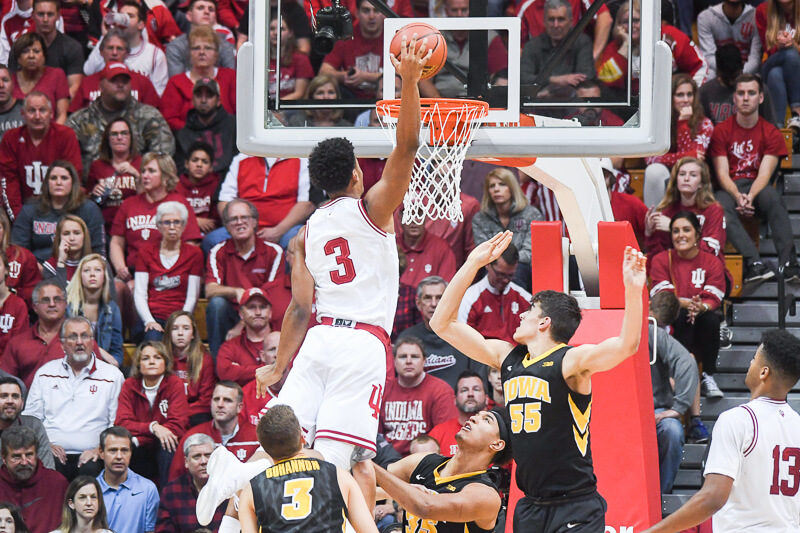 After a brief mid-December hiatus, Big Ten conference play is back, and so are the Inside the Hall Power Rankings. Here's where each team stands:
14. Iowa (9-9, 0-5; 1.01 Points Per Possession in conference play, 1.16 PPP allowed; KenPom – 88, Sagarin – 77, RPI – 167)
The Hawkeye's season has begun to go off the rails. On Sunday night, Fran McCaffery was tossed after questioning a series of calls as Iowa lost by 18 in College Park. Iowa currently has the worst defense in the conference, and there are no signs of that changing anytime soon.
13. Illinois (10-7, 0-4; 0.97 PPP, 1.05 PPP allowed; KenPom – 87, Sagarin – 66, RPI – 120)
The only other winless team in the Big Ten are the Illini, but that should change before long. Of the four Big Ten games Illinois have dropped, three were on the road, two went to overtime and all had a final margin of 10 or less. Brad Underwood's team will have a prime opportunity to pick up a win on Thursday when they host Iowa in a battle between squads that are winless in conference.
12. Rutgers (11-6, 1-3; 0.84 PPP, 1.05 PPP allowed; KenPom – 123, Sagarin – 118, RPI – 182)
It took less than two seasons for head coach Steve Pikiell to lift the Scarlet Knights out of the Big Ten's basement. On Friday, Rutgers used a total team effort to down Wisconsin by four points. How did they do it? By limiting potential All-American Ethan Happ, who finished with just 10 points and was forced into seven turnovers.
11. Northwestern (10-7, 1-3; 0.95 PPP, 1.06 PPP allowed) (KenPom – 71, Sagarin – 59, RPI – 97)
Oh how the mighty have fallen. A Northwestern team that entered the season with Big Ten championship aspirations are now completely out of the NCAA tournament picture. We're well into January, and the Wildcats have yet to win a game over a Kenpom Top-80 team (0-5). In a 15-point thrashing at Penn State on Friday, Northwestern shot a measly 37 percent from the field on offense, while giving up 30-points to sophomore Lamar Stephens on the other end.
10. Nebraska (11-6, 2-2; 0.96 PPP, 1.02 PPP allowed; KenPom – 81, Sagarin – 80, RPI – 79)
Tim Miles may still be on the hot seat, but his team is holding serve early in the conference slate. A pair of defeats to Michigan State and Purdue have been balanced out by victories at Northwestern and vs. Minnesota. This week may give us an indication of which direction Nebraska's season will go, with games against Wisconsin and at Penn State.
9. Indiana (9-7, 2-2; 0.99 PPP, 1.02 PPP allowed; KenPom – 91, Sagarin – 74, RPI – 118)
The Hoosiers had a polarizing week. A dispiriting loss in Madison was followed up by a close victory over short-handed Minnesota at Williams Arena. In the win over the Golden Gophers, Indiana posted their second-highest 3-point shooting percentage of the season (42 percent). They'll need that improved shooting to continue this week in home contests with Penn State and Northwestern.
8. Wisconsin (9-8, 2-2; 1.01 PPP, 1.08 PPP allowed) (KenPom – 77, Sagarin – 63, RPI – 124)
It's the Ethan Happ show in Madison. The under-manned Badgers have had to rely on the star junior for the majority of their production. For the season, only five players in the country have a higher rate of possessions used than Happ (34 percent). If Wisconsin can't find another consistent offensive contributor, their streak of 19 consecutive NCAA tournament appearances may be coming to an end.
7. Minnesota (13-4, 2-2; 1.02 PPP, 0.96 PPP allowed; KenPom – 48, Sagarin – 45, RPI – 75)
Now without two starters, Reggie Lynch and Amir Coffey, possibly for the season, the Golden Gophers are in serious trouble. Minnesota lacked leadership in a shocking home loss to the Hoosiers, and the schedule only gets tougher from here. Only one of the Gophers' next five games will be played at Williams Arena.
6. Penn State (12-5, 2-2; 1.06 PPP, 1.01 PPP allowed; KenPom – 41, Sagarin – 48, RPI – 114)
Is this the year Pat Chambers' Penn State squad finally breaks through? Sophomores Tony Carr and Lamar Stephens have looked like stars of late, with the former shooting 49 percent from three on the year and the latter posting 30 points in a dominating performance against Northwestern.
5. Maryland (14-4, 3-2; 1.13 PPP, 1.16 PPP allowed; KenPom – 35, Sagarin – 30, RPI – 49)
With Justin Jackson out for the year, the Terrapins will have to scratch and claw for every win. So far, the Terrapins have found a way to survive without their star scorer as their lone loss in seven games without Jackson was to Michigan State. In a Sunday night thrashing of Iowa, freshman Bruno Fernando picked up the slack, scoring 21 points and grabbing seven rebounds.
4. Michigan (14-3, 3-1; 1.08 PPP, 1.00 PPP allowed; KenPom – 32, Sagarin – 21, RPI – 39)
Michigan has quietly built up a decent resume, winning seven straight since the last power rankings, four of which have come over KenPom Top-100 teams. The latest was a 10-point home win over Illinois, where six players reached double-figures scoring for Michigan. Junior Moritz Wagner broke out of his offensive slump in the victory, putting up 14 points on a 6-of-7 day from the field.
3. Ohio State (13-4, 4-0; 1.22 PPP, 0.99 PPP allowed; KenPom – 33, Sagarin – 33, RPI – 25)
Chris Holtmann has had no problem adjusting to life as a head coach in the Big Ten. His Buckeyes have yet to lose a conference game. On Sunday, Ohio State never trailed in the second half as they knocked off No. 1 Michigan State. After missing the final 17 games in Big Ten play last season, junior forward Keita Bates-Diop has emerged into one of the best players in the entire conference. Bates-Diop could not be contained against the Spartans, scoring a career-high 32-points.
2. Michigan State (15-2, 3-1; 1.16 PPP, 0.96 PPP allowed; KenPom – 2, Sagarin – 3, RPI – 23)
Even with the loss at Ohio State, the Spartans still remain one of the Big Ten's elite teams. One thing is for certain, though: the Spartans need more production from their bench, which scored a grand total of four points in their humbling loss to the Buckeyes. Michigan State should bounce back from the defeat quite quickly, with a three-game homestand against inferior teams on the horizon.
1. Purdue (15-2, 4-0; 1.14 PPP, 0.95 PPP allowed; KenPom – 5, Sagarin – 2, RPI – 15)
Last year's regular season champions are right back in the driver's seat for another conference crown. Through four games, the Boilermakers have the best defense in the Big Ten and have yet to play a conference contest that has ended within a single possession. Road tests in Ann Arbor and Minneapolis will provide a challenge this week, but Matt Painter's squad is equipped to handle it.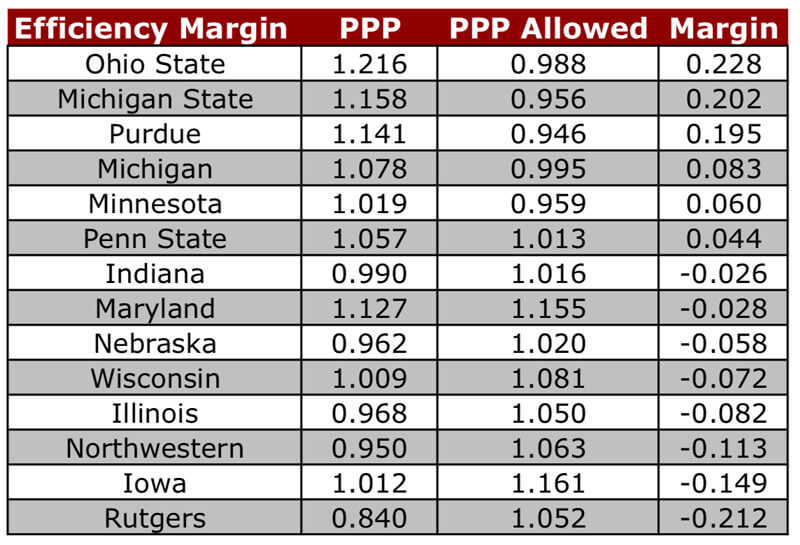 Filed to: Big Ten Power Rankings