Notebook: Hoosiers pick up first road win on career-games from Smith and Johnson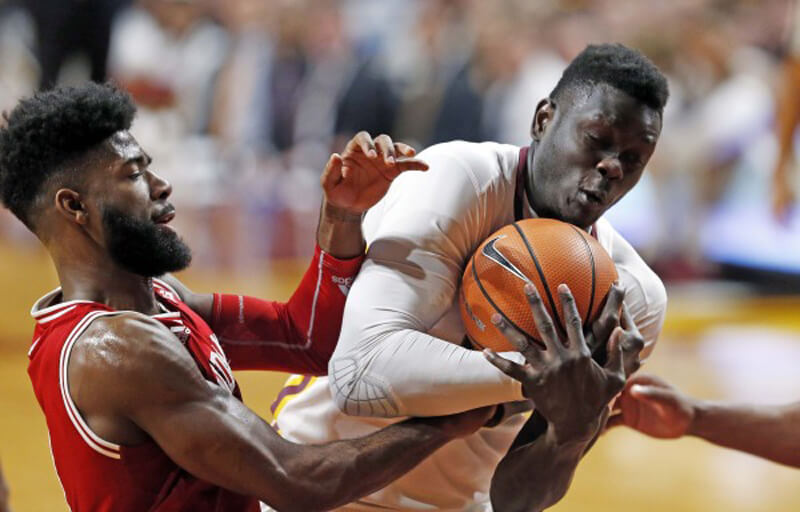 MINNEAPOLIS – Fresh off a disappointing loss in Madison on Tuesday night, Indiana bounced back on Saturday with a 75-71 win over Minnesota at Williams Arena.
After an uninspired second-half effort on Tuesday, the Hoosiers (9-7, 2-2 Big Ten) nearly put together a complete 40 minutes against the Gophers (13-4, 2-2). The lone exception was a four-minute lull to start the second half where Minnesota outscored Indiana 13-6.
Indiana's scoring came almost entirely from three players: senior Robert Johnson, junior Juwan Morgan and freshman Justin Smith. The trio combined to score all but seven of Indiana's 75 points, shooting a collective 53 percent (25-of-47) from the field.
Johnson has struggled offensively throughout much of the season, but on Saturday, he managed to find the perfect balance between attacking the defense and feeding his teammates. The senior scored a career-high 28 points on 10-of-21 shooting (3-of-7 from three) and added seven rebounds, seven assists, two steals and one block.
"Rob played big," Archie Miller said of Johnson's performance. "He had big finishes there at the end, big free throws. That's what a senior does. I'm proud of him. He stays with it, he's a great kid, he works his butt off. It was great to see him break through with a great game."
Smith and Morgan were similarly impactful in the first road victory of the season.
Starting together in the frontcourt, the duo shined on both ends of the floor, combining for five 3-pointers and banging inside on offense while keeping the Minnesota bigs in check on the other end.
For Smith, it was just his second start of the season, and he showed why it shouldn't be his last. Even after committing an inexplicable inbound violation in the opening minutes, Smith never lost confidence and ended the night with a career-high 20 points. Defensively, he held Minnesota forward Jordan Murphy to a 5-of-14 shooting performance.
"Justin did a good job," Miller said. "As a true freshman playing against maybe the premier guy in our league right now, I thought he did a good job. He held his own."
Hoosiers and Gophers undermanned
Both teams came into this contest shorthanded. For the Hoosiers, sophomore De'Ron Davis is out indefinitely with a "lower leg injury," while Collin Hartman did not play after a shoulder injury made him a game-time decision.
The Gophers entered the game equally depleted, missing both senior center Reggie Lynch and sophomore guard Amir Coffey. The former is indefinitely suspended while appealing a ruling from the University of Minnesota ethics commission that found him "responsible" for sexual misconduct, while the latter was a late scratch with a shoulder injury and could miss significant time.
Improved perimeter shooting
Indiana has struggled from behind the 3-point line all season, shooting just 31 percent coming into Saturday. That includes a 4-of-15 effort on Tuesday, where all of the makes came from senior Collin Hartman.
With Hartman out of the lineup Saturday, the rest of the team stepped up. The perimeter shooting wasn't anything special – 42 percent from deep (8-of-19) – but the makes helped open up the floor inside, where the Hoosiers scored 34 points in the paint.
All eight makes came from Johnson (3-of-7), Smith (2-of-2) and Morgan (3-of-4). Prior to Saturday, Smith and Morgan had hit a combined three triples all season.
"Tonight was a little bit different," Miller said. "Guys stepped up with some confidence. Rob (Johnson) banged a couple. The big thing was Justin (Smith) and Juwan (Morgan). Those guys stepped up with some confidence wide open and they made them. That made a big difference."
De'Ron Davis' status
On the ESPN2 broadcast, analyst and former IU interim head coach Dan Dakich said that center De'Ron Davis would miss the rest of the season with an achilles injury.
This is contrary to the "indefinite" timeline provided by Miller earlier in the week. Asked postgame about the injury, the coach declined to provide clarification on the injury.
"It's a lower leg injury right now," Miller said. "We'll know more this week."
(Photo credit: Minnesota Athletics)
Filed to: Archie Miller, Justin Smith, Juwan Morgan, Minnesota Golden Gophers, Robert Johnson