What to expect: Wisconsin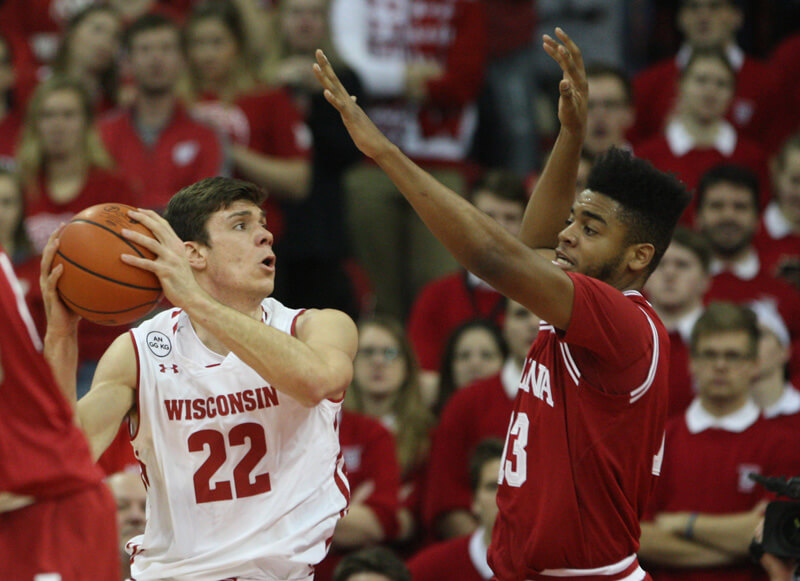 Indiana resumes Big Ten play on Tuesday night in Madison as the Hoosiers take on Wisconsin at the Kohl Center. The Badgers are just 8-7 this season, but have won four straight.
The game will be broadcast at 7 p.m. ET on ESPN with Dave Fleming and Dan Dakich on the call:
Indiana is 0-3 in true road games this season and the road doesn't get any easier this week as Big Ten play gets rolling again. The first stop this week is Wisconsin, where the Hoosiers haven't won since Jan. 25, 1998.
The series has been dominated in recent seasons by the Badgers as Indiana went 2-16 against Wisconsin in the Tom Crean era. But this Wisconsin team isn't the same caliber group that Big Ten fans have grown accustomed to seeing over the last 15 seasons. The Badgers already have seven losses and although all have come to KenPom top 75 teams, they've been beaten twice at home by 15+ points already.
The program's streak of finishing in the top four of the league standings, which currently sits at 16 straight seasons, appears to be in serious jeopardy.
MEET THE BADGERS
Some dropoff was expected in Madison with the graduation of Bronson Koenig, Nigel Hayes, Zak Showalter and Vitto Brown, but injuries have really put Greg Gard in a challenging situation.
One key rotation piece, freshman guard Kobe King, is out for the season with a knee injury and starting point guard D'Mitrik Trice is out indefinitely with a foot injury. Trice started the team's first 10 games and is third on the team in scoring at 9.4 points per game.
So what's left for Gard to work with?
The obvious headliner is redshirt junior Ethan Happ, one of the best frontcourt players in the country. Happ's 16.4 points per game lead the Badgers and he's shooting 58 percent on 2s. Happ is one of the best passing bigs in the country and his 3.5 assists per game (30.7 percent assist rate) lead the team. Happ is also in the top 20 nationally in defensive rebounding percentage and he's using 32.8 percent of Wisconsin's possessions. That's the 15th highest usage rate in the country.
Happ is a terrific post-up player as he's scored 106 points in 106 post up possessions this season, according to Synergy Sports. That ranks in the 82nd percentile nationally. One area where Wisconsin's lack of depth has hurt Happ is that he can't be as aggressive defensively. His steal and block percentages are both down from his first two seasons.
Joining Happ in the frontcourt is 6-foot-8 redshirt freshman Aleem Ford, who prefers to operate on the perimeter. Ford has taken 65 field goal attempts in 15 games and 44 of them have been 3s. He's shooting 47.7 percent from distance.
Junior Khalil Iverson is one returning Badger with experience and the 6-foot-5 wing is tied for fourth on the team in scoring at 8.4 points per game. Iverson is Wisconsin's best athlete and a terrific finisher. He's shooting 65.3 percent on 2s and 72.6 percent at the rim.
The majority of the backup frontcourt minutes are going to 6-foot-10 freshman Nathan Reuvers, who was originally going to redshirt. That plan was scrapped after five games and Reuvers, a top 75 recruit nationally, is averaging 5.3 points in 13.3 minutes off the bench.
The backcourt rotation consists primarily of freshman Brad Davison, redshirt sophomore Brevin Pritzl and several walk-ons who come off the bench.
Davison is a pesky guard who can stroke the 3. He's shooting 39.1 percent from deep this season and is second on the team in scoring at 11.7 points per game. Davison can also get to the free throw line as his free throw rate of 50.4 is the highest on the team. He's shooting 76.3 percent from the line.
Pritzl can also shoot it from the perimeter (36.8 percent on 3s) and rarely turns it over (7.8 TO%). Freshman walk-on Walt McGory is the backup point guard with Trice sidelined. T.J Schlundt, a walk-on junior, is also in the rotation and is 4-of-11 on 3s.
TEMPO-FREE PREVIEW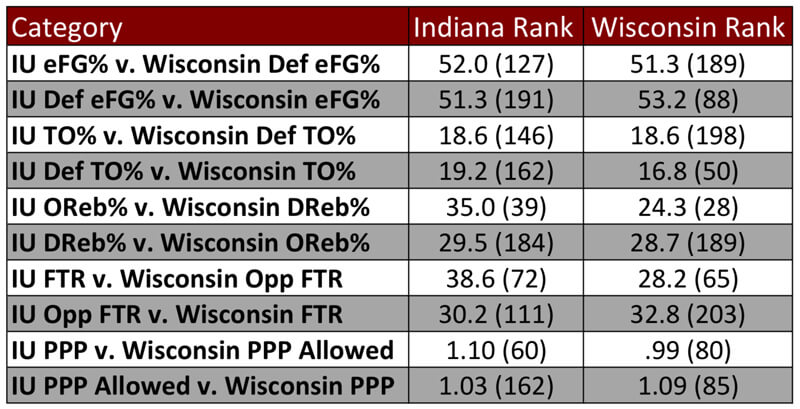 Wisconsin has had a major dropoff in taking care of the ball under Gard as the Badgers posted seven straight seasons in the top five nationally in turnover percentage to close out the Bo Ryan era.
The Badgers are still very good at taking care of the ball, but were 106th nationally in turnover percentage in Gard's first year and 70th last season. This year, Wisconsin is 50th in turnover percentage and is playing just the 346th fastest tempo in the country, according to Ken Pomeroy.
Whether Indiana will be able to generate any offensive rebounds or second chance points in a serious question entering the game. The Badgers are 28th in the country in defensive rebounding and offensive rebounding has been a consistent strength for Indiana's offense.
The free throw battle could also loom large as Wisconsin consistently keeps opponents off the line and has taken 33 more total free throws than its opponents over the last four games.
WHAT IT COMES DOWN TO
The Vegas line opened with Wisconsin as a 5.5-point favorite and Pomeroy's projection likes the Badgers by six with just a 31 percent chance for Indiana to pull off the upset. The Sagarin ratings like Wisconsin by five.
On paper, this might be Indiana's best chance for a win in Madison in quite some time, but matching up with Happ is going to be difficult. De'Ron Davis has had a tendency to pick up early fouls against good frontcourt competition and if Indiana is going to send help at Happ in the post, it better have sound awareness and crisp rotations as Pritzl, Davison and Ford are all capable of knocking down 3s. Iverson isn't much of a perimeter threat, but Happ can find him as a cutter for easy dunks at the rim.
Much like Indiana, Wisconsin has been vulnerable trying to guard the 3-point line, but the Hoosiers rank just 312th nationally in 3-point shooting percentage.
Indiana shouldn't be as uncomfortable playing at Wisconsin's deliberate pace as it was during the Crean era, but the Hoosiers must take care of the ball, steal some second chance points and also shoot a respectable percentage from the perimeter in order to win at the Kohl Center for the first time in almost 20 years.
Filed to: Wisconsin Badgers