Five takeaways from Indiana's win over Youngstown State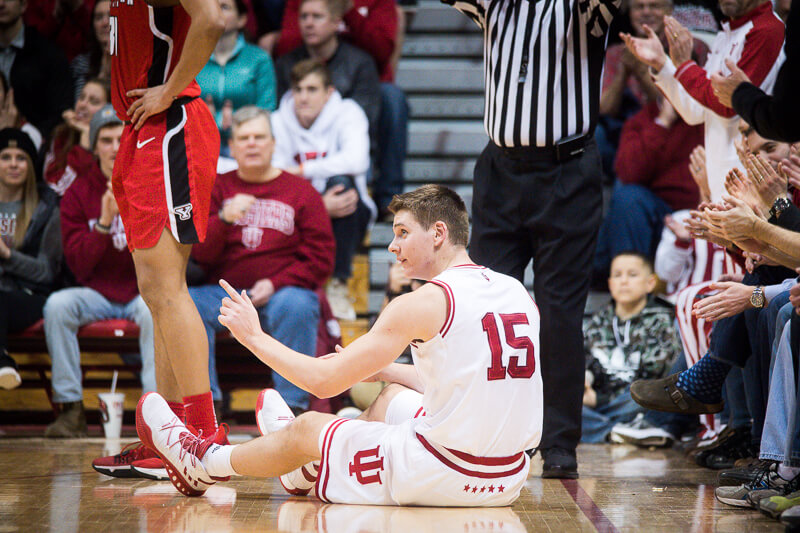 Indiana completed the non-conference portion of its schedule on Friday night with a 79-51 win over Youngstown State at Simon Skjodt Assembly Hall. The win improved the Hoosiers to 8-6 this season with a pair of conference road games looming next week.
Here's a look at five takeaways from the win over the Penguins:
· Role for McRoberts continues to grow: Zach McRoberts hasn't cracked Indiana's starting lineup – yet – but his minutes continue to increase.
After playing a combined 16 minutes in IU's first seven games, McRoberts has played double figure minutes in each of the last seven. Over the last four games, McRoberts is averaging 6.3 points, 6.5 rebounds, 2.3 assists and a steal in 26 minutes per game.
He's also developed some confidence offensively as he's 5-of-10 on 3s over the last four games. But it is his defense and hustle that have allowed the walk-on to carve out a major role for the Hoosiers.
"Zach is earning his minutes, not only in practice but he is doing exactly in practice what he does in the games," Archie Miller said following the win over Youngstown State. "He's giving maximum effort. He's playing extremely hard. He is giving you a lot of hustle plays. A lot of winning plays."
· Another poor 3-point shooting performance: Fourteen games into the season, Indiana's 3-point shooting percentage is in the bottom 50 in the country.
The Hoosiers struggled once again on Friday and finished just 5-of-22 from the perimeter. But is there hope for a turnaround?
Some of the career numbers for some of IU's key players suggest there could be. Robert Johnson, a career 38.6 percent 3-point shooter, is hitting just 32.4 percent this season. Collin Hartman, who is also a 38.6 percent career 3-point shooter, is shooting just 30.8 percent this season.
"Right now, we are not shooting the ball anywhere near what our capability is," Miller said. "Part of it is, I think we have four or five guys on our team that start the game with – 'boy I hope I make one tonight'. When you have three or four guys thinking like that and the first one doesn't go in, next thing you know, you have some guys out there really struggling."
· Early second half run was the clear highlight: Following a lackluster first half in which IU committed 10 turnovers and led just 29-20 at the break, the response early in the second half was encouraging.
Miller inserted McRoberts into the lineup to begin the second half in place of Al Durham Jr. and the Hoosiers outscored the Penguins 22-7 in the first 7:26 of the half.
"I thought inserting Zach into the lineup in the second half after studying the plus-minus stuff at the break, it was clear that he was a big difference when he was in there," Miller said. "The first four, five or six minutes of the second half, I thought that was really big having him in there. That got our defense-to-offense going with some easy baskets and extending the lead."
· Defensive rebounding an issue once again: After allowing Tennessee Tech to rebound 31.8 percent of its misses in last Thursday's win, the Hoosiers were even worse on the defensive glass on Friday.
Youngstown State, which came in with an offensive rebounding percentage of 31.3 for the season, grabbed 37 percent of its missed on Branch McCracken Court.
Youngstown State finished with 17 offensive rebounds, but only had 11 second chance points. Against better competition, the number would have been much higher.
"We are not rebounding the ball at all right now," Miller explained. "Even in the Tennessee Tech game. They had 17 offensive rebounds in this game tonight. That's not going to cut it moving forward. You are not going to be able to survive against the teams in our league if you can't rebound. I think our defensive rebounding percentages that we are looking at right now, we have to be consumed with that."
· Another steady performance from Juwan Morgan: The play of Juwan Morgan has been a consistent takeaway throughout the season and Friday night was no different.
Morgan finished with a game-high 16 points and added six rebounds, three steals, two assists, two blocks and just one turnover in 29 minutes.
Through 14 games, Morgan is averaging 15.3 points, 7.2 rebounds, 1.5 blocks, a steal and an assist in 27.6 minutes per game.
Filed to: Juwan Morgan, Youngstown State Penguins, Zach McRoberts