What to expect: Youngstown State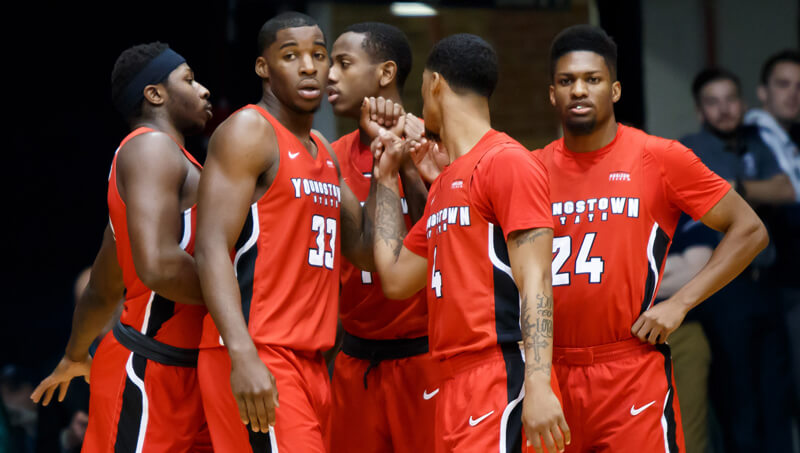 Indiana concludes its non-conference schedule on Friday night as the Hoosiers host Youngstown State at Simon Skjodt Assembly Hall. The Penguins are 2-10 this season and have lost eight straight games.
The game will be broadcast at 8 p.m. ET on BTN with Brandon Gaudin and Bob Wenzel on the call:
Indiana's final tuneup before Big Ten play resumes will be against the worst opponent on the 2017-18 schedule: Youngstown State. The Penguins, led by first year coach Jerrod Calhoun, have yet to beat a Division I team this season.
The Hoosiers, meanwhile, have shown growth at times but have also produced some head scratching moments. After beating Notre Dame in overtime in the Crossroads Classic on Dec. 16, Indiana lost by 20 at home to Fort Wayne just two days later. That was followed up by a 28-point beatdown of Tennessee Tech last Thursday.
Figuring out this Indiana team on a game-to-game basis has been no easy task, but Friday should net the Hoosiers their seventh and final non-conference win this season.
MEET THE PENGUINS
Calhoun, who took over last spring after spending five seasons at DII Fairmont State, has a tall task ahead of him in Youngstown. The Penguins haven't finished with a winning record since the 2012-13 season and Ken Pomeroy projects a 6-25 mark this season.
Braun Hartfield, a 6-foot-6 sophomore, is the team's leading scorer through 12 games. Hartfield is averaging 14.7 points per game and also averages a team best 1.6 steals per game. Hartfield is shooting 44.7 percent on 3s against Division I competition.
The other Penguin averaging in double figures is 6-foot-2 senior guard Cameron Morse. Morse is a high usage, low efficiency shooter. He's shooting just 34.5 percent this season and averages 13.9 points per game. He also leads the Penguins in assists at 3.6 per game.
Garrett Covington, a 6-foot-5 freshman, starts in the backcourt with Hartfield and Morse. Covington is shooting just 29.4 percent on 3s against Division I teams and also has a turnover percentage of 22.
Jaylen Benton, a 6-foot-2 senior, and Jeremiah Ferguson, a 6-foot-2 sophomore, will play the majority of the backcourt minutes off of the bench. Benton has a solid assist rate against Division I teams (30.2), but has been very turnover prone (25.2 TO%). Ferguson averages close to six points in 19.7 minutes per game.
The undersized Penguins started 6-foot-7 Devin Haygood and 6-foot-5 Tyree Robinson in the frontcourt in their last game, a 91-74 loss at Utah State. Haygood, a junior, is fifth on the team in scoring at 6.5 points per game. Robinson is making 59.2 percent of his 2s against Division I competition and has scored in double figures five times.
Two Penguins who should also see minutes up front are Naz Bohannon, a 6-foot-6 freshman and 6-foot-8 junior Noe Anabir. Bohannon is the team's leading rebounder at 6.6 per game and is third in minutes at 24.8 per game.
TEMPO-FREE PREVIEW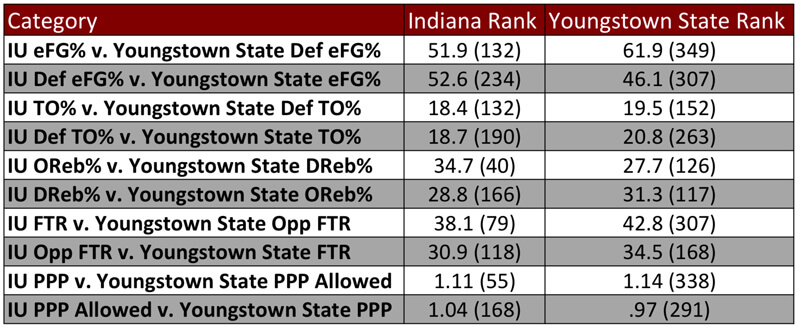 Youngstown State plays the nation's 10th fastest tempo according to KenPom (75.9 possessions per game), but it hasn't yielded much success. The Penguins are struggling across the board and are currently a bottom 15 team defensively in Division I.
For Indiana, this should be a game where the Hoosiers use their size to get into the paint and get to the foul line. Youngstown State is 307th nationally in opponent free throw rate and simply doesn't have the personnel to match up with De'Ron Davis or Juwan Morgan.
WHAT IT COMES DOWN TO
The Vegas line won't be out until later on Thursday, but Pomeroy likes Indiana by 21 and Sagarin likes the Hoosiers by 22.
This is a game Indiana should win comfortably, but the Hoosiers need to play well considering the tests that await next. Indiana is 0-3 in true road games this season and will resume Big Ten play with games at Wisconsin and Minnesota next week.
(Photo credit: Youngstown State athletics)
Filed to: Youngstown State Penguins