Five takeaways from Indiana's win over Tennessee Tech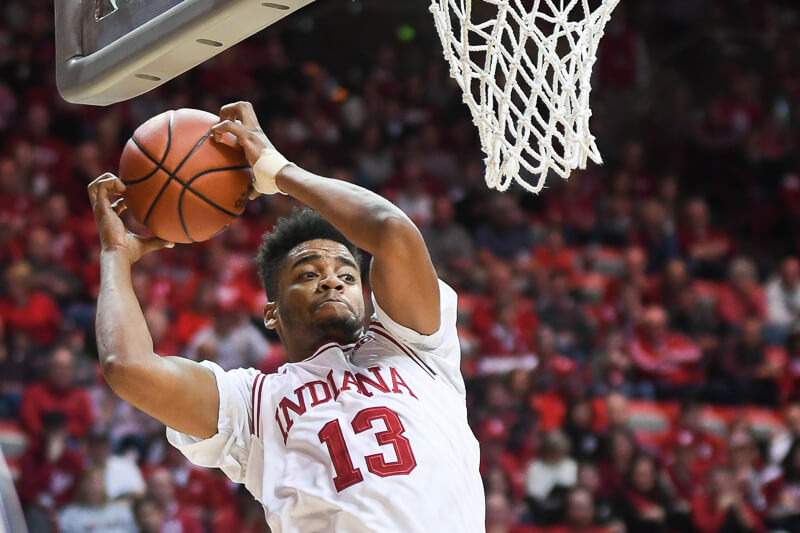 Indiana improved to 7-6 this season with an 87-59 win over Tennessee Tech on Thursday night at Simon Skjodt Assembly Hall. The Hoosiers now have a week off before returning to action on Dec. 29 at home against Youngstown State.
Here's a look at five takeaways from the win over the Golden Eagles.
· Hoosiers lock in defensively: Indiana bounced back from Monday's embarrassing loss to Fort Wayne with a much better performance defensively against Tennessee Tech.
The Hoosiers held the Golden Eagles to just .82 points per possession, which ranks as IU's best defensive performance of the season.
So what was different than Monday?
"Ball pressure. Working on the ball. Everything starts and stops with something," Archie Miller said. "And in our program it has to start with the ability to really defend the ball. And if you watch the two games they'll be night and day."
Tennessee Tech's effective field goal percentage – 41.4 – was the second lowest this season by an IU opponent and the Golden Eagles hit just 5-of-18 shots from behind the 3-point line.
· McRoberts shows confidence offensively: Redshirt junior Zach McRoberts is now a major part of the rotation, but to this point, his impact has been felt primarily on defense and on the glass.
McRoberts, who often passed up open shots in the past, didn't hesitate when he was open on Thursday. The Carmel product took seven shots and finished with eight points. He hit two 3-pointers and also added six rebounds and three assists in 22 minutes.
"Part of it may have been their style. They chose not to guard him. So he found himself open and he didn't hesitate," Miller explained. "I think in the second half the shots he got were really good ones, and I was happy to see him make a couple because that's a big thing for him is being able to create a little offense out there.
"But Zach's done a nice job. He's been a really nice, bright spot for us in the month of December."
· Indiana's shot blocking is a legitimate strength: The Hoosiers are still very much a work in progress defensively. Monday's performance showed that Indiana is going to have to bring the same amount of effort and energy every game to be successful.
One area where IU was much better on Thursday was defending at the rim. Indiana blocked 10 shots against Tennessee Tech and owns a 15.2 block percentage this season. That number ranks 23rd nationally.
The Hoosiers are also in the top 100 in 2-point field goal percentage defense at 47.1 percent.
· Newkirk, McSwain deliver strong performances: Two of IU's upperclassmen, Josh Newkirk and Freddie McSwain, turned in stellar efforts in the win.
Newkirk, who has been up and down this season, scored a season-high 20 points on 6-of-9 shooting from the field. He also had a team-high six assists.
"I just let the game come to me," Newkirk said. "My teammates did a good job finding me in open spots and I just knocked down shots."
McSwain, meanwhile, saw his minutes increase as De'Ron Davis battled a groin injury. In 15 minutes, McSwain tied a career-high with 10 points and also grabbed six rebounds.
· Morgan helps set the tone in first half: Through the first 20 minutes, it looked like Juwan Morgan was on his way to another double-double.
Morgan played a team-high 18 minutes in the first half and had seven points and five rebounds.
The production slowed for the Waynesville (Mo.) product in the second half, but he still finished with a well rounded stat line: nine points, six rebounds, three blocks, two assists, two steals and two turnovers in 28 minutes.
Through 13 games, Morgan is Indiana's leading scorer (15.2 ppg) and rebounder (7.3 rpg).
Filed to: Tennessee Tech Golden Eagles