What to expect: Tennessee Tech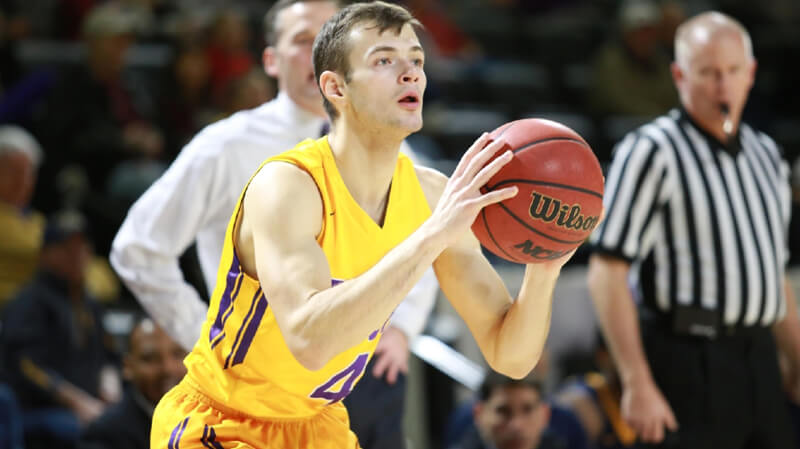 Following Monday's blowout loss to Fort Wayne, Indiana is back at Simon Skjodt Assembly Hall tonight to host Tennessee Tech. The Golden Eagles are 8-4 and are coming off of an 82-76 win over Chattanooga. 
The game will be broadcast at 8 p.m. ET on BTN with Cory Provus and Andy Katz on the call:
Through 12 games, one thing is clear with this Indiana team: No one knows what to expect.
The Hoosiers have shown themselves capable of competing with Notre Dame, Duke and Louisville and also own a pair of 20-point losses at home to Indiana State and Fort Wayne.
With just two non-conference games remaining, Indiana doesn't have much time to fix its issues. Saturday's emotional overtime win over Notre Dame was viewed by some as a potential turning point for the Hoosiers, but that narrative quickly dissipated with Monday's performance.
MEET THE GOLDEN EAGLES
There are plenty of similarities between Fort Wayne and Tennessee Tech's offensive profiles. Both teams play fast and both can knock down the 3-pointer, which is IU's Achilles Heel through 12 games.
The Golden Eagles are led by 6-foot-3 Aleksa Jugovic, a senior from Leskovac, Serbia. Jugovic is averaging a team-high 14.6 points per game and is shooting 46.4 percent on 3s. He's also an excellent free throw shooter (82.1 percent), but only has 22 attempts in 10 games.
Kajon Mack, another 6-foot-3 senior, joins Jugovic in the backcourt. Mack is the team's third leading scorer (12.8 ppg), its second leading rebounder (5.5 rpg) and leading distributor (4.3 apg). Mack is also capable of knocking down 3s (38.6 percent) and does a solid job of getting to the foul line. Mack owns a free throw rate (FTA/FGA) of 41.6 percent and is knocking down 66.7 percent of his attempts.
Curtis Phillips, a 6-foot-5 senior, is the third backcourt starter. The team's second leading scorer at 13.8 points per game, Phillips is shooting 37.5 percent on 3s and also does a nice job of getting to the line. His free throw rate is 41.1 percent and he's shooting 79.5 percent from the line.
Two others to watch in the backcourt rotation are Shaq Calhoun, a 6-foot-4 senior, and Stephaun Adams, a 6-foot-2 junior. Calhoun comes off the bench and averages 9.3 points in 16.3 minutes per game.
Tennessee Tech's strength is in its backcourt and its frontcourt doesn't produce much offensively. As is typically the case with mid-major programs, the Golden Eagles start two undersized players up front. Mason Ramsey, a 6-foot-6 senior and Courtney Alexander, a 6-foot-7 junior are both good rebounders for their size.
Alexander is 28th nationally in defensive rebounding percentage and averages a team-high 9.1 rebounds. Ramsey is fourth on the team in scoring at 9.8 points per game and is shooting 53.5 percent on 2s.
Micaiah Henry, a 6-foot-9 sophomore, will provide backup minutes at the five and is shooting 61.9 percent on 2s.
TEMPO-FREE PREVIEW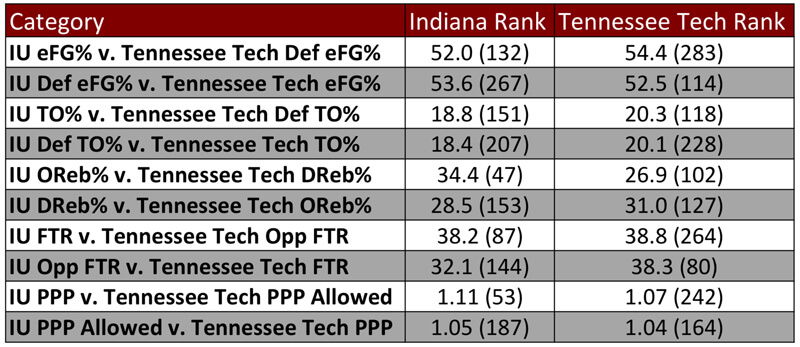 The Golden Eagles are a poor defensive team, but have the ability to make this game very interesting because they are capable of pushing the pace and knocking down 3s.
Tennessee Tech starts four seniors and a junior and it's top three scorers are all legitimate threats from beyond the 3-point line.
The keys for Indiana are straight forward. Take care of the ball, guard the 3-point line better and dominate in the paint. The Golden Eagles don't have an answer inside for De'Ron Davis or Juwan Morgan, but Indiana has to force the issue rather than setting for contested jump shots.
Archie Miller has said repeatedly that he'd like the Hoosiers to finish games with 12 or fewer turnovers and in the Fort Wayne loss, Indiana's 18 turnovers turned into 29 points by the Mastodons.
WHAT IT COMES DOWN TO
The KenPom line is Indiana by 10, the Vegas line is IU by 11.5 and the Sagarin ratings favor Indiana by 10.
Indiana has had several clunker performances this season – Indiana State, Michigan and Fort Wayne – but it has also had its share of moments that show this group is capable of playing well. The inconsistent performances on a game-to-game basis, particularly by the upperclassmen, is the most glaring problem.
It's one thing to have an off shooting night, but it's another when your lead senior guard has 12 turnovers in a two-game span or you lack the mental toughness to figure out a way to slow down a 3-point barrage by a mid-major opponent on your home floor.
The most troubling part of the Fort Wayne loss came in the aftermath when three upperclassmen sat on the podium and admitted they didn't come out ready to play.
"We didn't come out ready to play mentally," Collin Hartman said. "We didn't do what we needed to do offensively or defensively. Give them credit, they shot tremendously and played great defense. We just didn't come out ready to play."
Until that changes, you can expect Indiana's wildly inconsistent play to continue.
Filed to: Tennessee Tech Golden Eagles