Five takeaways from Indiana's win over Notre Dame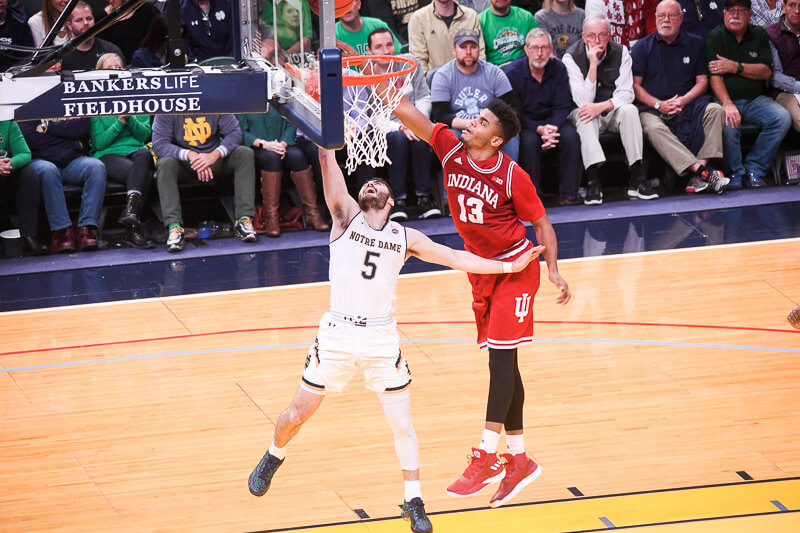 INDIANAPOLIS – Indiana pulled out its first marquee win of the Archie Miller era on Saturday afternoon as the Hoosiers beat Notre Dame in overtime, 80-77, in the Crossroads Classic at Bankers Life Fieldhouse.
The Hoosiers improved to 6-5 on the season with the victory. Here's a look at five takeaways from the win over the Fighting Irish:
· Juwan Morgan was dominant: Bonzie Colson is a legitimate national player of the year candidate who is deserving of all of the praise he receives. And he was terrific on Saturday as he finished with 29 points and 11 rebounds in 43 minutes.
But Juwan Morgan was even better in IU's win.
Morgan, who has been the best and most consistent player on the roster all season, was unstoppable against the Fighting Irish. Notre Dame had no answer for Morgan early, as he scored eight of IU's first 10 points.
He was even better in the second half and overtime as he scored 22 of Indiana's final 27 points on his way to a career-high 34 points. Morgan did it efficiently as he shot 13-of-17 from the field and 8-of-11 from the free throw line. He also had 11 rebounds in 40 minutes.
Morgan hasn't tried to force anything offensively, but Indiana made an effort to get him the ball down the stretch and he delivered.
"Every day in practice, (I'm) bringing it as hard as I can and just showing everybody, 'this is how we have to play in order to get these wins,'" Morgan said postgame. "And then just everybody on the team follows suit."
· McRoberts shows he's a "winner" in 31 minutes: The minutes for walk-on Zach McRoberts have been on the rise.
The redshirt junior isn't much of a threat offensively, but he's bringing enough in other facets of the game to warrant increased playing time. After logging a season-high 15 minutes in last Saturday's loss at Louisville, McRoberts came up with seven offensive rebounds in 31 minutes in Saturday's win.
And no rebound was bigger than his offensive board on a missed Morgan free throw with 11 seconds left in overtime. After securing the rebound, McRoberts passed to Morgan for the go ahead basket with eight seconds to go. It was one of three assists for the Carmel product.
"Tremendous effort all game long," Archie Miller said. "Playing really, really hard. He's an important piece to what we're doing right now. Like I said, you don't have to score a lot of points to be a terrific teammate, to impact the game."
· Johnson breaks out of shooting slump: Early on, it looked like Indiana would again struggle to score from the perimeter.
The Hoosiers started out 0-for-7 on 3s, but a Robert Johnson make from deep at the 8:43 mark of the first half was a turning point.
After the Johnson make, Indiana was 7-of-13 on 3s the rest of the way. The Richmond (Va.) native finished 6-of-13 from the field, including 5-of-10 from distance. He finished with 20 points in a team-high 43 minutes.
"I just wanted to stay aggressive," he said. "I was getting good looks in the first half, and that was one of the things we discussed, just trying to get good shots. If you get those, you'll eventually knock them down."
· This win salvages a disappointing stretch: Indiana played well against Duke and was in the game late against Louisville, but as the Hoosiers trailed multiple times by double digits, they appeared destined for their fourth loss in five games.
But Indiana never stopped battling, despite being down by eight with just over two minutes in regulation. For a team that hasn't had great success so far in terms of wins and losses, Saturday's win was important because it's further proof that improvement is being made.
"We've been hanging tough here the last couple of weeks and just haven't had the ability to find a way to win," Miller said. "I thought today's effort was outstanding. A lot of guys stepped up and made some tremendous plays on both ends of the floor. It was a team win against a really good team."
· Turnovers nearly prove costly: If there was one team stat that was disappointing in the win, it was Indiana's turnovers.
The Hoosiers had 16 turnovers that turned into 21 points for Notre Dame. IU's turnover percentage was 21.9, marking the first time it has won a game with a turnover percentage higher than 20.
Indiana was able to overcome the mistakes because it shot 57 percent from the floor in the second half, including 50 percent on 3s. The Hoosiers also took 22 free throws in the second half and overtime. IU's free throw rate of 45.5 percent was the highest Notre Dame has surrendered this season.
Filed to: Juwan Morgan, Notre Dame Fighting Irish, Robert Johnson, Zach McRoberts