What to expect: Notre Dame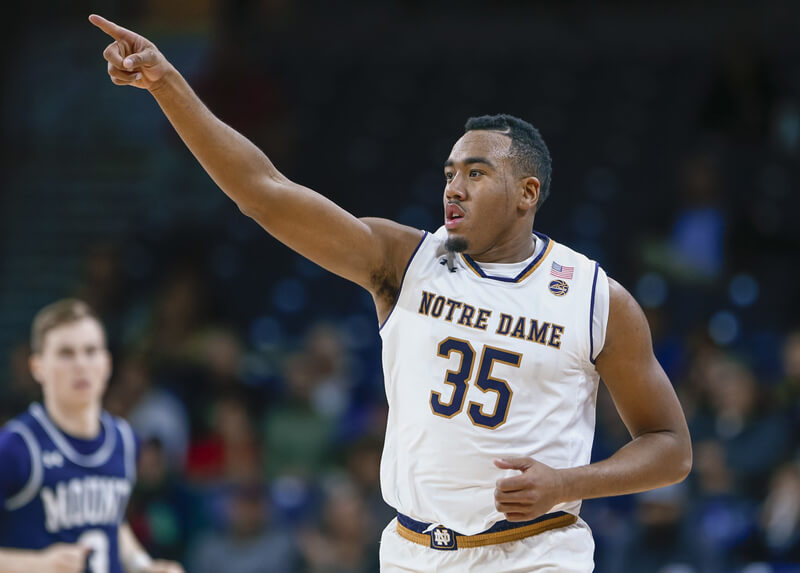 After a week off, Indiana returns to action on Saturday afternoon in the Crossroads Classic against Notre Dame at Bankers Life Fieldhouse. The Fighting Irish (8-2) are ranked No. 18 in the latest AP Top 25 poll.
The game will be broadcast at 2:30 p.m. on Fox with Gus Johnson, Jim Jackson and Lisa Byington on the call:
The Crossroads Classic, an annual four-team event featuring Indiana's four high-major programs, tips off for the seventh time on Saturday in Indianapolis.
The event has been a mixed bag in terms of success for Indiana, as the Hoosiers are 3-3 overall with two wins against Notre Dame and one win against Butler over the first six years.
This year's Crossroads Classic is the final contest in a brutal five-game stretch for the Hoosiers which has featured Duke, Michigan, Iowa and Louisville. Indiana is 1-3 through the first four games and Saturday represents Indiana's final chance for a marquee non-conference win.
MEET THE FIGHTING IRISH
Notre Dame comes in with losses in two of its last four games after winning the Maui Invitational in late November. The Fighting Irish lost by 18 at Michigan State in the Big Ten-ACC Challenge and were stunned, 80-77, by Ball State at Purcell Pavilion on Dec. 5.
As has been the case with most of Mike Brey's teams during his 18-year tenure in South Bend, Notre Dame plays a small rotation with a focus on controlling the pace, taking care of the ball and winning with its offense.
Notre Dame has a legitimate national player of the year contender in senior forward Bonzie Colson, a 6-foot-6 forward who plays much bigger than his height. Colson is the ideal four-man in the current era of college basketball because he can score both inside and from the perimeter.
Through 10 games, Colson is averaging 19.5 points, 9.6 rebounds, 2.3 blocks, 2.1 steals and 1.3 assists in 32.3 minutes per game. He's shooting 58.5 percent on 2s and ranks 58th nationally in defensive rebounding percentage.
Joining Colson in the frontcourt is 6-foot-10 senior Martinas Geben, who averages nine points and 6.1 rebounds in 21.2 minutes per game. Geben does an excellent job of defending without fouling (2.5 fouls called per 40 minutes) and has a block percentage of 6.7. Geben is the team's best offensive rebounder (11.7 OR%).
Sophomore John Mooney, who is 6-foot-9 and 250 pounds, plays the majority of the backup minutes up front. Mooney averages 3.8 points and 2.9 rebounds in 11 minutes per game.
Notre Dame starts three guards with senior Matt Farrell, sophomore TJ Gibbs and junior Rex Pflueger. Farrell is one of the nation's top point guards and is the team's second leading scorer at 16.5 points per game. Farrell is shooting 40.9 percent on 3s and averages a team-high 5.2 assists per game.
Gibbs is flourishing in a larger role as a sophomore and his 14.3 points per game are third on the team. He's shooting a ridiculous 53.2 percent on 3s, but less than 47 percent on 2s.
Pflueger is a career 37.7 3-point shooter, but is shooting just 41.8 percent from the field this season. Freshman D.J. Harvey, a top 50 recruit, is sixth on the team in minutes at 17 per game and is a big part of the program's future. Harvey, a 6-foot-6 wing, is a DeMatha product and is averaging 6.3 points per game on 51.2 percent shooting from the field.
TEMPO-FREE PREVIEW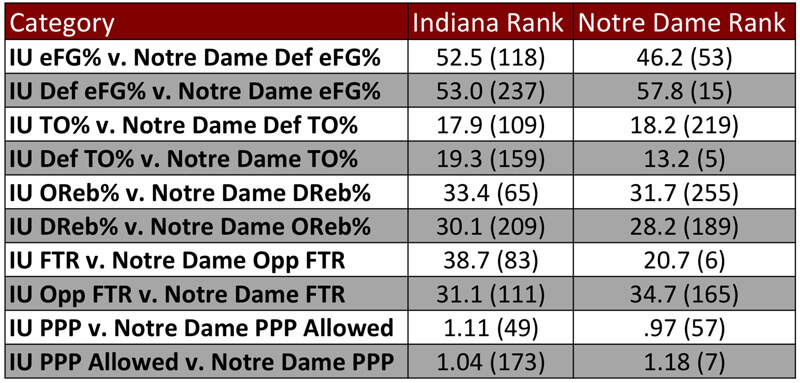 Notre Dame is an elite team offensively because of its ability to take care of the ball and shoot from the perimeter. The Fighting Irish are fifth nationally in turnover percentage (13.2) and are eleventh in 3-point field goal percentage (42.4). Given Indiana's struggles to defend beyond the 3-point line, surrendering open looks is a recipe for disaster.
The Fighting Irish are able to get away with playing such a small rotation because, much like Michigan, they simply don't foul. Notre Dame opponents have a free throw rate of just 20.7 percent (sixth nationally).
Where Indiana may be able to find success is playing through De'Ron Davis and Juwan Morgan in the paint. The Fighting Irish do have some size with Geben, Mooney and Colson, but it's nothing like the imposing frontline that Indiana faced against Duke and Louisville.
Second chance points could also be important as both teams struggle on the defensive glass, but Indiana is much more aggressive in pursuing offensive rebounds.
WHAT IT COMES DOWN TO
The KenPom line is Notre Dame by nine with a 22 percent chance for Indiana to pull off the upset. The Sagarin ratings like Notre Dame by 9.5.
Both teams have had a week off to prepare and Notre Dame is coming off a 24-point win at Delaware last Saturday. Indiana, meanwhile, is just 5-5 despite playing well in recent losses to Duke and Louisville.
The Hoosiers don't have much to hang their hat on at this point in terms of a non-conference resume, but a win on Saturday would change that. Notre Dame showed that it is vulnerable recently in losing to Ball State and Indiana is battle tested with four games already against likely NCAA tournament teams.
For Indiana to pull off the win, the Hoosiers must make Colson uncomfortable and also prevent Notre Dame from going off from the perimeter, which could be a daunting task. It should, per the usual, be a pro-Indiana crowd , but that hasn't mattered as the Hoosiers have struggled historically in Bankers Life Fieldhouse.
(Photo credit: Michael Hickey/Getty Images North America)
Filed to: Notre Dame Fighting Irish