News and notes from Archie Miller's radio show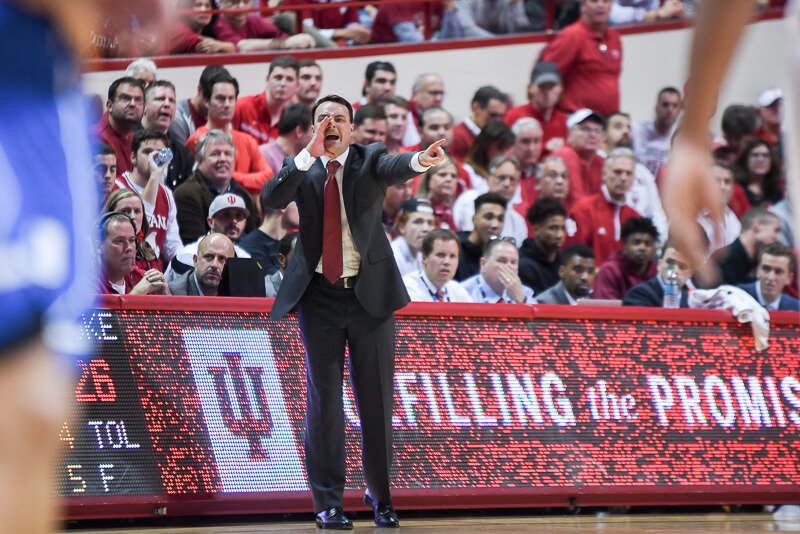 Inside IU basketball with Archie Miller was live on Thursday evening at the Holiday Inn in Bloomington. Director of basketball operations Brian Walsh was the guest in the show's final segment.
Below are news and notes from Miller:
· On final exams taking place this week: "It's a very stressful week for your players because there's a lot that goes into final exams with the preparation, the tutoring, the actual multiple days where you may have multiple things to do on those days. And throughout that week as a coach, you're constantly looking for practice time and it's a longer week, but at the same time, there's got to be a little give and take and understanding of the mental fatigue, the actual exams and where these guys are coming from academically, mentally, there's a lot that goes into that. It's no different here than anywhere. We've had a good week of trying to mix in the practice time and giving them some rest so that they can finish them. We're coming down the home stretch with our guys. The majority of our exams probably finish tonight."
· Miller said that he's had players that "have their worst week of practice" during finals week just because of the stress involved with the tests and then when finals are over, "they play their best game of the season."
· Miller explained what a schedule could be like for a player during finals week. Prep for practice starting at around 2, practice from 3:30 until 5 or 6 and then tutor and studying from 8 p.m. to 11 p.m. "That's 2 to 11. You do that a few days in a row and you're a young guy, it can really overwhelm you."
· Miller said that the academic situation for each player is taken into consideration when determining tutoring plans. Miller commented that the resources at Indiana available in the academic area are "vast".
· Once final exams end, Indiana will be on holiday break, which means that practice time is unlimited. "It's a great time to be a player. If you're a basketball player, it's one of the best times in your career is the holiday break because realistically, you're practicing and you get a chance to just be yourself and hang out with the guys on the team and mix in some games."
· Miller said holiday break is a time where you can "really improve as a player" and "really improve as a team."
· On the Louisville loss: "It was a hard played game. Guys did a really good job of getting off to a good start. Defensively, we were pretty locked in for most of the first half. And then Louisville's going to make runs. It's a game of runs, especially on the road. Felt good at halftime. I thought in the second half, Louisville did a much better job of attacking the offensive glass. They started to get some second shots on us. They probably had three or fouls balls that we had it in our hands and they got it. They ended up getting some of the 50-50 balls in the second half, which got them off to a good start in the second half. But, back and forth game, and then inevitably, just not being able to score in probably about the last six minutes, making open shots, finishing some things off, being able to keep scoring against their defense was something that was problematic the last four or five minutes. But I give our guys credit. Went into a hostile environment on the road and I thought we had some of our best moments defensively as the season has been going along. I thought we had some good things offensively, some guys have stepped up and played."
· Miller said Louisville played a matchup zone primarily and that Indiana had to get the ball inside because you "can't play on the perimeter against their length."
· Not having Juwan Morgan and De'Ron Davis for a good part of the first half hurt Indiana offensively, according to Miller. "In the second half, it was a much more concerted effort to work the ball into De'Ron. And Juwan was very, very active again inside of the paint."
· On the 15 turnovers against Louisville: "Probably four of them happened in the last two minutes. A couple of them were 'pick-6s' that went down to the other end. Just a lack of concentration, finishing the last two minutes with quality offense and trying to get good shots."
· Miller said that you're starting to see signs that Indiana is beginning to believe in the structure of its halfcourt defense a little more. "In general, we were a tighter team against Louisville, especially against their size."
· On Al Durham's five turnovers against Louisville: "As all young guys do, they go through the ups and downs of winning and losing, at home and on the road. I think, just in general, Al didn't have a great floor game. He needed to be a little bit sharper, little bit stronger with his passing. And he'll get better with that as time goes on."
· Miller said he believes that Indiana's shooting will come around. He said part of the struggles could be attributed to playing in a new style offensively.
· Miller said that Robert Johnson is "as consumed with being in the gym as any player I've been around." Miller said that just based on the law of averages, you would expect Johnson to come around from the perimeter, but added that Indiana doesn't want to make it a mental thing.
· On where this Indiana team is compared to his first team at Dayton: "The first season at Dayton, we inherited a veteran group. It was a little different there. There was a lot of experience returning, I think, with four seniors who had all played a lot of minutes. We had a fourth year junior point guard who sat out, Kevin Dillard, who was a first team all-conference point guard. We had a lot of guys who had already played a lot of minutes together. Our systems and teaching them, probably the same results. We saw great moments on offense, we saw choppy moments on defense. It was a team that won 20-something games, but it was a team that was really an older team. That's the big difference with this team. Yes, we have some upperclassmen, but we also have a ton of sophomores and freshmen that are mixed in with those guys and haven't played a ton. They're learning things for the first time. It's a different type of team just based on the experience level and the on court chemistry that they already had. They were already a winning team. They were already coming off of NIT championships and NCAA tournaments as juniors and seniors. I think that's the one difference. We probably started four seniors and a junior, maybe."
· Miller said this team could grow more than his first Dayton team because of the experience level that they will keep gaining.
· Miller said that Indiana has gotten better every week and gotten better "almost from every game."
· Miller said he's only played Notre Dame as an assistant coach at North Carolina State and "that would have been a while ago."
· On the biggest key for Indiana's reduction in turnovers: "There's an emphasis on it every day in practice. There's a penalty for turning the ball over. We only give our players seven turnovers a practice per team, red and white, and then they have to run. So you're putting some pressure on them daily to do it. The other thing is just understanding how we want to play. What's a good shot? What's a good read on this play? For the most part, we've been keeping them down a little bit."
· On Bonzie Colson: "He's a matchup problem." It has to be a team approach from Indiana defensively against Colson, who can score in so many ways.
· Miller said that he doesn't plan to change much defensively, but added that the team "just has to get better at it."
· IU's assistant coaches each have a core of three or four players on the roster. Miller called them "core player groups." "They're responsible for a total understanding of what that player is going through every day from his home life to his academic life, his health and basketball. You have to be in charge of that guy. That's your core group that you deal with." (An example): "It's like, 'Hey coach, Devonte had three tests today. He might be out of gas. You might want to give him a break.'"
· A lot of the work for Ed Schilling and Tom Ostrom is with the guards and Bruiser Flint focuses primarily on the frontcourt guys. "We can always break away and change and move."
· On the three upcoming non-conference games: "I think we're searching for depth, searching for more answers. We're looking for guys to try to break through and get a little bit more consistent. As you get through Notre Dame, you're coming on a one-day prep for IPFW, which will be a big one for us, then turn around and get two more in before Big Ten play. We're trying to use as many bullets in our gun as we can. Right now, we're settling in a little bit with our rotation, but like I told the guys, there's always room for you to improve. Once you improve and get an opportunity to get in there, that's your time to take advantage of it."
Filed to: Archie Miller