News and notes from Archie Miller's radio show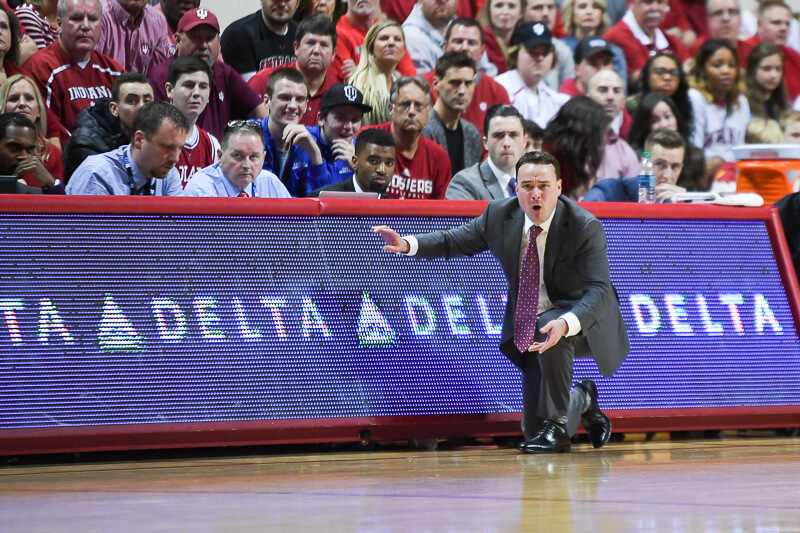 Inside IU basketball with Archie Miller was live on Thursday evening at the Holiday Inn in Bloomington. Collin Hartman was the player guest.
Below are news and notes from Miller and Hartman (all quotes are from Miller unless noted otherwise):
· On the loss at Michigan, "It was a little bit of a Duke hangover. Although we didn't win the game, there was a positive vibe around our players… You quickly have to get restarted after a late game when you hit the road with an early tip. I just felt like we had a hangover. We had no energy. Offensively or defensively, we weren't moving up and down the floor. Things looked slow. It was disappointing because I didn't think Michigan played their best either. Michigan played a decent game, but it was really poor play by us."
· On the win over Iowa, "I thought we did a nice job recovering, getting our legs back under us, and then we were ready to play. We played, I thought, really hard against Iowa (with the exception of) the four-minute stretch in the second half early where we weren't as dialed in. Overall, it was a pretty good performance on both ends for our guys."
· On the poor start to the second half, "It was sort of like the floodgates had been opened up. We had a hard time getting stops, we had a hard time grabbing rebounds. Down on the other end of the floor, we were missing point blank shots, getting to the foul line and not converting. It was kind of a disaster recipe going on. So we had to quickly regroup. I thought the huddle (after the first timeout) was good, I thought our players responded. Collin (Hartman) was very, very vocal throughout the game. But really, he wasn't even in at the time, but you could hear the players not allowing (the run) to happen anymore… Slowly but surely, we were able to carve our way back out of it."
· On winning a conference game, "To be able to win a conference game, at home, is a big step. It's a big deal for our team to be able to hold serve at home. We know how important that is going down the line."
· On Collin Hartman, "He's a guy that's clearly trying to get as much out of the fruit as you can get. He's going to get every drop of his senior season out of there. That's why he was so frustrated when he wasn't able to perform in the first five or six games. Because he wanted to be out there so bad. I think you're starting to see what he can do for our team. I've said that he's a huge, huge piece to the puzzle if he's out there. His second half (against Iowa) was unbelievable. How he kind of was the quarterback in the huddles, on the floor, he echoes what the coaches are saying at all times. He's got a great attitude. Clearly, just an emotional piece to what we have. He's embracing that."
· On Zach McRoberts, "He's really earned the right (to play). I feel like he should have been in there, we were saying it after games one, two, three and four. We've gotta get him in there. We've gotta find a way. Because what he does is make winning plays. Loose balls, plays extremely hard, is giving max effort. He'll get a junkie offensive rebound tap in. He's just a winning player. Once we finally dove into our roster, what we're getting, what we're not getting, one of the things that Zach overwhelmingly has given us is great effort, a bigger body out there at times that can rebound the ball, and he's not making mistakes. We felt like giving him a chance in the Eastern Michigan game. Created great energy for our team in that game, and from there, he hasn't looked back. His role will be as much as he can handle. He's a guy we feel like we trust out there."
· On building trust with players, "It's the evaluation of practices, studying the practice film, looking at the production in practices in terms of statistics, the rankings. Our gold standard, you only pay attention to it in the first three weeks where everybody's trying to start, to play in that game. Once the games start to play, you see who is continuing to get better. That's the one thing we've been able to hold dear to our heart is the old theme of don't contaminate your reward system by not playing the guys that are doing what you're asking them to do. That's part of it right there. And then, clearly, you're watching guys in the game. How they do from game to game, what they do in the game. In some cases, that trust is built off of guys making plays in games and doing their job on game day as well. But it starts and stops with the guy who brings it every day in practice. You have to really trust the fact that if they're going to do that every single day, you probably know what you're going to get."
· On analytics – "We've always been big in studying the efficiency. As a staff, we're always talking about (offensive efficiency rating) and (defensive efficiency rating) during the game…It's basically the equivalent of how many points you score per possession. Offensively, we're always striving to be in the high 0.98 (PPP), 0.99s. If you're ever 1.0 (or higher), you're really operating at a high-octane level offensively. The defensive number is the one I always pay attention to. What is our DER right now, what is it in the game. It works backward. You typically, from a 0.87 (or lower), you have a chance to win that game. Anything below 0.87 down, your defense is obviously is really going well. Anything above the 0.9s is dangerous for us. We're always looking at the efficiency ratings. Once you start to study all the analytics, not everything can apply to you because of your style in some cases may not emphasize offensive rebounding or doesn't emphasize forcing turnovers. That's not your deal. But for us, we're always looking at offensive efficiency and defensive efficiency."
· On where the team needs to improve most to reach its potential, "Three-point field goal percentage defense and three-point field goals made for us right now is an alarming statistic. It's improving, little by little, but it's not improving at the rate we're going to need it to. Part of it is (we need to) be more detailed on shooters, to take away their great looks. If they call a play for a guy, eliminating that look. The second thing is being very detailed in terms of getting back faster, not allowing teams to shoot the three in transition. Then once we're in the halfcourt, probably our biggest problem right now is positioning. We still really haven't gotten that positioning down, where the defense isn't always reacting to the dribble penetration or reacting to when the ball goes into the post. You never want to be a defender running at the ball, because (when you run at the ball), they're going to kick it out. We want to be a team that's in, so as they drive, we're always on our way out. And that takes time, it really does. But our three-point field goal percentage defense has to improve, and I think our defensive rebounding percentage continues to have to improve. We spent a lot of time today talking about how we didn't rebound the ball effectively against Iowa. Louisville is going to be as big as Iowa and more talented, coming into (a road atmosphere), one of the things that you can control is your ability to rebound and block out. Those two big numbers defensively are something we're really, really harping on right now."
· Miller said the team needs more consistent scoring from the guards, "We've had some great looks, and you've got to trust the fact that if you keep taking great shots, they'll go down."
· On Devonte Green, "If he has the ball at the end of the clock, he's really happy, because he knows he's going to get a chance to launch one from about 25-feet out off of the wrong foot, one of those deals. He's a great tough shot maker. He does it in practice all the time too, so it's not surprising. He's a risk taker. That's who he is. I thought he played one of his best games of the season against Iowa, and coincidentally, he's had, especially in these last week…I thought he's had his best practices maybe since October. He's a guy that you feel like should be able to get you a lot of stats. Assists, he can shoot, he can get to the foul line. So you're always trying to work on that consistency level."
· Miller said the space between the next two games will allow the team to prepare thoroughly for each opponent.
· On what would constitute a successful year, "With this team, I would love for us to have the opportunity to be playing our best basketball at the end. Where every game that we play, we're right there (in position) to win the game. I think that's the case with our team as we continue to gain experience through the non-conference is to find a way (once we get to) Big Ten play, to be there each and every night, to be the toughest out that we can possibly be."
· On how the loss of Curtis Jones affects practice, "The quality of the player in practice really means a lot. So, no offense to your walk-ons, but when you start to get to your younger players taking more reps, your practices can get a little bit sloppier. But I think Justin Smith has learned both positions, whether he's playing inside or whether he's playing outside, so Justin will play more of a role in practice on the perimeter, which will be good for his development. Guys like Vijay (Blackmon), Johnny (Jager), Quentin (Taylor), Ethan Lasko, those guys now get more perimeter reps, which is fine, they're young guys, they're going to keep getting better. But we've have had two really good practices. Not to say that you're not always an injury away from your practices getting hurt, like it was about three weeks ago when we had two or three guys out and practices weren't as good. But we've had two really good practices and I think that we won't miss a beat."
· Miller says Tim Priller, Race Thompson (redshirt) Johnny Jager, Quentin Taylor and Vijay Blackmon (redshirt) are "huge in terms of our preparation in practice. There's a lot of scout team offense that they're running. There's a lot of live drills where they're in there on offense and our defense is having to work against them."
· "Race (Thompson) sitting out, redshirting, he pretty much gets every rep in practice. You're looking at a guy that's going to be really, really advanced as a first-year player for us next year when he's available for us in games because he's just going through it all the time."
· Miller says Collin Hartman probably won't be in the starting lineup in near future. He'll play as "many minutes as he can possibly handle."
· Hartman on returning for a fifth-year, "I really didn't like the way (last season ended), not getting to play and not winning. I talked to a lot of my closest friends and family – my mom, my uncle, my stepdad, high school coach, everybody like that. You only get this opportunity once in a lifetime to put on that jersey. After you decide to take it off for good, it's for good. You can't come back five years later and come back and try it again. So I really just thought long and hard about it, prayed about it, and kind of figured that I only get one more shot to be part of a team like this."
· Hartman, on the struggle of trying to lead from the sidelines last season, "It's tough. As a player, I can understand where the disconnect is. Just because you have someone your age not going through the same things you're going through on a daily basis, like sprints, the three or four-hour practices, the conditioning, this and that, and they're over there barking orders and telling you to do things but they're not doing them to back it up. So it's hard to follow someone that's trying to be a leader that hasn't done it or isn't going through it with you."
· Hartman, on the personalities of the team, "There's a lot of funny dudes on the team. I think Johnny Jager is one of the funniest guys on the team. He's always cracking jokes and keeping it lighthearted around the locker room. But we've got really good dudes in there this year. Juwan, Rob, De'Ron, everyone has there own personality. Justin is kind of a more mellow, even-keel guy who is funny and will laugh and joke with you. Then you have somebody like (Devonte Green), who is from New York and is super loud and outgoing. He'll say anything, just like he'll shoot anything. You never know what you're going to get. That's for sure."
· Since Hartman already has his degree, he's taking "non-degree seeking classes."
· Hartman, "When I decided to come back, I had finished half of my master's and I wasn't going to be able to finish it in time. When I made the decision to come back, I decided it was better for me personally, in the long run, to just focus on the game in the last year and take some classes here and there that I'm interested in and things that I think can help me in the long run as well and not just towards a degree, more hands-on classes and stuff like that. It's better for me to focus on the game, focus on my body and try to get some Ws."
· Hartman wants to work in sales after this year.
Filed to: Archie Miller, Collin Hartman