Big Ten Power Rankings: December 7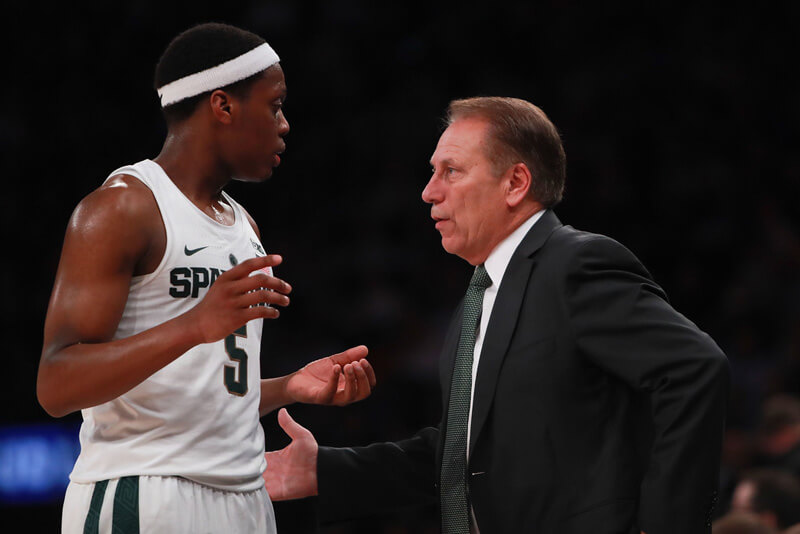 The Inside the Hall Big Ten Power Rankings are back for another season, as conference action began last week with each team playing two conference matchups. Here's where each team stands:
14. Rutgers (6-3, 0-2; 0.82 points per possession in conference play, 1.04 points per possession allowed; KenPom – 112, Sagarin – 105, RPI – 140)
Rutgers begins this conference season right where it ended last year, the basement. It didn't help that their first two conference games were against Michigan State and Minnesota. The Scarlet Knights are now 6-50 in conference play since joining the league. Their next shot at a B1G win will be on Jan. 3 in West Lafayette.
13. Iowa (4-5, 0-2; 0.96 PPP, 1.08 PPP allowed; KenPom – 85, Sagarin – 94, RPI – 244)
A season that began with promise has hit several roadblocks. It began in the Cayman Islands, where the Hawkeyes finished 7th and dropped games to Louisiana-Lafayette and South Dakota State, and continued with a winless start to league play. Iowa has a shot at a resume-building win tonight, but topping Iowa State in Ames is no simple task.
12. Illinois (7-3, 0-2; 0.97 PPP, 1.00 PPP allowed; KenPom – 99, Sagarin – 76, RPI – 201)
The Illini have yet to beat a top 100 KenPom team in Brad Underwood's first season, although they came close twice in the first week of B1G play, losing overtime contests against Northwestern and Maryland. For a rebuilding team, the overtime defeats could be seen as encouraging, which makes the close-call vs. Austin Peay yesterday even more disappointing.
11. Nebraska (6-3, 1-1; 0.94 PPP, 1.08 PPP allowed; KenPom – 89, Sagarin – 91, RPI – 55)
How do you make sense of the Cornhuskers? Firmly on the hot seat, Tim Miles' squad pulled off a major upset over Minnesota just days after being embarrassed by 29 points in East Lansing. The win came in part because of a monster defensive effort, swatting nine Gopher shots and holding Minnesota to 32 percent shooting.
10. Indiana (5-4, 1-1; 0.96 PPP, 0.97 PPP allowed; KenPom – 84, Sagarin – 80, RPI – 178)
In Archie Miller's debut season at IU, his team has been making steady progress. A potential setback in Ann Arbor was followed up by a much-needed win against the Hawkeyes in Bloomington. Junior Juwan Morgan continues to blossom, as he's posted double-digit scoring efforts in five of the last six contests and is now shooting 58 percent on the year.
9. Northwestern (5-4, 1-1; 1.00 PPP, 1.01 PPP allowed) (KenPom – 57, Sagarin – 67, RPI – 128)
A season that began in the top 25 has quickly gone off the rails. The Wildcats brought nearly everyone back from last year's NCAA tournament squad, yet have regressed significantly. Head coach Chris Collins can disparage the officiating all he wants, but it won't erase a putrid start that included a 36-point loss to Texas Tech on a neutral floor.
8. Wisconsin (4-6, 1-1; 0.94 PPP, 1.13 PPP allowed) (KenPom – 47, Sagarin – 51, RPI – 90)
Wisconsin has played one of the toughest non-conference schedules in the nation, yet have no signature wins to show for it. The Badgers are under-.500 through 10 games for the first time since 2001-02, when they… made the NCAA tournament anyway. Greg Gard's team, which relies heavily on Ethan Happ, will likely right the ship soon, but their four-year streak of reaching the Sweet 16 is on shaky ground.
7. Michigan (7-3, 1-1; 1.02 PPP, 0.98 PPP allowed; KenPom – 44, Sagarin – 40, RPI – 75)
Kentucky-transfer Charles Matthews made an immediate impact in early non-conference play but was quiet in the loss to Ohio State, scoring a season-low four points. The Wolverines will be tested before conference play resumes, with games in the next week against UCLA and Texas.
6. Penn State (7-3, 1-1; 1.03 PPP, 1.00 PPP allowed; KenPom – 41, Sagarin – 58, RPI – 145)
The Nittany Lions nearly got off to a 2-0 start to B1G play, but couldn't come back from a 17-point second half deficit to grab a home win over the Badgers. A potential breakthrough could be imminent, but with no non-conference games against top 150 KenPom teams remaining, it'll have to wait until the calendar turns to 2018.
5. Ohio State (7-3, 2-0; 1.22 PPP, 0.95 PPP allowed; KenPom – 58, Sagarin – 46, RPI – 62)
Ohio State is another case of a first-year coach making an immediate impact. Chris Holtmann has worked wonders for the Buckeyes, beginning his Big Ten career 2-0, including a 25-point win in Madison. Two days after that victory, Ohio State surpassed Michigan despite digging themselves an early 20-point hole. Expect the Buckeyes to regress somewhat, but they're headed in the right direction.
4. Maryland (7-3, 1-1; 1.10 PPP, 1.13 PPP allowed; KenPom – 40, Sagarin – 34, RPI – 70)
Turgeon's Terps salvaged a win in the opening week of B1G play, pulling off an overtime triumph in Champaign. Sophomores Anthony Cowan and Kevin Huerter are both shooting over 40 percent from three on the season, and freshman Bruno Fernando has become a defensive force.
3. Minnesota (8-2, 1-1; 1.01 PPP, 0.93 PPP allowed; KenPom – 29, Sagarin – 27, RPI – 49)
After starting the 2017-18 campaign 7-0, the Gophers have dropped two of their last three. The loss to Miami (Fl.) was understandable, while the spanking to Nebraska in Lincoln wasn't. Minnesota's bench has been lacking, as they scored just five points in the loss in Lincoln. A tough road battle against Arkansas looms on Saturday.
2. Purdue (8-2, 2-0; 1.21 PPP, 1.13 PPP allowed; KenPom – 9, Sagarin – 7, RPI – 29)
No Caleb Swanigan, no problem. Matt Painter's Boilermakers are unbeaten in league play after wins over Maryland and Northwestern. Senior Isaac Haas is shooting 63 percent from the floor and is hitting a career-high 79 percent of his free throws. Next up, three straight games against in-state competition (vs. Valparaiso, vs. IUPUI, Butler in Indy). As Indiana (Indiana State) and Notre Dame (Ball State) have shown, the state's mid-majors are not to be taken lightly.
1. Michigan State (8-1, 2-0; 1.12 PPP, 0.83 PPP allowed; KenPom – 2, Sagarin – 4, RPI – 5)
The Spartans began the year as the clear favorites to win the Big Ten, and that hasn't changed after downing Nebraska and Rutgers by a combined 39 points. Sophomore Miles Bridges and freshman Jaren Jackson provide a lethal one-two punch, and guard Cassius Winston has developed into a reliable jump shooter.
Conference play will resume in January, as will the power rankings.
Filed to: Big Ten Power Rankings