Notebook: Hartman's presence boosts Hoosiers to big win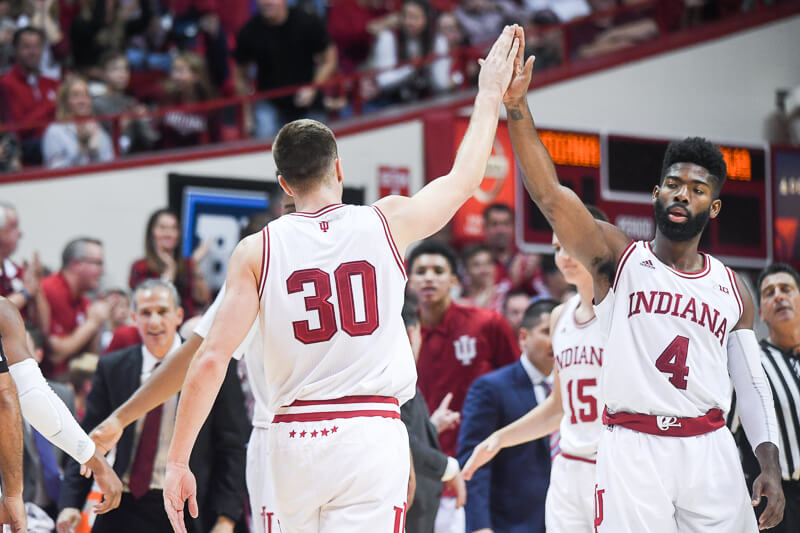 On the backside of a three games in six nights stretch, Indiana used a pair of dominating runs to down Iowa, 77-64, and record its first conference win of the Archie Miller era.
It was the upperclassmen that provided the boost for the Hoosiers (5-4, 1-1 Big Ten) when they needed it most.
With 6:37 remaining in the first half, Archie Miller tested out a frontcourt combination of junior Juwan Morgan and senior Collin Hartman. It immediately paid dividends, as Indiana went on a 21-6 run to head into the break up 15 on the Hawkeyes (4-5, 0-2).
"It was five guys out there playing for each other," Morgan said. "I think that's what you saw tonight when those runs were happening. We're at our best when we're in best transition. And the only way to do that is to get stops, and I think we pulled those out."
But Indiana's double-digit cushion didn't last long. The Hoosiers missed their first 10 field goals in the second half, allowing Iowa to cut the deficit to one before the under-16 timeout.
"We weren't playing hard," Hartman said of the slow start to the second half. "We came out and had a mental lapse, and just thought that since we were up we kind of relaxed. At this level in the Big Ten you can't relax because you can lose that lead as you saw in a blink of an eye."
Indiana managed to regroup in large part because of Hartman's contributions. Just minutes after Iowa's burst, Indiana responded with an 18-0 spurt to put the game out of reach. The fifth-year senior was the catalyst of the defining stretch, hitting a three, grabbing four rebounds and dishing two assists.
"Collin is a leader," Miller said. "He's a fifth-year guy and anytime that your seniors are out there playing well and talking and communicating, good things can happen. That lineup with him and Juwan was really a big key in the first half. And I thought it was a really big key in the second half of regrouping us."
Monday marked the second consecutive game Hartman has accrued 20 minutes of action. As Hartman works his way back to form, he's beginning to emerge as the on-court leader Indiana has desparately been searching for. In 20 minutes of play, Hartman scored 13 points and was a team-best +29.
"I'm taking it (day-by-day) right now and staying with the doctors and Tim Garl and just doing rehab and prehab just so nothing else happens," Hartman said postgame. "It's a never-ending grind but it's part of the job, part of playing basketball, and it's fun because I get more playing time staying healthy."
Big Ten play goes on pause
With the Big Ten tournament moved up a week to be played at Madison Square Garden, every team in the conference was forced to play two conference games in the first five days of December.
"Playing a Big Ten game here early, you get tested," Miller said. "You're on the road and you're at home. It's kind of one of those deals where you've got to have that bounce-back mentality. It's tough to do, but I like it."
After two more Big Ten games tomorrow (Michigan State-Rutgers and Minnesota-Nebraska, the conference schedule will go on hiatus until January. As the Big Ten expands its conference slate to 20 games next season, December Big Ten games could be the new normal.
"It's inevitably going to be the staple of our league from this point forward," Miller said. "I think you'll see multiple weeks of December Big Ten games. That way they can really space the inventory out in January and February where your coaches and your players have a routine and a rhythm."
Filed to: Collin Hartman, Juwan Morgan