Five takeaways from Indiana's win over Iowa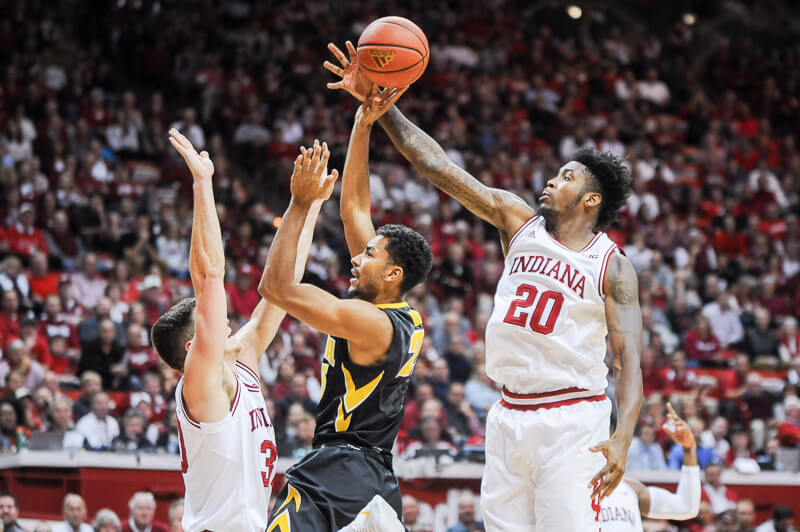 Indiana snapped a two-game skid on Monday night by knocking off Iowa 77-64 at Simon Skjodt Assembly Hall. The victory moved the Hoosiers to 5-4 overall and 1-1 in Big Ten play.
Here's a look at five takeaways from the win over the Hawkeyes:
· Juwan Morgan's ascent continues: On a team without a clearcut offensive leader, Juwan Morgan is emerging as a player the Hoosiers can rely on.
Morgan finished with 15 points and 10 rebounds in Monday's win over Iowa. Through nine games, he's the team's leading scorer at 13.8 points per game.
While he's yet to find his stroke from the perimeter, Morgan is excelling on the offensive glass and also with getting to the free throw line. Morgan's offensive rebounding percentage is up from 11 as a sophomore to 12.5 this season. He's also attempted a team-high 50 free throws and is shooting 78 percent from the line.
"I think he's a guy on our team everyone's looking at to get the job done on every given night," Archie Miller said of Morgan. "And if you look at sort of how he's playing, I think he's become a key figure in terms of our stability."
· Turnovers continue to trend downward: Indiana's Achilles' heel in previous seasons has been turnovers. Under Miller, taking care of the ball has been emphasized and valuing possessions is becoming a priority.
The Hoosiers had just 10 turnovers in Wednesday's win over Iowa for a turnover percentage of 13.9. Through nine games, Indiana's team turnover percentage is 17.4, which ranks 83rd nationally.
"It's trending downward for sure," Miller said. "I think a lot of it is just decision-making, and we're not trying to hit the home run as much as we used to with the one-hand bounce pass or the one-hand baseball pass. I think we're starting to eliminate some of those."
· Hartman, Green provide boost from perimeter: The Hoosiers have struggled with 3-point shooting all season, but redshirt senior Collin Hartman and sophomore Devonte Green provided a major boost in the win over the Hawkeyes.
Hartman was 3-of-6 on 3s and finished with 13 points in 20 minutes off the bench. And Green was 2-of-4 on 3s and had 12 points in 25 minutes.
"Devonte is a spark plug. That's what I can tell you," Hartman said of Green. "He's very explosive and he can do some crazy things and just kind of makes you look at it kind of weird. But he's explosive and he can really help us when he's playing simple and playing solid basketball, as you can see. So we love that when we get it out of him and we need that moving forward."
Indiana finished the game 8-of-21 from distance after going a combined 7-of-28 in a pair of losses to Duke and Michigan.
· Davis rebounds from poor performance at Michigan: After finishing with just four points and one rebound in Saturday's loss at Michigan, De'Ron Davis was a presence again on Monday.
The sophomore forward finished with 13 points, six rebounds, four blocks and two steals in 18 minutes.
However, Davis continues to struggle at the foul line as he shot just 3-of-9 from the line and is now 19-of-42 (45.2 percent) on the season. One of his misses last night was an airball and the other was a hard brick off of the back of the rim, which suggests his struggles from the line have become mental.
"He's not a bad free throw shooter," Hartman said of Davis. "He can make them in practice and stuff. He's thinking about it too much. Just step up to the line and knock it down."
· So far, Iowa is a major disappointment: The Hawkeyes were a trendy preseason pick to finish in the top half of the league, but the season is quickly going off the rails in Iowa City.
With Monday's loss, Iowa is now 4-5 with losses in five of its last six games.
Three of Iowa's four wins are against sub-300 KenPom competition and an 0-2 start in league play is going to be difficult to overcome.
Iowa looked lost offensively on Monday as the Hawkeyes had 18 turnovers and shot just 38.5 percent from the field.
Filed to: Collin Hartman, Deron Davis, Devonte Green, Iowa Hawkeyes, Juwan Morgan