Four IU signees start strong in final prep seasons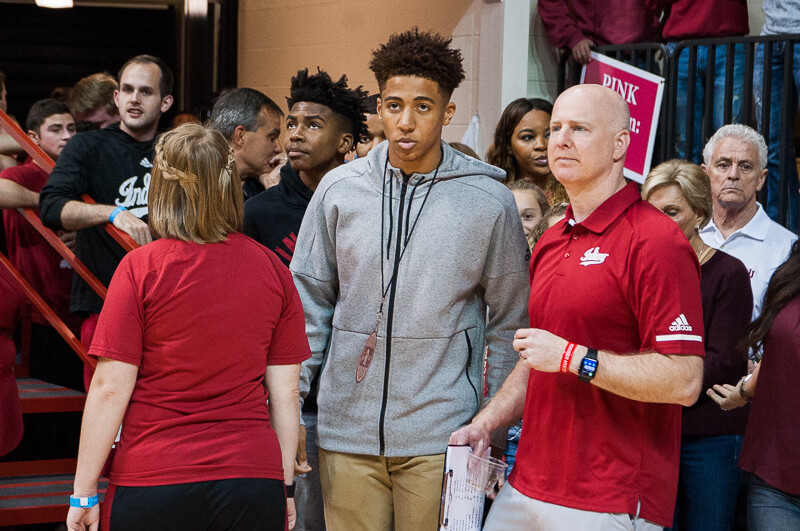 Throughout the season, we'll be keeping track of how Indiana's four class of 2018 signees fare throughout their final high school campaigns. In addition, we'll also be keeping tabs on several key recruiting targets in the class of 2018 and 2019.
Here's our first report:
Class of 2018
Robert Phinisee, McCutcheon: The Mavericks are off to a 3-1 start and Phinisee is the primary reason why. In the season opener at West Lafayette on Nov. 23, Phinisee finished with 36 points, seven rebounds, six assists and two steals in a 61-60 victory. He followed that up with 17 points and four rebounds in a 67-46 win over Benton Central on Nov. 28. In a rematch against West Lafayette on Dec. 1, Phinisee finished with 23 points and 11 rebounds in a narrow 57-53 loss. The next day, Phinisee had 39 points, nine rebounds, five assists and seven steals in an 86-42 win over Lafayette Central Catholic.
Damezi Anderson, South Bend Riley: The Wildcats are off to a 3-0 start and Anderson has already set the program's all-time scoring record. In Riley's season opening 89-38 win at LaPorte on Nov. 21, Anderson had 35 points. On Dec. 1, Anderson had 25 points in a 76-45 win at Northridge and he had 28 points in a 69-56 win over Merrillville on Dec. 2.
Jerome Hunter, Pickerington North (Ohio): The versatile 6-foot-7 wing had 21 points in a 65-60 to Wayne on Dec. 2. Hunter, along with several prospects mentioned in this report, will play in Southport on Saturday in the Forum Tipoff Classic. Details for that event are available below:
FORUM Tipoff Classic Game Schedule
December 9th @ Southport Fieldhouse

12:00 Castle v Southport
1:40 Culver Academy v Lawrence North
3:20 Hamilton Southeastern v Center Grove
5:00 McCutcheon v Tindley
6:40 Pickerington North v South Bend Riley
8:30 New Albany v Ft. Wayne North

— FORUM Tipoff Classic (@FORUMTipoff) November 30, 2017
Jake Forrester, Westtown School (Pa.): The 6-foot-9 forward finished with 11 points and 13 rebounds in a 56-52 win over Episcopal Academy on Nov. 29. Forrester was not listed among the leading scorers in a 84-76 win over the Huntington School (N.J.) on Dec. 2.
Romeo Langford, New Albany: The Bulldogs, No. 1 in Class 4A, are off to a 3-0 start and Langford continues to climb the state's all-time scoring list. Langford set a career-high with 48 points in New Albany's season opener against Charlestown in Nov. 21. Langford had 24 points in a 70-58 win at Bloomington South on Nov. 25 and nearly matched his career-high with 47 points in a 96-59 win at home over Evansville Harrison on Dec. 2.
Class of 2019
Trayce Jackson-Davis, Center Grove: One of IU's top recruiting targets regardless of class, Jackson-Davis is off to a stellar start as a junior. He finished with 33 points in Center Grove's 80-61 win at Franklin on Nov. 21 to open the season. Jackson-Davis had 24 points in a 64-38 win over Franklin Central on Nov. 25. On Dec. 1, he just missed a triple-double as he finished with 19 points, 11 rebounds and nine blocked shots in a 70-37 win at Southport. Most recently, Davis had 35 points in a 77-68 win over Bloomington North on Dec. 2.
Keion Brooks Jr., Fort Wayne North: In Fort Wayne North's season opening win at Indianapolis Tech on Nov. 25, Brooks had 25 points. Brooks followed that up with 21 points and 13 rebounds in a 67-41 win over Fort Wayne Blackhawk on Nov. 28. He did not play in a 56-41 win over DeKalb on Dec. 1 to an illness, but bounced back with 23 points in a 75-67 overtime loss at Hamilton Southeastern on Dec. 2.
Filed to: Damezi Anderson, Jake Forrester, Jerome Hunter, Keion Brooks Jr., Robert Phinisee, Romeo Langford, Trayce Jackson-Davis