Five takeaways from Indiana's loss at Michigan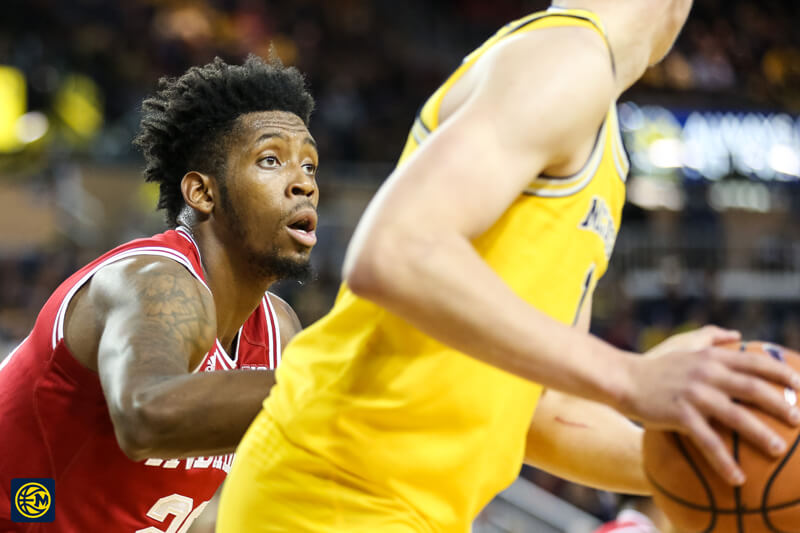 ANN ARBOR, Mich. – Indiana dropped its Big Ten opener on Saturday as the Hoosiers fell 69-55 to Michigan at the Crisler Center. The loss dropped Indiana to 4-4 on the season.
Here's a look at five takeaways from the loss to the Wolverines:
· Slow start sets the tone: It was fair to wonder how Indiana's energy would be to start following Wednesday's emotional home loss to Duke.
It didn't take long on Saturday afternoon to get an answer.
Michigan raced out to a 16-2 lead and never trailed in the game, dominating nearly all 40 minutes. The slow start was a result of poor decision making, questionable shot selection and poor perimeter defense. The Wolverines scored their first 12 points on 3-pointers and Indiana couldn't answer offensively.
"You can't get on the road and play the first 10 minutes of the game with four points," Archie Miller said. "We didn't move the ball, dribbled the ball way too much and you saw a lot of errors."
The Hoosiers had nine of their 11 turnovers in the first half, which was a major reason they were in a hole too deep to overcome.
· 3-point offense continues to underwhelm: After hitting just 5-of-21 from distance in Wednesday's loss to Duke, Indiana hit just two 3s on Saturday afternoon.
The Hoosiers attempted just one 3-pointer in the first half and went 2-of-7 from the game. For the season, Indiana is shooting just 33.1 percent on 3s and just one player – Josh Newkirk – is shooting over 40 percent from beyond the arc.
Indiana has been able to overcome poor perimeter shooting at times with efficient scoring in the paint, but the Hoosiers shot just 41.7 percent on 2s on Saturday. IU also took a lot of long 2s in the loss, which is arguably the worst shot in basketball.
· Juwan Morgan the lone bright spot: If there was a positive to take from the loss, it was the play of Juwan Morgan.
The junior, through eight games, has been Indiana's most consistent player. He finished with 24 points (on 9-of-14 shooting), which was his career-best in a Big Ten game.
When Indiana found Morgan in the paint, good things happened. He took nine of Indiana's 14 free throw attempts and also had eight rebounds, a team-high.
"He was the one guy, he really went to work," Miller said. "He had an advantage size wise, in most cases. He was aggressive."
· Michigan shuts down offensive glass: Indiana had been a strong offensive rebounding team through its first seven games, but Michigan didn't allow the Hoosiers to get many second-chance opportunities in Saturday's loss.
Indiana had just seven offensive rebounds for an offensive rebounding percentage of only 18.9. Those seven offensive rebounds led to just six second-chance points.
On an afternoon when it shot just 40 percent from the field, the lack of second-chance offense was a major problem for Indiana.
· Miller makes his thoughts clear regarding moral victories: In his postgame press conference, Miller was asked how disappointing this performance was "after Duke" and gave great insight to his mindset and expectations.
"That's the thing, though. It's disappointing when you lose to Duke. We didn't win, we didn't beat Duke. I gotta keep coming back to that point. We lost the game to Duke. And if any of that 'hey, it feels good' stuff creeps into your locker room and your bus, then you come out here and you go like 0-for-8 on layups.
"You've got to be a focused team, you have to be possessed with getting better, and you have to really understand the reality of winning or losing. And playing to win is everything. Performing, production. It's every day, every game. It's not, 'hey, let's feel good because we played pretty hard against Duke.'
"We shoulda beat Duke. We didn't but a good team at home in front of that crowd with four minutes to go in the game, one-point lead, you find a way to win that one. Then you can feel really good about it. It didn't have anything to do with Duke."
(Photo credit: Dustin Johnson, UMHoops.com)
Filed to: Michigan Wolverines