News and notes from Archie Miller's radio show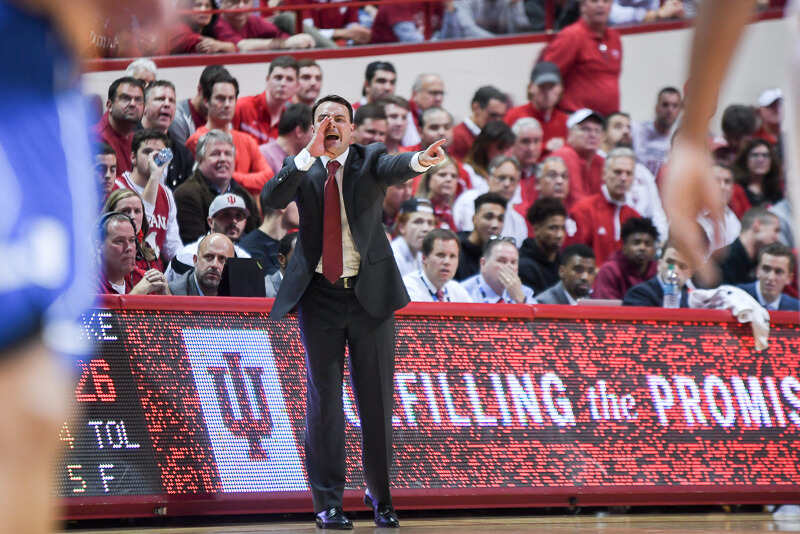 Inside IU basketball with Archie Miller was live on Thursday evening at the Holiday Inn in Bloomington. Juwan Morgan was the player guest.
Below are news and notes from Miller and Morgan (all quotes are from Miller unless noted otherwise):
· On the loss to Duke, "I didn't think we took a backseat in the game the whole way … Once we got to about the five-minute mark (of the second half), that's when it came down to the team that believed in itself the most and were the most together would find a way to win the game. That's just what we didn't do. Give Duke credit, I think they've done that a few times this season. But there towards the end, our inability to either knock free throws down or get a key rebound, those winning plays, it's tough to figure it out, but the best teams sort of find a way to make those plays."
· "When we watch the film and break down our mistakes, a lot of them aren't for a lack of effort, they're more for a lack of discipline. A lack of thinking and doing your job. There were probably 10 plays in the (Duke) game where if we were just better at doing our job, being where we're supposed to be or communicating on one screen, it will eliminate those couple of points."
· Miller called the atmosphere on Wednesday night a "jaw-dropping feeling."
· On how to prevent a let-down going into Michigan on Saturday, "We talked about it at length today after practice. You have to be possessed right now in terms of improvement. You have to absolutely be maniacal in terms of individual improvement. Our coaching staff, myself, we have to all continue to be possessed with getting better. If we do that, we will continue to make small strides like we have."
· "There's nothing feel-good-moment about last night. We were good enough at times to win that game last night. That's the belief you have to have. Now you have to be possessed in the next 24 to 48 (hours)… Be better than we were against Duke."
· On the team buying in, "(As more games are played), you start to get a feel for who can do what in the games and how are the guys who aren't getting as much time, how can they help us more. The big thing is I think we have buy-in, I think we're not 100 percent locked in in terms of one through (18) feel great about what we're doing right now. I think there's a lot of guys on the team that wish they'd play a little more or some guys that wish they could do this, but I think we're starting to get to the point where after last night, there are things that are really possible for this team if we can get there. I think our seniors are doing a really good job right now. They're attentive, they're using their voice when coaches aren't around. In practice, there's a bounce about those guys. Because they know right now, they've been through this, they know what they're up against. They know for us to win games, we need guys to step up and be better. We need De'Ron (Davis) to grow up faster, we need Devonte (Green) to grow up faster, we need Al Durham and Justin (Smith) and Cliff (Moore) to get better in practice."
· When asked who have been the on-court leaders, Miller named Collin Hartman, Robert Johnson, Josh Newkirk and Juwan Morgan.
· On Robert Johnson, "Maybe he didn't make some shots, maybe that's what people paid attention to, but I'm not sure if they paid attention to how well he did on Grayson Allen last night in however many minutes. I'm not sure people realize how hard he's worked on the defensive end for us. I think that some of the plays that he's made and the things he's done have been really, really good for us. And he's using his voice in a subtle way, maybe not so much on the court, but in practice when (something's) needed to be said."
· On the team's defense this season, "We're getting better, slowly but surely. Our percentages aren't very good right now. Part of it is, to be good on defense, you have to be really disciplined. When you break down in positioning, you foul, you leave your feet on a shot fake and give up a three, some of the stuff that we're doing right now, it's something that good defensive teams don't do … We're getting better, I thought last night we took a step in transition (defense). We were able to get back fast. Last night's deal was battling inside more so than outside. And we hung in there on the glass as well."
· On playing through the post, "When De'Ron is in the game, I think our team really understands that playing inside-out is something that has been good to us. It's a point of emphasis also to get other guys down there like Juwan or even Collin. Because the more the ball touches the paint for us, it's going to be good stuff … But De'Ron has to be on the floor too. We have to do a better job, as a staff, early in the (game), at trying to protect him as best we can so he can play more in the first half."
· Miller said Devonte Green is the team's best guard at being creative, executing pick-and-rolls and post feeds.
· Miller said Juwan Morgan is the player whose play in-game most mirrors practice performance.
· Miller said some of De'Ron Davis' struggles at the foul line are mental, and that he's a better foul shooter than he's shown in games. "We have to get him away from the mental, get him more focused on his routine, lock him in on his shots and they'll go in."
· On the upcoming two games in three days stretch to start Big Ten play, "It's kind of a disservice to our players when you play a schedule like this. When you don't have the value of your system being in place for three or four years if you're an upperclassman. You wouldn't worry so much about the little details because they'd already be in there. Same with our staff. Them understanding how to teach certain things at this time of year, that you can't scout every play, you can't scout every player. You have to be good at what you do."
· Regarding Michigan, Miller said Charles Matthews is a potential All-Big Ten player, and that Moritz Wagner will be tough for Indiana's frontcourt to guard.
· Juwan Morgan said he prides himself on being consistent in every game.
· Morgan on his health, "I just feel like my body wasn't allowing me to play the way I (wanted to). Just with all the injuries and everything. But now I feel like I'm at 100 percent and am able to do the things that I've always been able to."
· Morgan says he speaks with OG Anunoby on the phone almost every day, and that Anunoby tells Morgan he, "has to get there. He says to me every day that that's the ultimate goal and I have to get there (to the NBA). That it's just an amazing time and you're guarding the best players in the world night in and night out."
· Morgan, on adjusting to the new culture this season, "It's just been a lot of improvement. Starting out, it was kind of weird, just getting used to all the things (Miller) wanted us to do, being able to carry out the plans that he gave us. I think the first game, we really had no idea what we were getting into as far as a team going into that game. But now, we're all bought in. Everybody is connected as one, playing for each other now. That's really what it comes down to."
· Morgan said the freshmen class is a lot less stubborn than he was at that age, and are more willing to learn from the upperclassmen.
· Morgan said Devonte Green and Freddie McSwain are the funniest players on the team, and if you try and tell Freddie he's from Atlanta and not Hinesville (Georgia), "it just sets him off. It's the funniest thing."
Filed to: Archie Miller