Notebook: Hoosiers show growth in loss to No. 1 Duke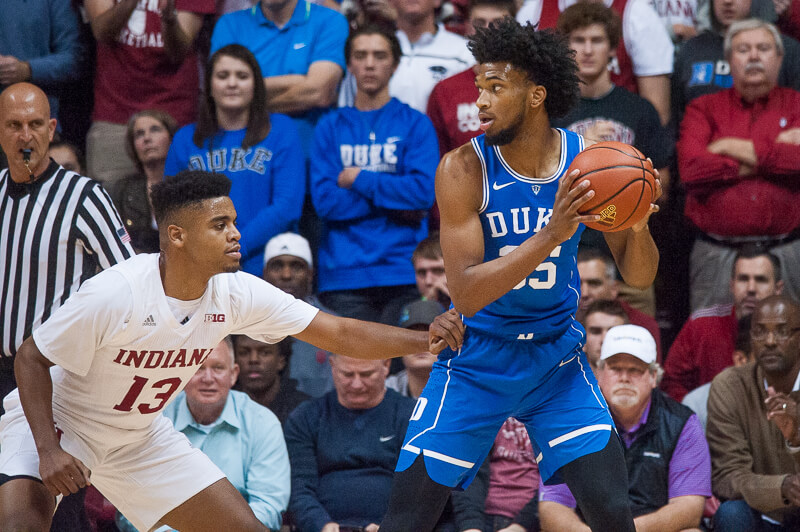 For 36 minutes, Indiana went punch-for-punch with the nation's best team. In the end, the firepower and superior talent of No. 1 Duke proved too much as the Hoosiers fell, 91-81.
With several days to prepare a gameplan, Archie Miller had his Hoosiers (4-3) ready for a battle. The final score doesn't reflect how close the game was.
Indiana, facing a fatigued Duke team at the backside of a nine games in 20 days stretch, pushed the Blue Devils (9-0) to the limit. The first half was a fast paced, back and forth affair featuring 11 ties and 10 lead changes.
"I thought we really competed," Archie Miller said after the loss. "I thought we really battled. It was tough for us at times in and around the basket just due to the lack of size and depth. But at the same time, I thought we did some really good things as well, especially in transition, and some offense where we were able to really be right there with them step for step."
Even when Duke built a 10-point lead early in the second half, Indiana was never rattled, going on a 21-7 run to take a four-point lead at the under-12 timeout.
But the Blue Devils, starting four five-star freshmen and a five-star senior, outplayed the Hoosiers when it mattered most. An Indiana team that was patient suddenly began to make ill-advised decisions and unforced mistakes, and Duke took advantage.
" I thought they made us play one-on-one a little bit too much, but that's what they're able to do with their length and size," Miller said. "They switch. They deny. They don't give you the normal catches there late in the game and weren't able to convert."
Still, Indiana, with a raucous crowd of over 17,000 behind them, proved to be a more formidable foe than many had thought.
"(Indiana) plays as one," Duke coach Mike Krzyzewski said after the game. "They make you move on defense, it's a well-constructed offense. Then when (De'Ron) Davis is playing like that, that takes them up another level."
Sophomore De'Ron Davis was plagued with foul trouble in the opening half, playing just five minutes because of two early personals. As a result, Indiana had to rely on a variety of lineups featuring Juwan Morgan, Freddie McSwain and Collin Hartman.
"Collin, in particular, you're starting to see him get back to form and how important he can be for this team," Miller said. "Juwan and Freddie have been doing it together here for four or five games, giving us good effort. And I thought just for the most part those guys are fine right now. They're confident."
In the second, Davis stayed out of foul trouble and wreaked havoc in the paint. At times, the sophomore seemed almost unguardable, bullying Duke's star freshmen Wendell Carter and Marvin Bagley and scoring 12 points in 16 second-half minutes.
Grayson Allen comes up clutch
At availability on Tuesday, Archie Miller called Grayson Allen the leader that Duke can "count on in big moments in road venues."
Thirty hours later, Miller was proven right. In the last four minutes of the game, Allen was the difference maker, scoring five points and adding an assist over the final 3:57, turning a one-point lead into a 10-point win.
"Grayson is a great player, and he understands the tradition of Indiana and how much the people here love basketball," Krzyzewski said. "He appreciated the cheers he got tonight."
Throughout Allen's 21-point night, the student section did all they could to rattle the senior, chanting profanities and booing him when he touched the ball. Allen seemed to bask in the hatred, using it to fuel his game.
"I've always wanted to play here. It's an amazing, historic place," Allen said. "Their crowd was incredible. They really brought it. They were loud from start to finish."
Free throw frustration
Indiana's season-long struggle at the charity stripe continued on Wednesday, costing them a chance at a resume-building win.
The Hoosiers had success drawing fouls as Duke committed 22 of them with Carter fouling out. But Indiana failed to capitalize.
Of Indiana's 26 free throw attempts, only 16 found the bottom of the net. That equates to 62 percent, three percentage points lower than their season average.
It wasn't just the volume of the misses either, it was the timing. Six of the 10 misses came in the final 14 minutes, and four of those were with under five minutes to play.
"Towards the last part of the game, we started getting fouled more, and that's on us to hit our free throws," said Davis, who connected on 4-of-9 free throws. "Although we didn't match bucket for bucket we were getting fouled. We knock down our free throws, we're right there."
Filed to: Duke Blue Devils