Five takeaways from Indiana's loss to Duke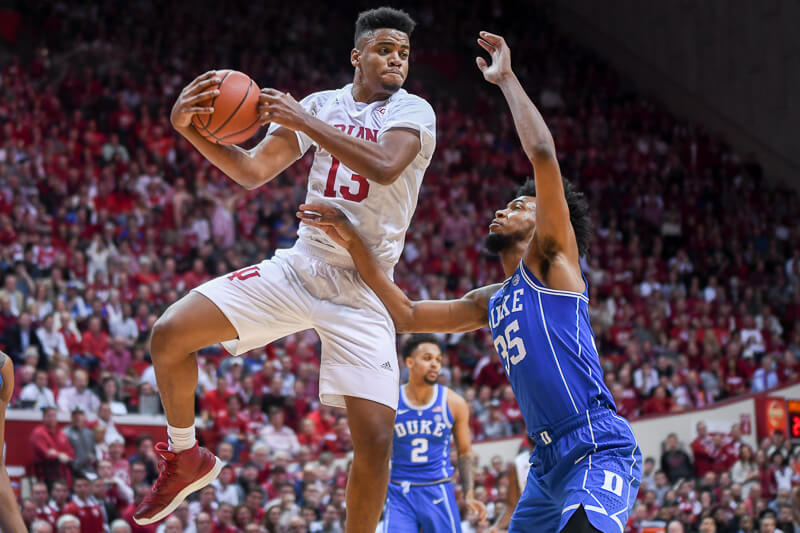 Indiana battled toe-to-toe with No. 1 Duke for 35 minutes on Wednesday night in the Big Ten-ACC Challenge, but struggled down the stretch and fell 91-81 to the Blue Devils. The loss dropped Indiana to 4-3 on the season.
Here's a look at five takeaways from the loss:
· Indiana is making progress offensively: Indiana had to play at a high level offensively to stay in the game against Duke and for 35 minutes, the Hoosiers did just that.
Indiana was ultra-efficient on 2s (25-of-38) and outscored Duke in the paint, 46-44. The Hoosiers also committed just nine turnovers as the decision making continues to improve. It was Indiana's third straight game with less than 10 turnovers.
So what was missing from making this a complete performance offensively?
Indiana shot just 5-of-21 on 3s and 16-of-26 from the free throw line. Those are two numbers that would be hard to overcome against any team, but it's nearly impossible to beat Duke hitting less than 25 percent from the perimeter and leaving 10 points at the line.
Still, this is an offensive performance Indiana should be able to build on with four tough games on the horizon.
· Defensively, Indiana had no answer: Archie Miller's message in his postgame press conference was straight forward: Indiana should win games on its home court in which it scores 81 points. And he's right.
But Duke is an offensive juggernaut. Marvin Bagley III had another double-double with 23 points and 10 rebounds. Wendell Carter added a double-double of his own with 18 points and 12 rebounds.
Trevon Duval had 15 points, six assists and no turnovers. And Grayson Allen, Duke's most experienced player, made big plays down the stretch and finished with 21 points.
Could Indiana have done some things better defensively? Perhaps. But there are few teams who will slow Duke down this season. The Blue Devils entered Wednesday's game with the nation's most efficient offense and their 1.32 points per possession in the win only solidified that.
· Davis dominant at times in the post: Wednesday's loss didn't get off to a great start for De'Ron Davis. The sophomore picked up two fouls in the game's first five minutes and went to the bench for the remainder of the first half.
But Davis responded to the rough start with an impressive second half. In 16 second half minutes, he scored 12 points and Carter had little answer for him in the post. Davis scored with a variety of post moves and was patient with his decision making.
It was the type of performance Indiana is going to need from its leading big man as Big Ten play opens on Saturday afternoon at Michigan.
· Upperclassmen deliver strong performances: Juwan Morgan and Robert Johnson played well over IU's recent three-game winning streak and both guys were effective in the loss to Duke.
Morgan had 14 points, six rebounds, two blocks and two steals in 31 minutes and Johnson had 17 points, four rebounds and two assists in 33 minutes.
"I think if we get better from here, day-by-day, drill by drill in practice," Johnson said postgame. "I think we'll be right where we want to be at the end of the season."
· Indiana has to put this loss in the rearview mirror quickly: By the end of Miller's opening statement in his press conference, it was clear that he was already thinking ahead to Saturday's road trip to Michigan.
The Hoosiers now have two days off before the Big Ten opener in Ann Arbor and then a home game two days later against Iowa. Even though Indiana came up short on Wednesday, the Hoosiers played with a lot of emotion and simply can't afford to have a letdown in terms of energy on Saturday.
"I don't care who you play," Miller said. " If you play Duke or you play Arkansas State. I think the next step for this team is to bring what we brought tonight and be better at it and be ready to do that against Michigan on Saturday."
Filed to: Deron Davis, Duke Blue Devils, Juwan Morgan, Robert Johnson