What to expect: Duke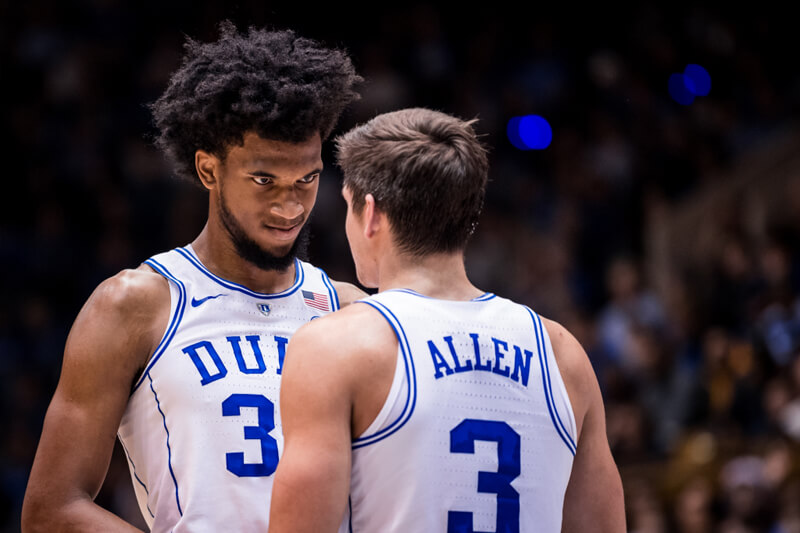 Indiana welcomes the No. 1 team in the country on Wednesday night as Duke comes to Bloomington for the Big Ten-ACC Challenge. It will be the ninth all-time meeting between the schools and the Blue Devils lead the series, 5-3.
The game will be broadcast at 9:30 p.m. with Dan Shulman, Jay Bilas and Maria Taylor on the call:
Indiana's brutal five-game stretch begins tonight with the country's unanimous No. 1 team, Duke. The Blue Devils are already battle tested this season with neutral court wins over Michigan State, Texas and Florida, but the trip to Simon Skjodt Assembly Hall will be their first road game of the season.
The results for the Big Ten thus far in the challenge have been less than impressive. The ACC is 6-1 and both Duke and North Carolina are double-digit favorites tonight. Eight wins will clinch the annual series between the ACC and the Big Ten.
The Hoosiers have three straight wins following a 16-point loss to Seton Hall on Nov. 15, but we'll soon find out how much progress has been made in the two weeks since that loss. Duke is a legitimate No. 1 and the nation's most talented team. Is Indiana up to the challenge?
MEET THE BLUE DEVILS
After watching John Calipari rule one-and-done recruiting at Kentucky for several years, Mike Krzyzewski has adapted and is thriving by recruiting one-year players. This year's Duke roster is no different as the Blue Devils have several prospects who could hear their names called in June's NBA draft.
The Blue Devils start four freshman alongside senior guard Grayson Allen, one of college basketball's best scorers and a player opposing fans love to hate. Allen looked to be on the fast track to the NBA after a few notable performances during Duke's run to the 2015 national championship, but has opted to stay all four years.
On a below average 3-point shooting team, Allen is Duke's consistent threat from the perimeter. He's making more than three 3s per game and is shooting 44 percent. Through eight games, his 16.5 points per game are second on the team.
Joining Allen in the backcourt are Trevon Duval and Gary Trent Jr., a pair of dynamic freshmen. Duval was one of the nation's top point guards in the class of 2017 and is averaging 6.5 assists per game. He's also third on the team in scoring at 13.1 points per game despite shooting just 13 percent on 3s. Duval has been efficient finishing at the rim (69 percent) and also has a team-high 19 steals.
Trent Jr. is struggling from the perimeter so far (15-of-45 on 3s), but still boasts high efficiency numbers because he doesn't turn it over. He's one of four Blue Devils averaging in double figures (12.6 ppg). Freshman Alex O'Connell comes off the bench and is making close to 55 percent of his 3s, albeit on limited attempts.
Duke's backcourt is one of the nation's best, but the frontcourt is arguably the best. Freshman Marvin Bagley III, who reclassified from the 2018 class to 2017, is a prime contender to be the No. 1 pick in June's NBA draft.
Bagley's numbers through eight games are ridiculous: 22.3 points and 11.3 rebounds in 30.9 minutes per game. He's shooting 62.5 percent on 2s and his ball skills at 6-foot-11 are incredible. It's early, but he currently sits atop several national player of the year lists.
He's joined up front by freshman Wendell Carter, a 6-foot-10, 260 pound freshman who is making 62.3 percent of his 2s and is averaging 12.9 points and 9.1 rebounds per game.
Backing up Bagley and Carter are sophomore Marques Bolden, a McDonald's All-American and 6-foot-10 sophomore Javin DeLaurier. DeLaurier is averaging four points, five rebounds and a block in 13.5 minutes per game.
TEMPO-FREE THOUGHTS
Duke presents plenty of challenges for Indiana, but rebounding is the No. 1 strength of this Blue Devil team. Duke is rebounding 43.2 percent of its missed shots through eight games, which is No. 1 in the country. Bagley and Carter are terrific on the offensive glass.
Duke is also turning it over on just 16.1 percent of its possessions, which is impressive for a team starting four freshmen. If there's a weakness with Duke, it's been free throw shooting (67.3 percent) and 3-point shooting (34.1 percent). But neither of those issues have mattered much as the Blue Devils currently own the nation's best offense, according to Ken Pomeroy.
For Indiana to keep the game competitive, the Hoosiers are going to have to take care of the ball, keep Duke off the offensive glass and make 3s. Duke has played a lot of zone, which could be a good thing for Indiana given they've played two straight games against zone defenses.
WHAT IT COMES DOWN TO
Indiana has been very good in recent history against ranked teams in Bloomington, but this is arguably the most talented team to come to Simon Skjodt Assembly Hall since Kentucky in 2011.
All of the numbers suggest Duke should win the game comfortably, but there are a few things that could factor into keeping it interesting. Duke played three games in four days on the west coast over the weekend. Will travel and fatigue factor in at all? This will also be the first hostile road environment that several of Duke's players will experience. How will they respond? If Duke starts slow like they have in several recent games, it could put the Simon Skjodt Assembly Hall faithful into a frenzy.
The Ken Pomeroy projection is Duke by nine and the Vegas line, which opened with Duke as a 10-point favorite, is now 11 as of Wednesday morning. Sagarin's projection is Duke by 12.
With two key conference games following tonight's game and then games against Louisville and Notre Dame, we'll quickly have a better idea of where the Hoosiers stand in year one of the Archie Miller era.
(Photo credit: Duke Athletics)
Filed to: Duke Blue Devils