Notebook: Indiana's frontcourt paves the way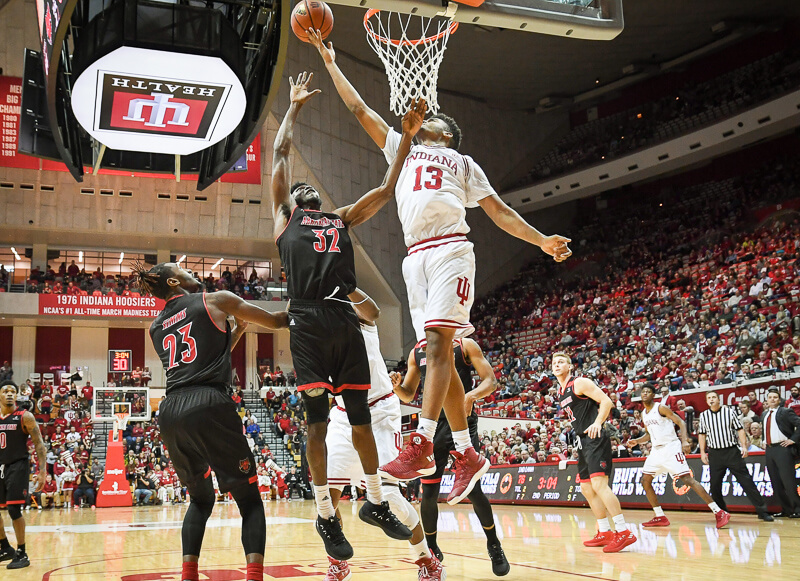 In a game that was back and forth for the first 32 minutes, the Hoosiers (3-2) held off a second-half Arkansas State (2-3) rally to come away with an 87-70 victory.
It wasn't easy. The game began hectically, with Indiana trying to make the home run play and struggling to solve Arkansas State's defense. But the Hoosiers offense eventually found a rhythm, ending the first half hitting 10-of-11 field goals and heading into the break up 14.
Archie Miller has often remarked about the need for his team to win 50-50 balls – those moments when a loose ball is up for grabs – and his team failed to win many of them in the first half.
"Loose balls, stuff like that that, we're not coming up with them. Whether that's a long rebound that bounces and they're just faster to it," Miller said after the game. "But that's how you win tough games. You're able to get those 50/50 plays every time. You're able to tie the guy up on the floor and he doesn't get a foul on you or he doesn't shoot it."
Indiana prevailed despite not obtaining the majority of 50/50 balls in large part because of the tenacity of Indiana's frontcourt. The trio of De'Ron Davis, Juwan Morgan and Freddie McSwain combined for 44 points, 24 rebounds (10 offensive), four assists, seven blocks and two steals.
Of the three, it was Morgan that led the way. The junior pounded the paint on his way to a career-high 28 points (9-of-11 from the field, 10-of-10 from the free throw line) to go along with eight rebounds, two assists and two blocks. Of Morgan's nine made field goals, eight were layups, and two were scored after he grabbed an offensive board.
As De'Ron Davis put it after the game, Morgan scored "dog points," which Davis defined as "everything we need as a team."
"If I tip a ball out, then Juwan is going to get it," Davis said. "If there's a loose ball, Juwan is picking it up, kicking it out."
Morgan's breakout performance was a long time in the making. The often-injured junior was a complementary piece for the Hoosiers as an underclassman. Now a junior, he's beginning to play up to his potential.
"He's brought a lot of energy to the table," Miller said. "He's a versatile defender for us. He's done a nice job there. I think just in general right now his physicality on the glass and in the paint is much different than it was earlier in the season."
Durham playing composed
Freshman Al Durham has been as composed as any player on Indiana this season. The Atlanta native has looked comfortable at the point, running the offense and making smart decisions.
The lefty showed off a variety of skills against Arkansas State. Throughout his 28 minutes of action, Durham hit a three, nailed a mid-range jumper, buried a right-handed floater, dished three assists and even blocked a shot.
"He's probably one of the more poised people I've seen at such a young age, especially coming in playing in the big games he's not rattled at all," Juwan Morgan said. "I think that's a credit to who he is as a person."
The most impressive part of Durham's play is his ability to take care of the basketball. The freshman's last turnover came all the way back in the second half against Howard. In the over 100 minutes Durham has played since, he has yet to give up the basketball.
Transition defense an issue
For all of the positives to take away from Wednesday's performance, Miller was still wholly unsatisfied with his team's transition defense.
Although the Hoosiers didn't allow a single basket after a turnover and only gave up four fastbreak points, the Red Wolves consistently turned missed Indiana shots into opportunities on the other end of the floor.
"Our transition defense wasn't good. Just in general, if you look at our ball screen defense, probably one of the more confusing games that we've had," Miller said. "We have been getting better and better and better, and tonight it was almost like they're coming downhill, coming right by us. We didn't have any resistance. And part of it was very quick guards, but the other thing was very spread out, getting completely — hit way too high on the floor, and we weren't able to adjust on that."
Filed to: Deron Davis, Juwan Morgan