News and notes from Archie Miller's radio show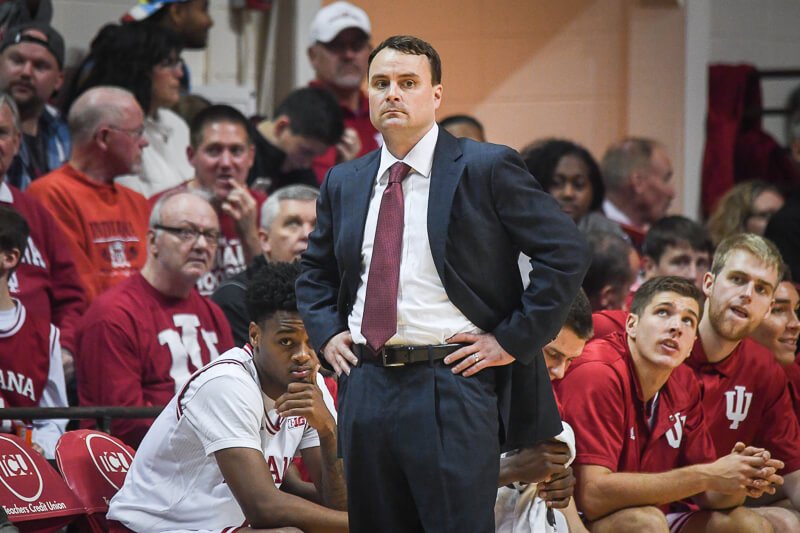 For the third time this season, Inside IU basketball with Archie Miller was live on Thursday evening at the Holiday Inn in Bloomington. Clif Marshall, Director of Athletic Performance, was the special guest.
Below are news and notes from Miller and Marshall (all quotes are from Miller unless noted otherwise):
· On Collin Hartman, who has not played in the regular season after straining his groin, "He's getting better. We're looking at getting through this weekend probably without him and then let's see how we move into the following week … We'll be cautious with him. Right now, it's so early, as you look at Collin, you want him to be there for the big ones down the line in January and February. So I think we'll reevaluate him past this weekend and then kind of see where we're at."
· On the four signees of the class of 2018:
– Jerome Hunter: "About 6-foot-7 plus, very, very wide shoulders, long arms. About 200 pounds right now. Jerome's going to be the guy that, in time, will be a guy you'll have to deal with on the perimeter with great length and size. He's got great skill level, can really shoot the ball, handles the ball, and I think he's going to be, our hope is in time he'll be a really dynamic, big guard."
– Damezi Anderson: "He's going to have a great senior year. Can really score. One of those guys that make putting the ball in the basket look really effortless. A good 6-foot-6, 210 pounds. So we're getting bigger on the perimeter, which is something I really wanted our team to be about as we get going."
– Rob Phinisee: "A floor general, a true point guard. Has great tempo. Doesn't look like he's going very fast but can turn it on when he needs to. Sets his teammates up, really can push the ball when he wants to. So he's got great feel and timing. He's also a guy we're going to count on in terms of setting the tone with our defense. He's about 6-foot-1 right now, 175 pounds. I think he'll play in college at about 6-foot-1, 190. He's a great athlete, understated athlete. I think he's going to be strong. The thing with watching him is, especially this fall, he's really shooting the ball a lot better than I anticipated. When you watch him in AAU games and whatnot, you don't really get the chance to watch him workout. So we're excited about Rob, he's a great kid."
– Jake Forrester: "A power forward, skilled forward. He's about 6-foot-9, about 215 pounds. Going to be about 230 by the time he gets here. Hard playing, tough, athletic, one of those guys our fans will fall in love with who he is as a person and also as a player. Has a skill level where he can step away from the basket and shoot it, has the ability to face up a little bit. But the greatest gift early in his career will be his motor. His energy level, his toughness, rebounding, blocking shots, guarding multiple positions and another great kid."
· On South Florida, IU's next opponent, "(Brian Gregory) is a terrific coach, does things by the book A-through-Z, whether it's on the floor or in the classroom. I think he's really going to turn South Florida around. He's got a brand new team, had to completely restock his own roster for his first year. He's going to bring in that trademark, what he's been known about for his whole career, which is a really tough rebounding team, tough defensively, going to execute and try to get the ball inside or get his best players shots. I think it's going to be like all of the games that we've played, I don't think anything is going to come easy. He'll have his team ready, and on Sunday night, we better be ready."
· On the loss to Indiana State, "That was about as bad of an opening performance that you could possibly have."
· Monday was spent reviewing the weekend with one day of work on Tuesday with limited numbers in practice (no Juwan Morgan, Devonte Green or Collin Hartman).
· The players didn't practice on Thursday, instead, the staff allowed them the opportunity to recuperate. Staff had time to evaluate where the team is at. Said that the longer gap between the Seton Hall and South Florida games allows the team to better prepare.
· Miller was asked about the process of his team adjusting to the new regime, "It's going to take a lot of time. I mean, that doesn't mean we're not trying to win every single game and trying to improve on the daily steps. But in most cases, we're teaching a brand new group of however many it is a whole new style, a whole new culture, a whole new identity on and off the floor, and what we value and how we value it. You're looking at a group that, at times, is not in sync. It's probably not in sync not because they don't want to be in sync, they're probably not in sync because they haven't had the experience to go through it enough in big moments, in big runs during games, understanding how you have to play a certain with how we're doing it. Sometimes we look disorganized. That's probably not because we're not practicing, it's because you're in the heat of the moment. You're out there on your own. The coaches can't blow the whistle and stop you from making a mistake. You have to get through those mistakes and you have to learn. Eventually, what you hope is that over the course of one week to the next, you make a lot of improvement. You keep battling, you keep fighting, and if you keep showing up, what you hope is that you eventually will find a way that you can be successful. That leads to (incoming guys) learning from it in future seasons. But it is a process, and it doesn't matter if you've been here for six or seven years at times, that team takes a whole new shape and you've got to redo it again. But we're just at an infant stage. I hope we can speed it up. I think there are some correctable things that aren't that hard, but we've got to get it corrected pretty quick. Because as these games come, more games come. As you look at this late November, early December (schedule), you're looking at some really, really high-level teams you're going to be playing against."
· Miller attributed the turnover problems to early sloppiness, learning a new system and a lack of concentration, "If we do what we're supposed to do in terms of executing a certain play or a certain action or certain thing we practice every day, then we ought to be able to eliminate those. There are certain ones that are obviously very careless where you have to be addressed as a player that… that's not acceptable. Whether that's a one-handed pass or whether that's a coach trying to get it set where you get a certain guy a shot and you break it off."
· On the Seton Hall game, "If we can bottle up what we had in that first half and sort of start bringing that with us wherever we go and extend the amount of time, then you're going to see some different results."
· Other than the walk-through, Juwan Morgan and Devonte Green were not part of much game day prep on Wednesday. This played a factor in Al Durham and Justin Smith entering the starting lineup.
· On the 20 game Big Ten conference schedule that begins in 2018-19 and how the new model affects the non-conference schedule "We have to build a non-conference resume to go along with the 20, and we also have to look at how that impacts our fans, our home games, our home-and-away series. Anything that we're involved in moving forward needs to be carefully looked at to see if that's the best way. Because when you take two non-conference games away, not that everyone would take two wins away, you try to make it even where you take one of your hard ones and one of your not-so-hard ones (away)."
· On the pack line defense, "It's guard the ball, protect the paint at all costs. It's a field goal percentage defense more than it is creating turnovers. It's one of the things where you look at the four factors are going to be field goal percentage defense, three-point field goal percentage defense, how much are you fouling and defensive rebounding percentage. So it's a guard the ball mentality, but it's a protect the paint mentality. Right now, we're not doing any of it pretty good. So you hope that it can just come together."
· On the toughest bad habits for the team to break, "There's a couple. I would say the two most frustrating things that are bad habits for our team is high-risk, high-reward plays. Your high-risk, high-reward turnovers. Right now, we're high-risk more than we are high-reward. Take less chances with the ball in your hand, let's make sure you get a good possession and capitalize with numbers, rather than when you're on the break or you have the opportunity to make a simple play. it's more or less don't try the home run. Hit the singles rather than the home runs right now. That's who we've got to be. We've got to take care of the ball.
"The other end of the floor, the biggest thing defensively for us right now is our positioning. You have to work in the post, you have to work on the ball, but our biggest breakdowns right now are off the ball. Where we're supposed to be and when we're supposed to be there. That takes time."
· On Robert Johnson, "I'm really proud of Rob right now, I know a lot of people are probably wondering where his shot is, this and that, how he's scoring. Rob has really bought in to what we're trying to do defensively. He's played three straight games for us about as hard as a guy consistently through about 30 minutes. There have been very few possessions where you look and say Rob isn't giving max effort. As he continues to do that, and he's sold out and kind of bought in there, the other end of the floor will happen to him as we get better collectively."
· To work on free throw shooting in practice, the team uses a "free throw ladder." The ladder is 17 rungs, which represents the 17 players on the team. Every day, the players adjacent to each other on the ladder compete, and the winner goes up, while the loser goes down.
· Per Clif Marshall: During the offseason, the team lifts weights four days a week. During the preseason, it's three days a week. Once the regular season starts, that number is decreased to two. The exception is redshirt freshman Race Thompson, who is lifting three-to-four times a week.
· Durham and Moore have both put on 15 pounds since June. Race Thompson has dropped 12 pounds and lowered his body fat by six percent since August. Justin Smith is at 220 pounds and is at six percent body fat, per Marshall.
· Marshall, "You can't out-train a bad diet … There are 3,500 calories in one pound, and that's where it starts. I'm really big on taking our players out grocery shopping and teaching them how to read food labels. Teaching them not to just feed their body, but to fuel their body. There is certainly a difference."
· Marshall has Erik Huddleston, a "performance intern" under his wing. Huddleston was previously at Texas Tech and has experience training professional athletes.
Filed to: Archie Miller