Notebook: Hoosiers show fight, but turnovers prove costly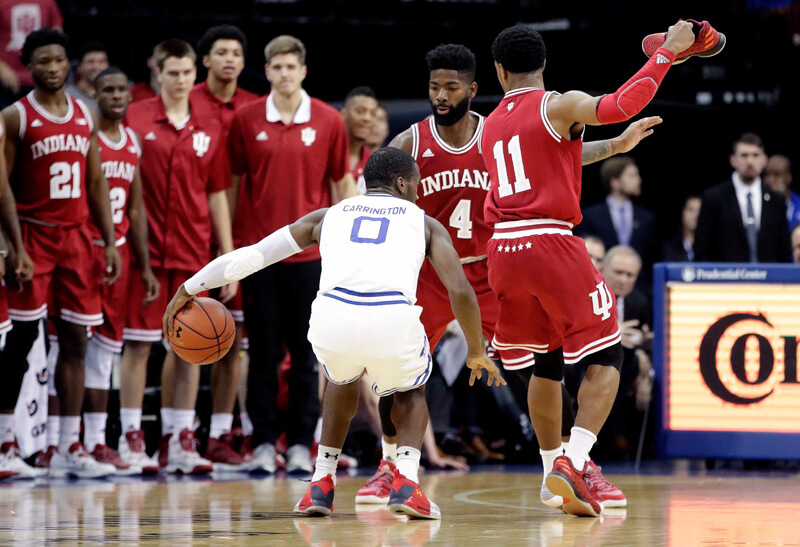 In their first road battle of the 2017-18 campaign, the Hoosiers wilted late after a strong first half, falling to No. 22 Seton Hall, 84-68.
Behind a strong opening half from sophomore Devonte Green, Indiana battled back from a 27-18 deficit with 6:57 to play in the first half and trailed by just one at halftime.
"For the first time all season, I thought our locker room (at halftime) felt right, in terms of, we felt good about each other, we felt good about how we were playing and how hard we were playing," Miller told the media after the game.
But unforced turnovers continued to be a bugaboo for Miller's squad. After De'Ron Davis made a layup in the opening seconds of the second half to give Indiana a one-point lead, the Pirates (3-0) scored 10 consecutive points. The Hoosiers (1-2) coughed up the ball on three occasions during that run.
"You saw a team in us that really squandered possessions in terms of turning the ball over," Archie Miller told Don Fischer after the game. "We were just very careless to start the second half and (Seton Hall was) very deliberate in what they wanted to do, which is really to pound the ball inside."
In particular, Miller mentioned the senior backcourt of Josh Newkirk and Robert Johnson. Although the duo combined for 20 points, they also accounted for seven turnovers, many of them unforced.
"Guys have to understand that taking care of the ball is the most important thing," Miller said to Fischer. "When you look at your senior backcourt and they had 7 of your 18 (TOs), that's something that they have to take more pride in. And we have to do a better job as a staff of really making them aware of, at all costs, tuck it under your chin, don't throw it in the seats."
Indiana's bigs struggled to stay out of foul trouble. De'Ron Davis was unable to get much of anything going, fouling out of the game after scoring four points in 15 minutes. Freddie McSwain picked up his third personal as the result of a double technical early in the second half and did not return.
With Morgan and Green not able to play any five-on-five in practice since the Howard game, Miller opted to start freshmen Justin Smith and Al Durham.
"Juwan and Devonte did not do anything up until shootaround today, so when you don't do anything for two and a half days, you go with the guys that were taking all of the reps," Miller said at his postgame presser.
The Hoosiers most effective man in the paint was freshman Justin Smith, who followed up his double-double vs. Howard with another impressive performance. Although Angel Delgado prevented Smith from finishing on several close shots inside, the freshman managed to put up 10 points and four rebounds.
Durham, meanwhile, was effective in 29 minutes of action. The Atlanta native seemed to have a solid grasp of the offense, hitting on all three of his field goal attempts, assisting on four baskets, taking a charge and not turning the ball over.
"If you told me that Justin Smith and Al (Durham) would be able to play 31 minutes (for Smith) or 29 minutes (for Durham) and be able to hang tough against (Seton Hall) on the road, that's a really, really good sign for those two guys," Miller said to Fischer. "It really is."
With Indiana now entering a four-game homestand that culminates in a Nov. 29 matchup with No. 1 Duke, expect more adjustments to be made to the rotation.
"We're going to be tinkering with the rotation and the lineup," Miller said. "We're just trying to find groupings out there that can play together well."
Johnson joins 1,000 point club
Entering the season, Robert Johnson needed just 22 points to become the 51st member of the IU basketball 1,000 points club.
With Johnson's first bucket of Wednesday night's game, a layup 12 and a half minutes into the game, the senior finally reached the milestone.
When the night was over, Johnson's 12 points had brought his collegiate total to 1,011, pushing him past Jared Jeffries (1,008 points) on the Indiana scoring list.
Next up for Johnson to eclipse? Harry "Butch" Joyner, who scored 1,030 points as a Hoosier from 1965-68.
Green's steal
Devonte Green had his best performance of the regular season, scoring 16 points, grabbing three rebounds and dishing two assists. But it was his one steal that will be remembered most.
That's because Green was only wearing one shoe. The sophomore's shoe had slipped off on the other side of the floor, and he was holding it until a dead ball would allow him the time to put him back on.
He got a steal with his shoe in the other hand ? pic.twitter.com/TtdDmf0Jl1

— Bleacher Report (@BleacherReport) November 16, 2017
"What a steal!" Gus Johnson exclaimed on the FS1 broadcast. "With the shoe off! I've never seen it before."
Filed to: Seton Hall Pirates