Five takeaways from Indiana's loss at Seton Hall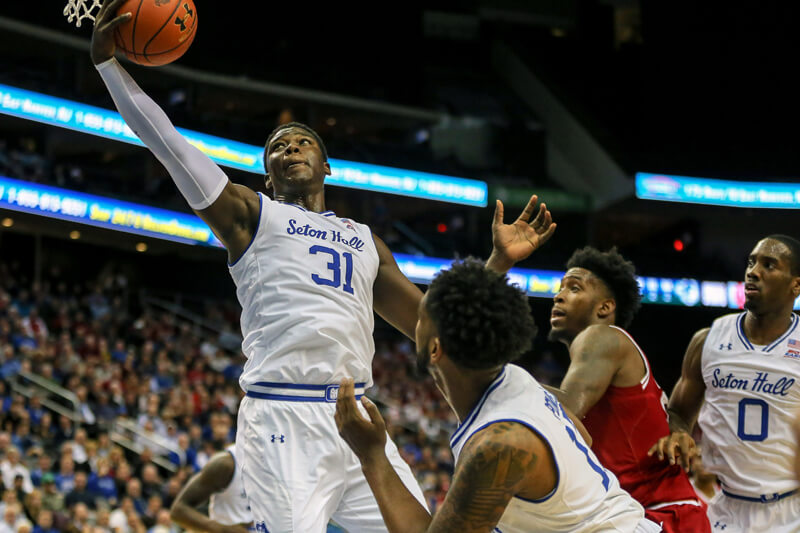 Indiana kept it close for a half on Wednesday night in Newark, but the Hoosiers were beaten soundly by Seton Hall in the Gavitt Tipoff Games at the Prudential Center. The 84-68 loss dropped the Hoosiers to 1-2 this season.
Here's a look at five takeaways from the loss to the Pirates:
· Indiana shows progress: A 16-point loss is nothing to celebrate nor is it anything to be satisfied with inside the IU locker room. But through three games, it's becoming clear that Indiana is a team with plenty of room to grow. Wednesday night, at times, was a step in the right direction.
In its first road game and with two freshmen in the starting lineup, Indiana battled back from early adversity to take a lead late in the first half. The Hoosiers trailed by just one at halftime.
There was a grit and energy to the performance that wasn't visible in the Indiana State game. Archie Miller told Don Fischer on the postgame show that he was proud of how hard his team played in the first half. Miller has stayed consistent in his message that this team will continue to improve over the course of the season. The first half fight Indiana showed was definite improvement from the performance the Hoosiers had just five days ago.
· Turnovers not proving easy to shake: In two exhibition games, Indiana showed significant improvement from last season's turnover woes. Through three games, it's clear there's still a long way to go.
Indiana turned it over on 26 percent of its possessions on Wednesday night. For the season, the Hoosiers are turning it over on 22.7 percent of their possessions.
Seven of IU's 18 turnovers in the Seton Hall loss came from Josh Newkirk and Robert Johnson, the team's two senior guards. Juwan Morgan, a junior, had three. Given its small margin for error offensively, Indiana isn't going to beat good competition throwing the ball away on more than a quarter of its possessions.
"Two or three, or even four of those in the first seven minutes in the second half were in transition when we had numbers or got a rebound or a stop and threw it in the seats," Miller told Fischer on the postgame show. "Just some carelessness, to be honest with you."
· Freshmen come up with strong performances, again: After Devonte Green and Juwan Morgan missed practices leading up to Wednesday's game, Justin Smith and Al Durham Jr. were inserted in the starting lineup.
In his postgame comments to Don Fischer, Miller said the staff decided that the guys who got the reps in practice would be rewarded with the start.
And although Green and Morgan had positive moments off the bench, Smith and Durham Jr. are showing they are clearcut rotation guys at this point. Durham Jr. had 10 points and no turnovers in 29 minutes. And Smith, who had a team-high four turnovers, had 10 points and four rebounds in 31 minutes. Playing heavy minutes in a tough road environment will be valuable down the line for both IU freshmen.
· Delgado dominates matchup with De'Ron Davis: A key matchup entering Wednesday's contest was Seton Hall senior Angel Delgado against Indiana sophomore De'Ron Davis.
Delgado, an All-American candidate, won the battle easily. The Dominican Republic native finished with a double-double (19 points, 11 rebounds) and IU had no answer for his aggressiveness at the rim.
Davis, meanwhile, fouled out after logging just 15 minutes and scored just four points with one rebound. On a team with thin frontcourt depth, Indiana can't afford to have Davis in foul trouble or with that little production.
· Green's strong first half shooting performance: One of the primary reasons Indiana was in the game at intermission was the strong shooting of Green.
Although he finished just 4-of-9 overall from behind the 3-point line, Green was 4-of-5 from deep in the first half and scored 12 points in 14 first half minutes.
With Johnson and Newkirk now a combined 7-of-25 on 3s this season, there's a clear need for better perimeter shooting. On Wednesday night, Green provided just that.
(Photo credit: Vincent Carchietta-USA TODAY Sports)
Filed to: Seton Hall Pirates