Notebook: Hoosiers hold on for win over Bison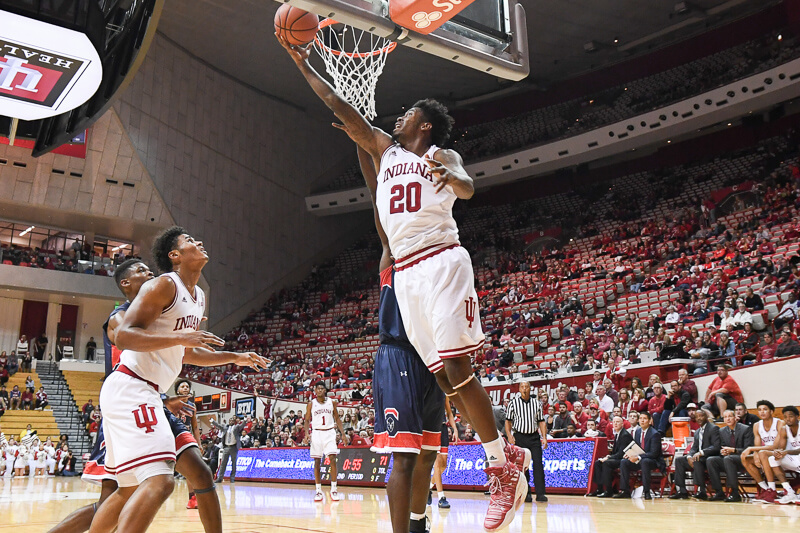 Despite a second lackluster performance in three days, the Hoosiers managed to win their first game of the 2017-18 campaign, holding off the Howard Bison, 86-77.
Sunday's late-night affair was far from aesthetically pleasing. Indiana's lone scheduled meeting with a sub-300 KenPom team was riddled with questionable decision making, inexcusably poor foul shooting and even an obscure technical (more on that later).
Indiana looked like a team that had its confidence sucked out of them by the Sycamores on Friday. As Archie Miller put it in his postgame presser, Indiana at times appeared "shellshocked." There wasn't much fun being had on the court, instead, the tone in the half-full Simon Skjodt Assembly Hall seemed more solemn.
"Anytime you have an experience like we had on Friday night that was really tough to take, you question your confidence," Miller said after the game. "You start to question your togetherness. You start to question some things."
There wasn't much in the way of jubilation on the Hoosier bench when the final buzzer sounded. Instead, more of a collective sense of relief.
Trials and tribulations in Archie Miller's first season were expected, but the challenges to begin this era are now becoming clear. With a brand new offense and defense, Indiana has made a tremendous short-term sacrifice in hopes of long-term dividends.
This goes a long way to explain the early season struggles of many of the upperclassmen, who had been playing under entirely different schemes for the duration of their collegiate careers.
Not that there weren't any positives to take away from this one. Indiana sufficiently handled Howard's zone defense, the freshman showed they can play, the ball movement started to become crisper and Robert Johnson began to look more like the Robert Johnson of prior years.
Indiana down another big
Junior Juwan Morgan has struggled with injuries throughout his time in Bloomington.
Morgan has suffered far more than his fair share of setbacks, from a separated shoulder freshman year that wouldn't stop popping out to a foot injury sustained when he tripped over an official, the junior can't seem to catch a break.
Sunday marked the latest unfortunate turn. Less than five minutes into the contest, Morgan, backtracking after contesting a shot, had his right foot seemingly land between the feet of Bison forward Cameron Lewis. After Morgan's ankle turned, he got back to his feet, but his night was over.
Morgan spent the next several minutes in the locker room before sitting on the end of the bench for the remainder of the game.
"We'll probably get (an update) later in the week," Miller said after the game. "(Morgan) turned his ankle, I think they tried to retape him, and he said he couldn't play. We'll play it by ear."
The Hoosiers, already down Collin Hartman after tweaking his groin on Thursday, could now be without another big for the near future.
Peculiar technical
Four seconds were left in the first half and Indiana was preparing to inbound after a made Bison free throw.
Howard coach Kevin Nickelberry attempted to make a substitution. Then, things came to a halt.
Referee Lamont Simpson headed to the scorers' table, picked up the scorebook at center court and walked over to Nickelberry. The player that Nickelberry had inserted, No. 22 Ibrahim Dosunmu, was not listed on the Bison roster. Dosunmu's name was nowhere to be found in the game notes, either.
"It was a roster issue," Nickelberry said after the game. "One of the guys wasn't in the book."
Sunday appears to be the first time Howard sought to insert Dosunmu into game action. Dosunmu redshirted last season and his online roster bio is almost entirely empty. The most in-depth articles that can be found are a two-paragraph blurb from The Undefeated and a Chicago Sun-Times story about his high school team.
There's also a 50-second long video of Dosunmu talking about his decision to attend Howard on ESPN's website.
The video, posted nine months ago, is titled: Ibrahim Dosunmu, waiting for his chance to play. After Indiana took a technical free throw, Dosunmu finally got his chance.
Filed to: Howard Bison