Five takeaways from Indiana's win over Howard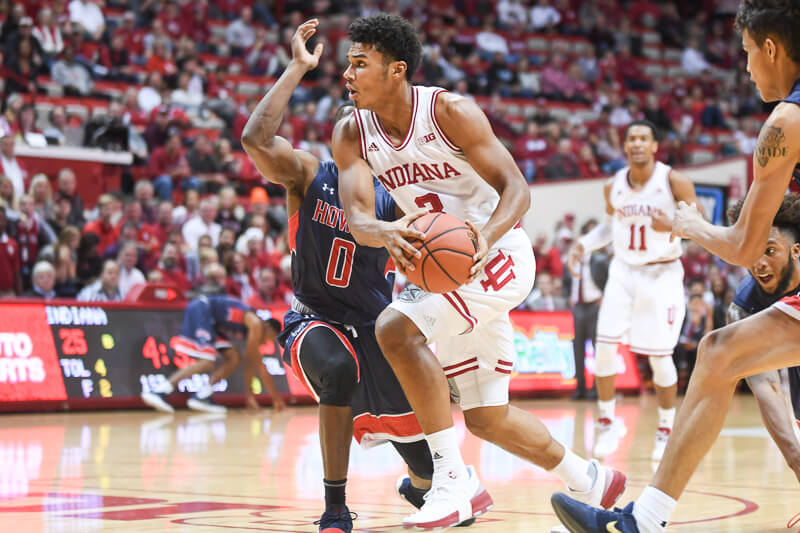 Indiana bounced back from Friday's disappointing 90-69 loss to Indiana State with an 86-77 win over Howard on Sunday evening at Simon Skjodt Assembly Hall.
Here's a look at five takeaways from the win over the Bison:
· Freshmen take a step forward: All three of Indiana's freshmen played in Sunday's win, including heavy minutes off the bench by Al Durham Jr. and Justin Smith.
Durham came off the bench and shot 5-of-9 from the field, including a 3-of-5 performance from behind the 3-point line. The Georgia native finished with 16 points in 30 minutes.
Smith, meanwhile, saw his minutes increase after Juwan Morgan went down with an ankle injury early in the game. The versatile 6-foot-7 forward had a double-double – 16 points and 12 rebounds – in 27 minutes.
Clifton Moore also played six minutes and had two blocked shots.
"Both guys did a really good job," Archie Miller said postgame. "And Clifton got his first action tonight. Hopefully we can build on that with him as well."
· Poor free throw shooting makes things interesting: The Hoosiers allowed Howard to stay within striking distance all game and poor free throw shooting was one of the main culprits.
Indiana was just 12-of-29 from the free throw line and there were poor performances all over the roster. De'Ron Davis, who scored a team-high 17 points, was 3-of-10 from the line. Robert Johnson was just 2-of-6. And Freddie McSwain missed all four of his attempts.
Through two games, Indiana is 23rd nationally in free throw rate (FTA/FGA) according to Ken Pomeroy, but is shooting just 56.5 from the line. For a team that is going to have its challenges offensively, the free throw shooting must improve in a hurry.
· Davis dominates in the paint: As mentioned above, Davis finished with a team-high 17 points and was very efficient besides the free throws.
Davis was 7-of-9 from the field and also had six rebounds, three assists, three blocks and no turnovers in 29 minutes. Not only did he play turnover free, Davis didn't commit a foul.
"Sometimes against the zone you forget about the post," Miller said. "And De'Ron has an advantage there size-wise, and I think sometimes the guards especially against the zone can forget about him down there. I thought we did a good job finding him in the seams and hitting him with some good passes."
· Another 3-point barrage on the defense: Indiana State made an Assembly Hall opponent record 17 3-pointers in Friday's stunning victory and Howard followed it up with 13 treys of their own.
Through two games, Indiana has allowed its opponents to make 30 3-pointers at a 50 percent clip.
Some of the shots Indiana State and Howard made over the weekend were ridiculous heaves, but they also had plenty of open looks due to breakdowns from Indiana's defense.
"Right now we have to work really, really hard defensively to kind of start to look at how we can eliminate the 3-point line a little bit better," Miller explained. "Because if you give up 3s at the rate we're giving them up, it's not a good thing."
· This is a team still searching for its confidence: Friday's loss knocked Indiana back on its heels and on Sunday, the Hoosiers looked "shellshocked" at times, according to Miller.
That's not to say Indiana didn't do some good things on Sunday, but with all of the returnees adjusting to a new system, the on-floor leadership is lacking from an execution standpoint.
Right now, many of IU's freshmen have the upper hand on the upperclassmen because they're not trying to break away from old habits.
"I feel like we are all are adjusting and learning, but I feel like we're all on an even playing field and learning on the floor," Smith said. "And we're all eager to learn and getting better as time goes on."
Filed to: Howard Bison