Five takeaways from Indiana's loss to Indiana State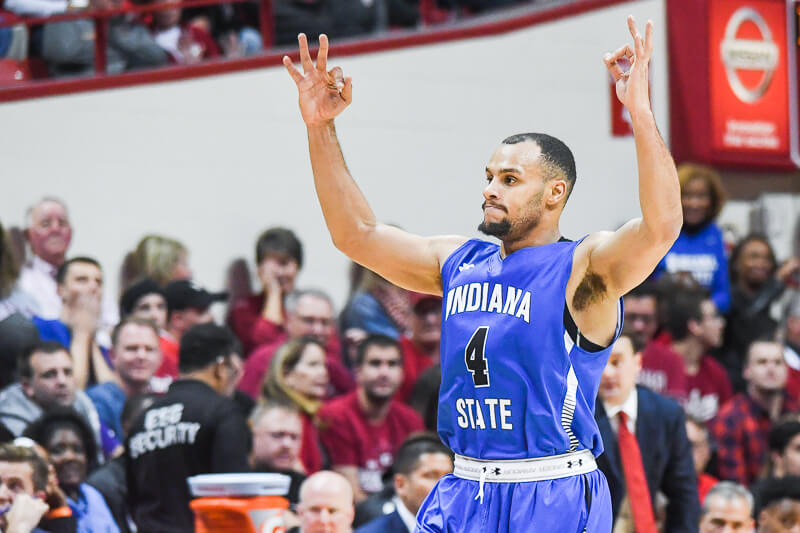 The Archie Miller era got off to a rough start on Friday night in Bloomington as Indiana was blown out by Indiana State at Simon Skjodt Assembly Hall. Indiana State hit 17 3-pointers and led by as many as 30 in a surprising 90-69 win.
Here's a look at five takeaways from the loss to the Sycamores:
· An incredible 3-point shooting performance aided by poor defense: Indiana State was red hot from the opening tip and Indiana simply had no answer all evening.
Some of the shots were tough and contested. Others were wide open. But once the Sycamores got comfortable and knocked down a few good looks from the perimeter, their confidence grew. Fans grumbled, energy was quickly sucked from the building and it quickly became apparent that this Indiana team has a long way to go.
That's not to say Indiana State doesn't deserve credit – the Sycamores put on an incredible shooting display – but Indiana never seriously challenged after going down by double digits early on.
Archie Miller didn't mince words in the postgame and called his team "soft."
"I think at the end of the day the fight, the ability to resurge, the ability to grind and get back into it, regardless of what things are going on, you're always going to be in the game, that's not there," Miller said. "That's going to take time. It's going to take time. We have to go through these battles like we did tonight and we've got to get better from it."
· On floor leadership lacking: In the offseason, junior Juwan Morgan said leadership wouldn't be an issue for this Indiana team. It was a topic that was much discussed in the offseason after Indiana's 18-16 campaign a season ago that ended with a loss in the NIT.
But through two exhibitions and the regular season opener, it's become clear that Indiana needs more from its upperclassmen.
When the Hoosiers got knocked back on their heels early, there was no sign of someone stepping up on the floor to stop the bleeding. Morgan, Robert Johnson and Josh Newkirk combined for nine of the team's 19 turnovers. As Miller said in the postgame, you don't get beat like that "if you're playing hard as hell."
"We didn't have the carry-over that we usually have from practice," Johnson said. "That's not the team that we are on a day to day (basis). And once they punched we never came together and punched back. And I think that was the deciding factor."
· 19 turnovers after a combined 18 in the two exhibition games: Turnovers were a major problem for Indiana last season. Through two exhibition games, it looked like tangible progress had been made in decision making and taking care of the ball.
Friday night showed there's plenty of work still to be done. The Hoosiers turned it over 19 times for a turnover percentage of 26.5. As mentioned above, many of the miscues came from Indiana's most experienced players.
"I think that was just a product of guys trying to do things that they don't normally do and that we don't practice," Johnson explained. "We didn't have the same movement, and I think that just made it harder. And that was the result of that."
· It's one game: As alarming as the performance was, it's also important to put it in perspective. It's one game in a 30-game regular season.
Indiana is adjusting to a new system, new coaching staff and none of the players have won playing this style of basketball. Miller owned it in the press conference while also expressing confidence that this team will improve.
"I think the start of the game really crushed us tonight," Miller said. "I mean it really did. If you look at the offensive possessions in that first four to six minutes, eight minutes and you then you look at the defensive collapses, that thing got away from us way too quick.
"And that's when we don't have the ability right now to figure out how to fix it. And we have guys playing at a much higher level too. Right now we had De'Ron (Davis) and I thought Juwan got things done for us a little bit, but we've got to get some guys playing at a consistent level. When we do that we'll be better. We'll get better. That's the one thing, I think I have confidence of, we'll get better."
· First loss in a home opener since 1984, opponent record for 3-pointers in Assembly Hall: How long has it been since the Hoosiers fell in a home opener in Bloomington? 33 years.
The Hoosiers lost to Louisville at Assembly Hall to open the 1984-85 season, 75-64.
Indiana State's shooting performance was the most 3-pointers (17) Indiana has ever allowed to an opponent in Assembly Hall.
Filed to: Indiana State Sycamores