Notebook: Sycamores stun IU in Miller's debut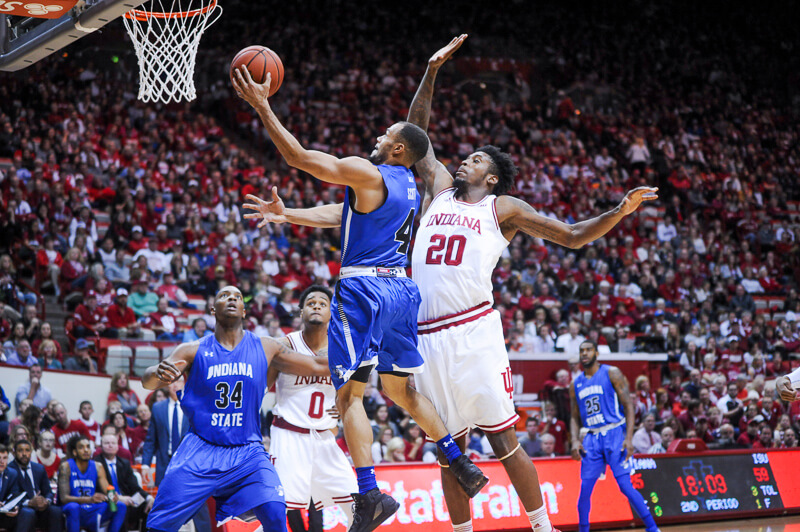 Following a preseason full of promise and optimism, the official start of the Archie Miller era at Indiana didn't go according to plan.
In a game where IU had a 90 percent chance at victory, according to KenPom, the Hoosiers found themselves outworked, outplayed and in a state of shock.
"We're soft," Archie Miller said after his first regular season game at the helm. "We're soft. I mean, we're just a soft team. You don't have to sugarcoat it at all."
At his radio show Thursday night, Miller remarked that the success the team had in its two exhibitions was "fool's gold." After a 21-point loss at home to Indiana State, he brought up the term again.
"If things aren't going well and you're playing an (exhibition where) you're better than that team, you can cover up those mistakes," Miller said. "You can seal them up and get a little bit of fool's gold."
On Friday, the Sycamores exposed Indiana's fool's gold and stomped all over the hapless Hoosiers.
"The pack line. I mean, it's no new invention," said Indiana State head coach Greg Lansing. "It's just really good defense and you have to move the ball from sideline to sideline."
In the two exhibitions, Indiana turned the ball over a total of 18 times and held their opponents to under 38 percent shooting.
Against the Sycamores, Indiana coughed up the ball on 19 separate occasions and allowed ISU to shoot at a rate of 59 percent. That included a 17-of-26 effort from three. The 17 makes are the most by an opponent in the history of Assembly Hall.
"We know we have guys that can shoot the ball, and we know that if we make the extra pass then my teammates gonna knock it down," said Indiana State point guard Jordan Barnes, who went 5-of-7 from deep and assisted on two triples. "We saw stuff on film where we knew we were going to get shots, and we just try to take advantage of those things."
Indiana, after losing its first home opener since 1984, will have a chance to get back to .500 on Sunday when they host Howard University. According to KenPom, the Bison are one of the worst teams in all of Division 1. But a blowout of the Bison may lead to more fool's gold, with a road meeting at top-25 Seton Hall just three days later.
Another Scott spurs an upset
A season ago, Fort Wayne guard Bryson Scott posted 18 points, 12 rebounds, three assists and three steals in an upset win over then-No. 3 Indiana.
This time, it was twin brother Brenton's turn.
The senior guard had his way with Indiana. Scott put up 24 points on 9-of-14 shooting, grabbed three boards and collected two assists and a steal. In his 28 minutes on the floor, the Sycamores outscored Indiana by 29 points.
"(Bryce) needed overtime," Brenton said when asked if he now has family bragging rights. "We dominated on their floor. We dominated on their floor. That's the difference."
Hartman suffers setback
At availability on Thursday afternoon, Archie Miller said that senior Collin Hartman, who has not played in a regular season or postseason contest since the 2016 Sweet 16, would no longer be on a minutes restriction.
When the Hoosiers came out to warm-up on Friday, Hartman was in street clothes. In the 26 hours between availability and warm-ups, Hartman suffered another setback.
"Unfortunately for him, the day before the game, he tweaks his groin," Miller said. "We'll deal with it. It's day to day. I expect him to be out a long period of time in terms of he won't be back tomorrow. It's going to be an issue, we're going to deal day to day, a couple of weeks."
Hartman, who redshirted the 2016-17 season after suffering a serious knee injury in the preseason, sat out the first exhibition as a precaution because of an ankle injury.
In the second exhibition, Hartman scored nine points in 16 minutes.
Filed to: Indiana State Sycamores