News and notes from Archie Miller's radio show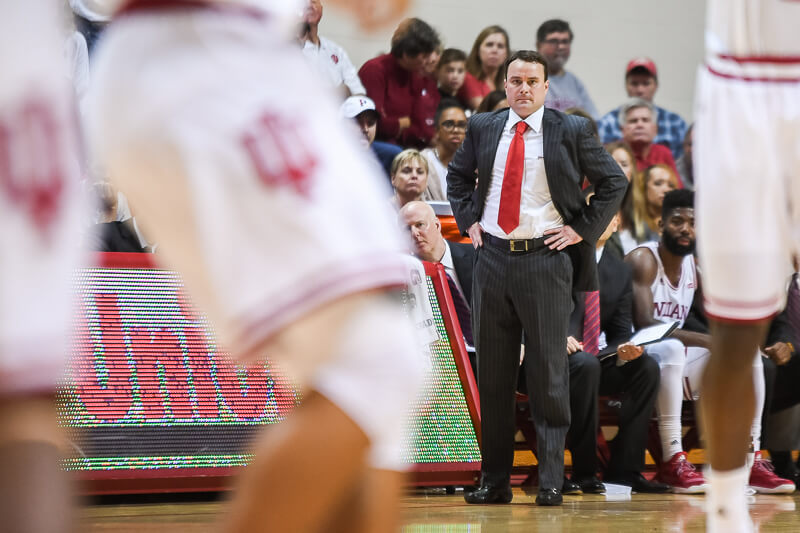 Inside IU basketball with Archie Miller was live on Thursday evening at the Holiday Inn in Bloomington. Robert Johnson was the player guest.
Below are news and notes from Miller and Johnson (all quotes are from Miller unless noted otherwise):
· On the team's performance throughout the exhibitions: "I thought the first exhibition, we were pretty dialed in. Guys were trying to do what we had worked on all the way up through, especially after we came through the (Hoosier Hysteria) scrimmage. Last week, as it sometimes happens, I didn't think we made the jump in the second (exhibition) that we needed to. I thought a lot of it stimulated from offense taking away from your defense. You have to be sort of a next play mentality type of team. Try to instill in your players that it's always about the next play, you can't tie things to a missed shot or a missed free throw. If it wasn't personally going well for you at that time, you have to string it together. So I didn't think we were as tight on defense as we needed to be. I don't think we were as dialed in. We've worked hard to come off that (UIndy) game and understand from this point forward, those slippages are going to really cost you."
· Miller said that the 17-0 fastbreak points advantage IU had over UIndy may have been "fool's gold." "Maybe (UIndy) just missed a couple good ones. You have to point out that some of the baskets they missed, some of the looks they got, maybe a better team down the line would be able to make that basket or that shot."
· Miller said his staff works long hours to find clips to show players: "Even if you can present a six-minute edit to an individual kid about his practices during the week. Or 5-to-7 clips from the game. Just take an hour and break the game down, give this kid six minutes in your office. It's very, very important."
· Miller on preventing players from suffering mental and physical fatigue as the season gets underway: "As the games start to come, you practice less. You practice less during the week and you practice shorter. Still going obviously very, very hard, but shorter. It seems like we could use another four hours every day right now. It doesn't need to be shorter, it needs to be more, more, more. But the reality is we're probably going to have to use our games, and the footage from the games… to start teaching more and more about what we do. But we'll always practice. When we go on the floor, there will never be a day where, even if it went for 45 minutes of an hour, where we're not going extremely hard. I thought today was the first time we tried to back off a little bit and try to be mindful of the Friday-Sunday swing."
· The Indiana State game was scheduled because both schools had an open date: "We were sort of pinned up against our schedule, not knowing certain days in the Big Ten-ACC challenge and also the Big East Gavitt Games – what day we would specifically be playing. So when you're choosing your home opener, you clearly want to get it set as early as possible. Since the Gavitt Games, we weren't sure when we would be able to play or travel, we ended up pinning the (ISU) game on that Friday. Indiana State obviously had a reasonable date as well. From an appeal standpoint, it should get everyone's attention on our home opener. It should put Assembly Hall ready to go for a big game… Upon watching (ISU) early, I'm not sure that this is the best opening game I've ever scheduled. But at the end of the day, we've gotta be ready to go. It's going to be a really good test, a good opportunity for us to see what we've got."
· When asked what stands out about ISU, Miller mentioned the Sycamore's aggressive guards. Miller said Indiana can't get too spread out on defense like the did against UIndy.
· Miller wants the team to play inside-out: "It gives you good balance, it gives you the opportunity to get fouled and get to the foul line. It gives you the opportunity to collapse the defense and make them commit. If you can play through the post a little bit and not rely on always the outside shot, you'll have more chances to impact the game… Our frontcourt guys are willing passers … We have to reward them when they deserve to be rewarded. I thought last game, probably about five to six opportunities we missed where we had great post position. If we can just get it in there, something good is going to happen."
· De'Ron Davis started the offseason at 271 pounds, is now down to 246. He wants to play this season at 245.
· Expect Indiana to roll with a three-guard starting lineup on Friday.
· Miller said starting the season with two games in three days will help the team prepare for similar situations later in the season.
· When asked by a fan what rules he would change if it was up to him, Miller suggested playing by international rules, such as the wider lane, shorter shot clock, less stoppages, and the shot clock resetting to 15 after an offensive rebound.
· On playing efficient offense: "We're trying to become a team right now that's learning not to string together possessions of jump shots. Just constant jump shots. We know where the good 3s are going to come in transition, where the good 3s in our offense are going to come from penetration or playing inside-out, extra passes and what-not. But don't start our possessions with (jump shots). That starts with going down low, establishing some type of a presence, where we can catch it in there, or at least find a way to get the ball into the paint. That's going to be a big deal for us."
· The losing teams in a specific segment of practice usually have to run a "22." Miller described a 22 as having to run down and back the length of the court twice in under 22 seconds.
· On how he goes into the first game: "To me, I'm the same pretty much every day. I've got to get these guys ready to go at shootaround, and when the ball is tipped, I just become sort of myself. I feel comfortable when the ball is up. But it's a different feeling. You're used to your gameday routine at one place doing it a certain way for a long time. Tomorrow's going to feel a bit different when you walk out there for that tip. There's going to be more adrenaline in your body. For the most part, though, I have to concentrate on keeping my guys ready."
· Robert Johnson, on being a senior: "It's gone by so fast. It seems like yesterday I was a freshman. Trying to enjoy every moment at this point."
· Johnson, on how he's grown at Indiana: "Regardless of the success that I've had, that we've had as a team, the failures, the ups and downs, it's all been the learning process that's helped me become a better man."
· Johnson, on what he plans to do with his degree in sports management and marketing: "Maybe, after I'm done playing one day, get my own sports agency or something like that."
Filed to: Archie Miller