Notebook: Defense, rebounding stand out in IU's exhibition win over UIndy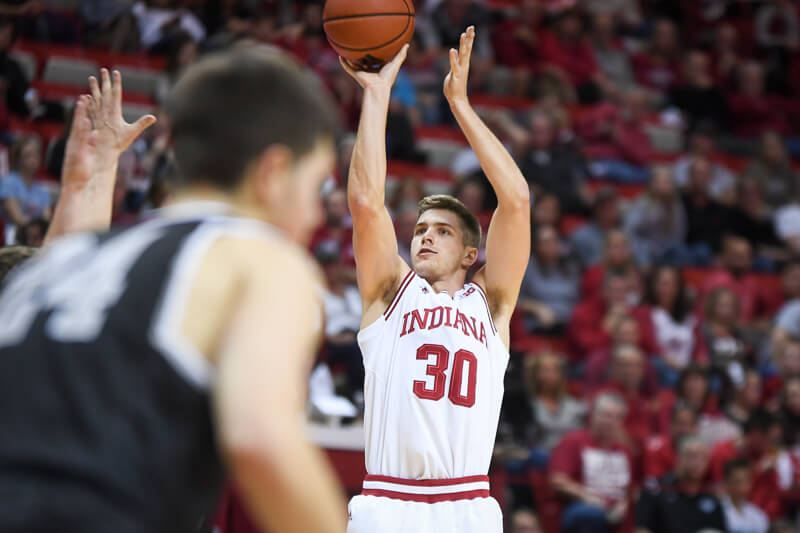 After a tornado warning delayed the start of Sunday's exhibition game by 45 minutes, Indiana overcame a sluggish start to topple the University of Indianapolis Greyhounds, 74-53.
The Hoosiers continued to showcase a significantly improved defense. For the second straight exhibition, Indiana held their opponent below 0.85 points per possession. On Sunday afternoon, the Hoosiers held the Greyhounds to 41 percent shooting and didn't allow a single fastbreak bucket.
"I felt like against Marian, (IU) played more of a pack-line defense," UIndy head coach Stan Gouard said. "Tonight, they extended us a bit on the offensive end. Their defense, it was hard for our guards to get into the paint because they had shot blockers coming from the weak side. They blocked a couple early and our guys started changing their shot and thinking twice about getting into the paint. It was a big factor for us."
Indiana's bigs prevented the Greyhounds from collecting many open buckets. UIndy did not attempt a single dunk and shot only 11-of-26 on layups. Even with the impressive defensive performance, coach Archie Miller saw plenty of room for improvement.
"For the most part I think we're just trying to play our base defense right now and let our players react off it," Miller said. "Worst thing we're doing right now is just guarding the ball. We're spread out, which is tough to get to, once you can get tough and tough behind the defense. And the way we want to play, we don't ever want the ball just to go in a straight line to the front of the rim without having help or whatnot."
On the offensive end, the Hoosiers posted a balanced scoring effort. Eight different players put up at least four points, with Robert Johnson (18), Freddie McSwain (12) and De'Ron Davis (11) reaching double figures.
The Hoosiers still have a lot of work to do offensively, however. Indiana settled for a number of early shots, many from behind the arc, finishing the contest with a shooting percentage under 44 percent.
"We're a quick-shooting team, and I don't like that," Miller said. "I think if you shoot the ball quick, it's got to be a great look, a wide-open look to a guy that you trust that can make it. But I'm not sure three or four 3s in a row without ever getting the ball inside or turned a few times to make the defense work is a good thing. And that was frustrating tonight. I thought we would have been better in half-court movement, and we weren't."
McSwain's monster game
Freddie McSwain spent countless offseason hours enhancing his game. As a junior, McSwain contributed in the minutes he played, but foul trouble and inability to take care of the ball was a major hindrance.
On Sunday, McSwain dominated. The senior big man nearly posted a double-double in just 13 minutes, accruing 12 points on 4-of-7 shooting, grabbing nine rebounds and dishing an assist on an outlet pass to sophomore Curtis Jones. McSwain stayed out of foul trouble, picking up just two personals, and committed only one turnover.
The senior constantly crashed the boards, towering over Greyhounds to collect rebounds. Of McSwain's nine boards, six were on the offensive end. Those six offensive rebounds directly led to Indiana scoring nine of the 16 second-chance points they recorded on the afternoon.
"Freddie was who he is every day in practice," senior Collin Hartman said. "Relentless on the boards. Just brings a lot of energy and toughness to the game and has really boosted us as a team in getting second chances and being able to guard the five and just being a motor that never stops. If he can stick with that all year, which I'm confident he can, it will really help us for sure this year."
Hartman and Durham return
Sunday marked the return of one Hoosier and the introduction of another.
Senior forward Collin Hartman and freshman guard Al Durham made their unofficial 2017-18 debuts in the exhibition. Hartman, who last played in the 2016 Sweet 16 game against North Carolina, received a standing ovation when he checked in.
"It's been over a year since I've been able to put this jersey on and play against somebody else with these guys," Hartman said. "It really felt good to get the first one under our belt and get the ball rolling."
Hartman proceeded to score nine points and grab three rebounds in 16 minutes. The only three shots Hartman attempted came from three, and Hartman nailed each of them.
Durham played 11 minutes in the contest and still looked to be acclimating to playing basketball at the collegiate level. The freshman only posted two points on 1-of-6 shooting, but made contributions in other areas. Durham dished two assists, grabbed a rebound and didn't commit a turnover. Indiana was a +9 when Durham was in the game.
"(Durham) makes good decisions." Miller said. "He's an efficient player. Doesn't need to dribble it a ton to make plays. I think he had that one drive where he got, coming off the right side of the elbow, which he curled off a little screen and slid it in for a basket. And he also had a finish with the left hand at the basket. He's like a smooth offensive player."
Both Durham and Hartman were under minutes restrictions.
Filed to: Archie Miller