Hoosiers close to full strength entering UIndy exhibition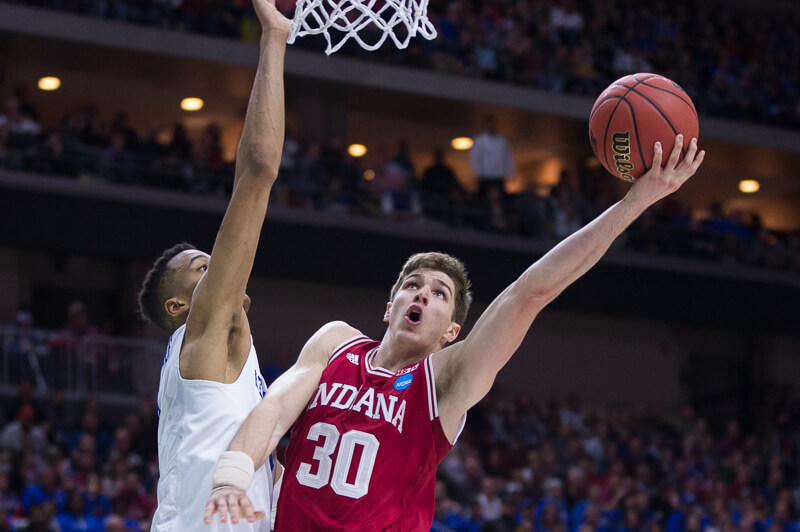 Friday afternoon, IU head coach Archie Miller provided updates on the two Hoosiers that sat out the first exhibition for precautionary reasons.
Freshman guard Al Durham (hamstring) and senior forward Collin Hartman (ankle) have been progressing and could both see playing time in Sunday's home matinee with the University of Indianapolis.
Hartman was "pretty much a full go for a good portion of (Friday) practice" on Friday, according to Miller, and will "probably" be available on Sunday.
"(Hartman) gives us another weapon offensively that can probably keep us spaced out and put the defense on their heels a little bit in terms of who they defend him with," Miller said. "He's playing hard. If he does what he does in practice every day, he's going to give us a big boost."
As for Durham, who has dealt with two tweaks of the same hamstring, Miller said he is "tentatively right now, slotted to be available."
"(Durham is) smart, crafty. He plays his own speed," freshman Justin Smith said Friday. "Really doesn't let anybody get him off his line. I'm looking at him, when he gets the opportunity and gets healthy, to come in and make an impact."
Playing small
In the exhibition win over Marian, Indiana started a three-guard lineup of Josh Newkirk, Devonte Green and Robert Johnson. With Indiana's lack of frontcourt depth, Miller has been using guard-dominant lineups to try and gain an offensive edge.
"You're always at an advantage when you play small offensively," Miller said. "In many cases, it may not be the best decision defensively, but you can cover things defensively with different schemes and different approaches."
In the frontcourt, Miller is hoping that senior Collin Hartman and junior Juwan Morgan can find chemistry playing together. Although both are upperclassmen, injuries have prevented Hartman and Morgan from playing in tandem since the 2015-16 season.
"Are those guys going to be able to play together in a game? They haven't really had a chance to, since Collin has been out anyway," Miller said. "But it's a thought that you play five good players offensively and that may be your best weapon, instead of the depth being just about the position, maybe the lineup creativity, the creativity with the lineup. It's something we are going to have to think about moving forward after this weekend."
Previewing University of Indianapolis
Unlike Marian University, the Division II University of Indianapolis Greyhounds figures to provide Indiana with a more formidable challenge.
The Greyhounds are ranked as the No. 19 team in Division II by DII Bulletin and have reached the DII NCAA Tournament in six of the past seven seasons.
"They could probably beat a lot of Division I teams," Miller said. "To me, we're playing against a team that will be excited to play, they've got a lot of experience, looking at the transfers that have come in. The shooting stands out. They've got some size too."
Sunday will mark the second exhibition at Assembly Hall between the Hoosiers and Greyhounds in the last four seasons. The Hoosiers won the prior meeting, 76-63, on Nov. 10, 2014.
Filed to: Archie Miller, University of Indianapolis Greyhounds