News and notes from Archie Miller's first IU radio show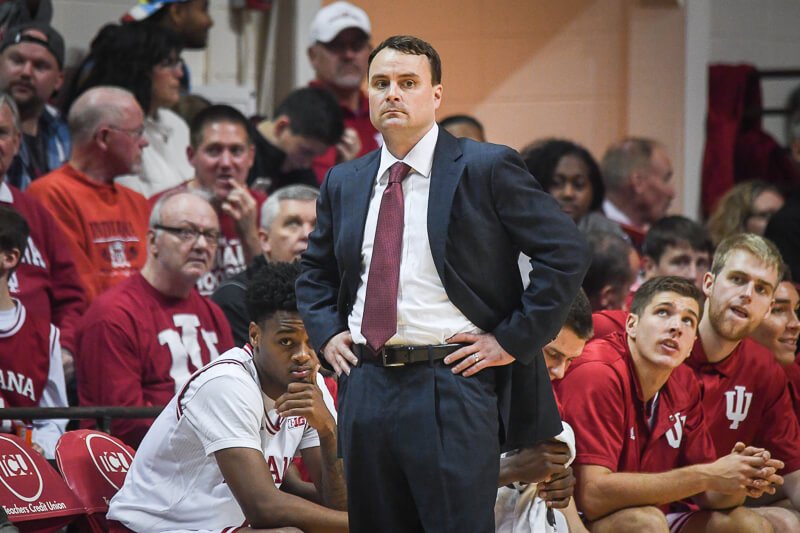 Inside IU basketball with Archie Miller was live on Thursday evening from the Holiday Inn in Bloomington. Assistant coach Ed Schilling was the special guest.
Below are news and notes from Miller and Schilling (all quotes are from Miller unless noted otherwise):
· Miller on acclimating to Bloomington "It's still very new. I went to the wrong hotel for the first radio show. That's how new it is."
· On the team's work ethic, "The one thing that these guys have at their disposal, and coach (Tom) Crean probably deserves a lot of credit for that, is their tremendous work ethic. You're dealing with a group of people that are accustomed to working very hard, long hours, preparing. It's a whole new style though. Implementing that is the most challenging thing at the start."
· On retaining the three scholarship freshmen, "Us being able to sit down with them and talk to them about the questions they needed answered, how do they fit with what we do in terms of basketball, those are the big things. I think all three of them were really, really locked in on loving IU. They wanted to go to school at IU. If it didn't work out, it wouldn't have been because of anything Indiana did. It would have been because of the changes basketball-wise may have flipped them. But I think we were able to sell our style and who we are and how we do things. It's easier sometimes to stick with it than it is to go open it all back up again. We were very fortunate to keep those three, they're all doing really well. They'll play important roles as the years go by and they get older. They're going to be foundation guys that help us win."
· On Collin Hartman returning for another season, "Very early on, you're trying to get the lay of the land. You ask (head athletic trainer) Tim Garl one question. You ask (athletic director) Fred Glass or (deputy director of athletics) Scott Dolson a question. Because you just don't know the guys. (You ask) 'Well, how is this kid?' Incredibly, whether it was four or five conversations, I figured out really quickly how important of a cog (Hartman) was with the team his year out. Learning (about) him, he's a coach. Hopefully, he doesn't coach, but he's a coach. He's a coach on the floor, a coach in the weight room, a coach in the locker room. He's been nothing but helpful. He's a great kid. I want him to have an opportunity to experience a real senior year."
· Miller on the exhibition win over Marian, "I was pleased with our guys. I thought the intent to do what we've done every day in practice stood out. I don't think there were very many guys playing a different game, so to speak. They were doing a nice job. Defensively, weren't anywhere near where we need to be, but I thought we, for the first time, took a step in seeing ourselves against somebody else and what we need to do. So that was good. Offensively, conditioning played a big role. Yeah, it's your first opportunity to play a 40 minute game with subs and not coming out. I don't think our conditioning level, offensively, was as good as it needed to be. We're spending a lot of time on that. The pace of play, the spacing of the floor. You stop four steps short because you're out of gas, that causes some problems. But all in all, I thought the guys did a good job. We've got to be better this Sunday, though."
· Miller provided injury updates on both Al Durham (hamstring) and Collin Hartman (ankle):
Durham, "(He's) had two tweaks of the same hamstring. When you start to deal with that recurring theme, you want to really back off. Al is moving into this week a bit slower with the hope of maybe an opportunity on Sunday, but if not, not the end of the world."
Hartman, "Moving back into that full contact mode. Had a great workout yesterday. I actually was saying to myself as I watched practice, 'boy, we need to keep him around.' He's pretty good. He's probably going to be on a minutes restriction Sunday, but if he plays, that would be good."
· On the gold practice jersey, which excuses one player each week from conditioning drills, "It's something that's valued by our staff. It keeps our players accountable … there's a little bit of an edge if you have it, because the way we practice, every segment is a competition. You always run if you're not winning. So there's a little bit of an edge. Devonte (Green) won it in week one, Juwan (Morgan) has really done a nice job in week two and three."
· On the players that arrived in Bloomington after Miller was named head coach:
Freshman Race Thompson: "Once he decided to reclassify and use this year at IU for the benefit of being ready when he actually should have been here, I thought it was a really good idea. It's a family decision that's probably really tough to make, but Race came in and really was beat up physically. Knees and ankles and some of the things that he came with, I could see why. Now, he's with (Tim) Garl every day, with the strength and conditioning coach every day. He's cut his body fat in half already, probably trimmed himself down at least 10 pounds. I thought yesterday, he probably had one of his best practices. So as you're watching him go, you're projecting towards next year when he starts (his freshman year), being a guy that can help the newcomers, rather than being a newcomer."
Walk-on Ethan Lasko: "Rather than play maybe some smaller basketball in college, always dreamed about playing at what they would call a blueblood. 'Could I ever go to an Indiana and be a part of something that's so big that the basketball isn't maybe as important?' Terrific student, was able to get accepted. Once he was accepted, we added him. He's really fit in well, he's a popular guy on the team."
Walk-on Vijay Blackmon: "He was looking for a situation to change course from where he was at. The opportunity to bring a walk-on that has some athleticism and skill, as well as a relationship with the campus, I felt that was a good idea. Vijay has done a nice job, he's fit in really well with our guys and he's working hard."
· Miller said he doesn't plan on redshirting any players besides Race Thompson.
· Miller said he's not a fan of the traditional way starting lineups are introduced at Assembly Hall. At Dayton, Miller preferred to announce the starting lineup in the huddle before the game. A decision has not yet been made as to how or whether starting lineups will be introduced this season.
· On a CBS Sports article from 2016 that stated Miller's favorite band is Alice In Chains:
Miller: They kind of asked me about a band. I don't really listen to bands, but Alice In Chains was big when I was growing up in Beaver Falls, Pennsylvania. I listened to them all through college, all the time, that's a great group. At that time when (CBS) asked that question, that was definitely the answer that came to my head.

Fischer: Gotcha. I understand.

Miller: They ask some questions now that you're not really thinking about a whole lot.

Fischer: I know. And I don't know what…

Miller: Who's your favorite band? I don't know.

Fischer: I don't have the answer to Alice in Chains, either. I don't know who that is. I know who Alice Cooper is, but not Alice in Chains. I'm sorry.
· When asked about who is adjusting the fastest to the new defensive schemes, Miller named Josh Newkirk, Devonte Green, Juwan Morgan and Freddie McSwain. As for the freshmen, Miller said Durham's defense stands out, "I was really surprised about (his) savvy and IQ on the defensive end."
· Miller said transition defense is the area on that side of the ball that needs the most work, with ball screen defense next on the list.
· Jay from Atlanta asked how IU can get good post play out of a guard-heavy team: "I think I ask that question a lot, too, Jay. I will say this – I think we've put a lot of pressure on our frontcourt guys, especially the last few days – they have to be a presence, not only in the post, but in transition. The better job they do of learning how to run and put pressure at the front of the rim and run and connect on screens and create action for people. Typically, that's how our frontcourt players have always done well. Working through De'Ron (Davis), he's learning how to play with guys around him now, that's big. Juwan (Morgan) is a real key component to scoring and getting fouled in the post. We really emphasize with him, don't start on the outside and then go in. You have to start from the inside and then go out. If I look at those two guys, we can play out of the post a little bit with them. From there, we just have to be real creative in terms of the opportunities that our frontcourt players create by being great screeners."
· While an assistant at UCLA, Ed Schilling was given the assignment to scout Archie Miller's Dayton squad, "I was very, very impressed with one, how hard the guys played and sound they were defensively, how they had an absolute clear plan of how they were going to attack offensively. Just really impressed with their toughness at both ends."
· Schilling, on the decision to become an assistant with Indiana, "When I got the call from (Sean Miller) about if I'd be interested in talking to Archie about Indiana, I absolutely was interested. As much as anything, it was because of family. I'm an only child, my parents live in Lebanon. They're in their seventies. Just to be closer was important to me. Also, my wife's family is in Connersville still. So all of our family being here, and just growing up watching Indiana basketball and being a fan of the Hoosiers. You put all that together and it was really a no-brainer for me."
Filed to: Archie Miller