Notebook: Indiana handles Marian in exhibition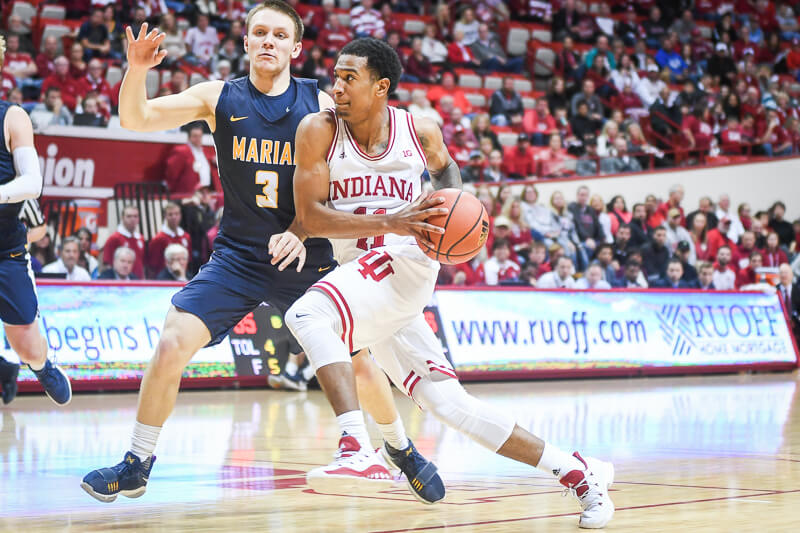 It took the majority of the first half for the Hoosiers to get going, but in the end, they took control and topped NAIA opponent Marian University, 93-62.
Less than eight minutes into the contest, the Hoosiers found themselves in a six-point hole. Over the next 6:52, Indiana went on a 23-5 run to take the lead for good. Marian got the game to within six early in the second, but the Hoosiers never faltered.
During the 23-5 run, sophomore guard Devonte Green scored four of his game-high 22 points and added two rebounds and two assists.
Throughout the night, Green used his improved handles to blow by defenders or get them out of position, resulting in a number of easy looks from all over the court.
"I'm very comfortable initiating the offense," Green said after the game. "I've been playing at point guard a lot more this year and in practice working on it. So I'm very comfortable."
Green's 22 points came in efficient fashion, as he shot 9-of-14 overall and 2-of-5 from three. That was far from the only aspect of his game that stood out, as he added six rebounds, seven assists, two blocks and a steal while turning it over just twice.
If this were a regular season game, Green would have obliterated his career highs for points (13), assists (4) and blocks (1). 22 points are nine more than his career high.
Other players that stood out for the Hoosiers: De'Ron Davis (10 points on 5-of-7 shooting), Curtis Jones (13 points on 4-of-7 shooting and 1 block); Josh Newkirk (13 points on 3-of-5 shooting); and Freddie McSwain (4 points, 2 blocks and 2 rebounds).
Defensive improvement
Although Indiana's defense struggled early on, it didn't take long for Miller's emphasis on that end of the floor to shine through.
After Marian hit a few shots from deep in the opening minutes, the Hoosier defense clamped down. There were few, if any, open shots for the Knights. Double teams were well executed and the interior defense was stout.
"What we were really harping on at halftime is we had to apply a little more pressure to them," head coach Archie Miller said. "We had to make things a little bit harder for them, and challenging shots, and just making sure that we were grinding away a little bit because when you play against that team, you have to earn it every possession."
It should be noted that Marian's tallest player is 6-foot-7, but that shouldn't detract much from the defensive improvement that was evident.
The Hoosiers allowed Marian to score just 0.849 points per possession, well below the 1.01 ppp given up in the 2016-17 campaign.
Marian's leader Wes Stowers, who averaged over 19 points a game last year, was held to nine points on 4-of-12 shooting.
"(Indiana) was chasing him and really getting up and pressuring him," Marian head coach Scott Heady said after the game. "At 5-foot-9 and 150 pounds, they were running different guys on him and playing him tight, bumping him and being physical."
McRoberts reunion
First-year Marian head coach Scott Heady was at the helm at Carmel High School for seven seasons, where junior Zach McRoberts played his high school ball.
Heady coached McRoberts throughout all four seasons he played for Carmel, including the two years the school won Indiana state titles (2012, 2013).
"I don't think I've ever coached a player that can have such an impact in a game and really not score," Heady said. "A lot of guys have to score to have an impact. He does so many things that you don't really see unless you're watching film after the game. I just love the kid. Just a great kid and an unbelievable teammate. He's just a winner, he's that guy that every team needs, that glue guy that does all the little things."
McRoberts played eight minutes against Marian, scoring four points and grabbing two rebounds.
Filed to: