What to expect: Marian University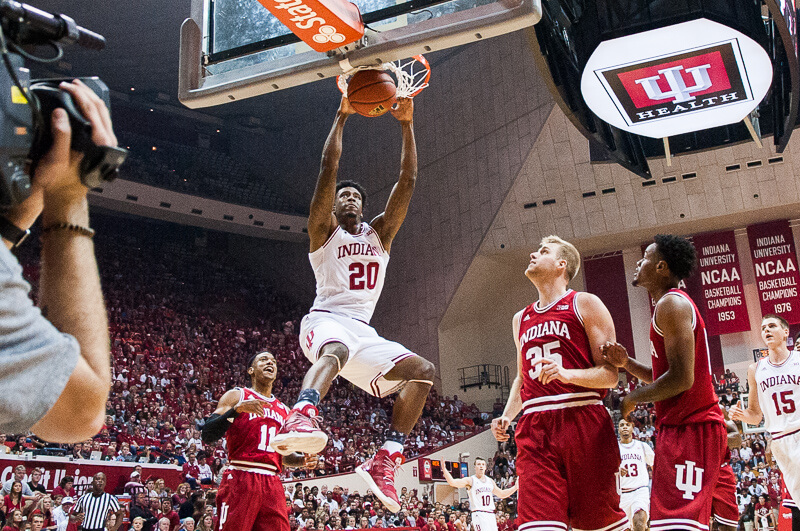 Archie Miller will coach his first game in Bloomington on Saturday when Indiana faces NAIA opponent Marian University. The Knights finished the 2016-17 season with a record of 14-16 (5-13 in the Crossroads League).
The game will be broadcast online on BTN Plus at 8 p.m. ET with Josh Eastern, Max Bielfeldt and Mary Kay Hamilton on the call. It will be replayed on BTN at 8 a.m. ET on Tuesday, Oct. 31:
Al Durham (hamstring) and Collin Hartman (ankle) did not play during the Hoosier Hysteria scrimmage and are both likely to sit out as a precaution, according to head coach Archie Miller. Josh Newkirk also did not participate in the scrimmage but is expected to play.
Saturday will be the first of two exhibitions for both squads. The Knights head to Terre Haute on Nov. 3 to take on the Indiana State Sycamores, while the Hoosiers will host the University of Indianapolis on Nov. 5.
Meet the Knights:
In the Crossroads League preseason poll, the Knights were picked to finish 8th out of ten teams.
Marian is led by first-year head coach Scott Heady, who previously coached at Carmel High School. Current Hoosier Zach McRoberts played for Heady in high school.
"It's a brand new regime there with coach (Heady) coming in from Carmel," Archie Miller told the media on Friday. "They have six or seven new faces that they're adding into the mix. They're probably a lot like us where they are getting ready to get started."
Heady is not the only Hoosier connection for the Indianapolis-based private school. Assistant coach Ray Tolbert was a forward for IU (1977-81) and is a member of the IU Athletics Hall of Fame. Athletic Director Steve Downing, who wore the cream and crimson for three seasons (1970-73), is also a member of the IU Athletics Hall of Fame.
The only Marian player to earn preseason accolades was junior guard Wes Stowers, who was named to the All-Crossroads Preseason First Team. The North Central High School grad has already surpassed 1,000 points as a Knight. Stowers averaged 19.4 points, 3.8 rebounds and 4.7 assists as a sophomore. The 5-foot-10 guard is one of the best free throw shooters in the Crossroads League, hitting on 88 percent of his foul shots (127-of-143) in 2016-17.
Stowers, however, is one of just six players returning from the 2016-17 season. The two other starters back from last year's team are 6-foot senior guard Curtis Green and 6-foot-7 sophomore forward Samuel Guymon.
As for Indiana, Miller is more focused on his own team than scouting the Knights.
"It's more about what we're going to be trying to accomplish and executing our system on the fly against somebody else," Miller said. "Having to make some adjustments during the game and see who can execute."
Miller has a set plan for what the first half rotations will look like on Saturday but said the second half will be determined by the "feel for the game."
"I'm really looking forward to putting a group out there that can play well," Miller said. "Whoever is playing well is going to play. We're going to try and win the game."
Filed to: Marian University Knights