What to watch for: Hoosier Hysteria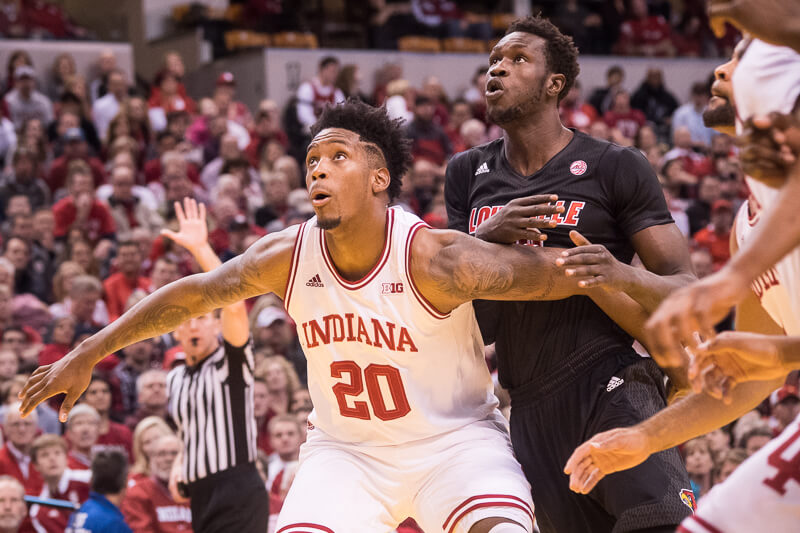 The start of the regular season is just three weeks away and the official tipoff of the IU basketball season, Hoosier Hysteria, takes place Saturday night at Simon Skjodt Assembly Hall.
Here are three things to watch for at Hysteria:
· The extended scrimmage: Hoosier Hysteria is an event that is put on for fans and recruits, but it has tended to drag on too long at times in its recent history.
That is expected to change this year as a full 40 minute scrimmage will be the focus of the evening. That's not to say that Hysteria will look completely different than how it's looked in the past, but brevity will be emphasized leading up to the scrimmage.
A full scrimmage, particularly with the coaching change and several newcomers to the program, will be especially interesting to observe. At the forefront of guys worth focusing on is sophomore De'Ron Davis. His offseason transformation is one of the program's biggest offseason storylines and Saturday night will be our first in-depth look at the progress.
If he participates – which isn't a certainty given a recent ankle injury – fifth-year senior Collin Hartman is also returning from a major knee injury that forced him to miss the entire 2016-17 season. If Hartman participates, will he look like the player who was a key contributor on Indiana's Big Ten championship team two seasons ago?
The backcourt also has plenty of intrigue as Indiana returns two starters, two key reserves and adds a freshman who could challenge for minutes. Will Josh Newkirk and Robert Johnson show off improved decision making as taking care of the ball becomes a bigger focus? And will Curtis Jones and Devonte Green look like different players as sophomores?
· The turnout and atmosphere: The scrimmage is the most intriguing part of Hysteria, but it will be nearly as interesting to see how the fan turnout and atmosphere are for the event.
The crowd is unlikely to reach the level of 2012 when Indiana was the nation's preseason No. 1 team, but this is the most excited Indiana fans have been since that season began.
There's renewed optimism surrounding the program as Archie Miller and the coaching staff have aced every test in their first seven months on the job. Not only has Miller offered a no nonsense, blue collar approach in all of his public comments since taking over the job, he's already proven himself to be a force in terms of retaining players and grabbing new ones on the recruiting trail.
Expect those efforts to be rewarded by fans showing up in large numbers and an atmosphere that will be better than any we've witnessed in the last five years at Hysteria.
· A recruiting showcase: One thing that won't change with Hysteria is its importance to recruiting. As important as Hysteria is to fans, it's equally important for recruiting. And given that this is the first year of the Miller era, it will be particularly interesting to see how the new staff wants to present the program to the recruits in the building
Three of Indiana's four class of 2018 commits – Damezi Anderson, Jerome Hunter and Robert Phinisee – are expected to attend.
They'll be joined by a pair of five-star recruits who will be making official visits – Darius Garland and Romeo Langford. Indiana wants to add both to its 2018 class and this weekend is pivotal in the pursuit of both prospects.
In addition, in-state class of 2019 prospects Keion Brooks Jr. and Trayce Jackson-Davis are also expected to attend along with a number of other younger prospects from around the state.
Indiana fans follow recruiting as closely as any fanbase and the likelihood of chants and signs for recruits are extremely high. With a little less than four weeks to go until the early signing period begins, this weekend could go a long way in determining whether Indiana ends up with a truly elite recruiting class.
Filed to: Hoosier Hysteria