2017-2018 ITH Season Preview: Northwestern Wildcats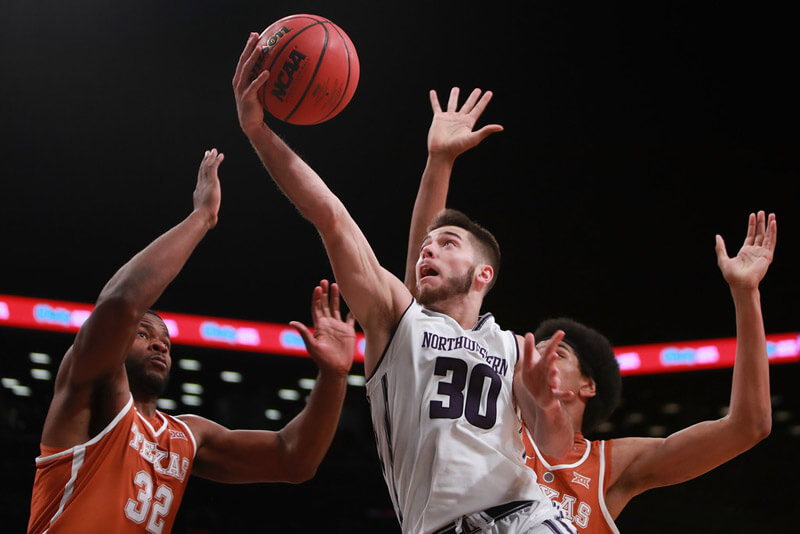 With the start of college basketball season on the horizon, we'll be taking a long look at the conference at large as well as Indiana's roster over the next month. Today, our Big Ten team previews continue with a look at Northwestern.
Northwestern was a national media darling last season. The Wildcats reached the NCAA tournament for the first time in program history and took Gonzaga to the wire in the second round.
That success has expectations much higher entering the 2017-18 season for the Wildcats, who return four starters from a team that won 10 Big Ten games and finished last season 24-12.
The headlining returnee is senior guard Bryant McIntosh, who averaged 14.8 points, 5.2 assists and 2.8 rebounds per game last season. The Greensburg product struggled with his efficiency (44.1 percent on 2s, 30.7 percent on 3s), but had the second best assist rate in the Big Ten. McIntosh is an excellent free throw shooter at 87 percent, but needs to shoot it much better from the perimeter for Northwestern to reach its ceiling.
Joining McIntosh in the backcourt is senior Scottie Lindsey, who averaged 14.1 points last season but was slowed in the final half of the season due to mononucleosis. Lindsey shot a putrid 28 percent on 3s in Big Ten play, but is one of the league's better defenders.
Junior Jordan Ash, sophomore Isiah Brown and freshman Anthony Gaines could all figure into the backcourt rotation. Brown averaged 6.3 points per game last season and is the most proven of the trio.
The frontcourt returns a solid stable of pieces despite losing starter Sanjay Lumpkin and reserve Nathan Taphorn to graduation. Junior Vic Law is one of the league's best athletes and averaged 12.3 points in 32.1 minutes per game last season. Law hit 39.9 percent of his 3s last season, but just 40.6 percent of his 2s. Given his athleticism, the 6-foot-7 Law should be finishing at a much higher clip.
Junior Dererk Pardon is an above average offensive rebounder and finisher who holds down the center position despite being just 6-foot-8. Pardon was fifth among Big Ten players in offensive rebounding percentage and shot 61.7 percent on 2s in conference games. Sophomore Barret Benson could take on a bigger role after averaging just eight minutes per game last season. The 6-foot-10 Benson is a skilled back to the basket big man and could potentially play alongside Pardon is certain situations.
Three other forwards on the roster to watch include redshirt Aaron Falzon, redshirt freshman Rapolas Ivanauskas and senior Gavin Skelly. Falzon missed last season with an injury, but made 63 3-pointers as a freshman. The 6-foot-8 Skelly averaged 17.7 minutes per game last season and shot close to 47 percent from the field. Ivanauskas, a former top 150 recruit, also sat out last season with an injury. He could push Skelly for minutes and provides size and versatility at 6-foot-9.
One wrinkle that Northwestern will have to adjust to this season is playing its games off campus due to Welsh Ryan Arena's renovations. The Wildcats will play home games at All State Arena, which is 30 minutes away from campus.
Bottom Line: Northwestern was a very good defensive team last season, but has plenty of room to grow offensively. The Wildcats ranked just ninth in offensive efficiency in conference games and the top three returnees – McIntosh, Lindsey and Law – all shot below 40 percent on 3s. Collins did a terrific job guiding the program to its first NCAA tournament appearance a season earlier than many expected, but he'll be dealing with expectations for the first time this season as a head coach. Northwestern is being picked in the top four in most preseason projections, but it wouldn't be surprising to see the Wildcats finish in the middle of the pack if the offense doesn't take a significant step forward.
Quotable: "The end game for us is to be a nationally relevant program year in and year out. This is a place where you can have it all now, go to a great city, go to a great school, play high-level basketball, get a great degree. I am noticing a difference when I talk to those coaches/players across the country." – Collins on building Northwestern into a nationally relevant basketball brand.
Filed to: 2017-2018 Big Ten preview, Northwestern Wildcats